The Reserve Bank of India (RBI) has expanded the scope of the Unified Payments Interface (UPI) by introducing the UPI Pay Later. Now the NPCI has issued the rules for such transactions. As of now, HDFC Bank and ICICI Bank are giving this facility. But, sooner the SBI, Axis Bank, and Bank of Baroda would also start this service.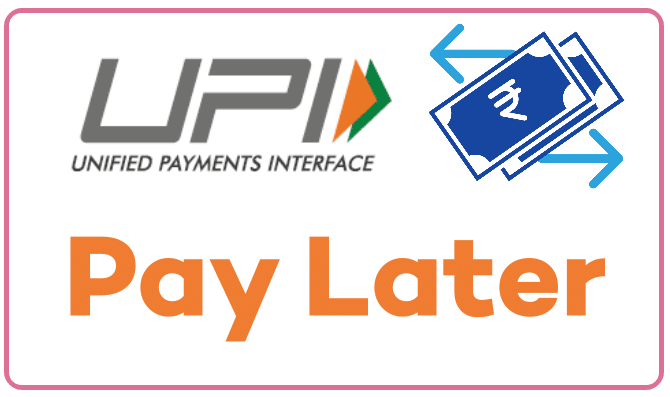 Expanded Scope of UPI
RBI has allowed the inclusion of pre-approved loan accounts as a funding option in the UPI system. This means that individuals can now link their pre-approved loans from Scheduled Commercial Banks to their UPI accounts.
Benefits for Customers
This move aims to provide a seamless UPI-enabled experience for customers. They can now make transactions using their pre-approved loans, enhancing convenience and flexibility.
Benefits for Merchants
Merchants are not left behind in this expansion. They can benefit from increased sales by accepting payments through pre-approved loans using asset-lite QR codes and other payment methods, thus becoming a part of the credit ecosystem.
Tech Enhancements For UPI Pay Later
To enable the linking of pre-approved loans to UPI, the technology platforms within the ecosystem will be improved. Lenders will facilitate the linking of existing loan products and innovate new ones, while acquirers will ensure the acceptance of linked loans at the merchant's end.
Discovering Loan Accounts: Customers can discover their pre-approved loan accounts based on their registered mobile numbers and link them to their UPI IDs, whether existing or new, through any UPI-enabled app.
Security Measures: Existing device binding controls will still apply, ensuring the security of transactions. Disputes will be resolved through Online Dispute Resolution (UPI Help).
Settlement Process: Loan transactions will be settled following the existing UPI settlement process.
Regulatory Compliance: Lenders offering pre-approved loans are required to comply with existing regulatory guidelines.
Repayment Process
UPI Pay later is a loan account. You can use the approved loan amount from this account. But you need to repay this loan amount as well. To repay the amount you have two ways.
You can activate the automatic payment from your linked saving account.
You can also pay from other bank account using the UPI ID of the UPI Pay later account.
Transaction Limits of UPI Pay Later
The UPI Pay later account follows the limit set for the normal UPI bank acocunts. For UPI limits you can check out this post. I have told the UPI Limits on the basis of amount and frequency. Note, the UPI Limit is relaxed for the merchant payment. Thus, you should consider the merchant limit for UPI Pay later as this account can be only used for the merchant payment.
Guidelines for UPI Apps
Transparency: Apps will ensure transparency by providing easily accessible transaction history and clear user interfaces for loan transactions. Customers can set their default debit account for merchant transactions.
Instant Notifications: Merchants will receive instant notifications for transactions carried out using linked loan accounts.
Account Information: Apps and lenders will provide real-time information on available balances, total outstanding, and other relevant details based on the loan product.
Customer Complaint Resolution: Members will be enabled on UPI Help for the online resolution of customer complaints.
Refunds and Reversals: Refunds and reversals will be directly credited into the loan account.
Full UPI Functionality: All UPI features and functionalities will be applicable to loan accounts linked to UPI apps.
This expansion of UPI to include pre-approved loan accounts brings greater convenience and flexibility to both customers and merchants, making transactions smoother and more accessible, especially for those who may not be fluent in English. It reflects the RBI's commitment to promoting digital payment systems and financial inclusion in India.