In the past 7 years, UPI has seamlessly integrated into our daily lives, transforming the landscape of payments in India. It's not just about payments; UPI keeps evolving with new features. One of the latest additions is UPI Now Pay Later.
The introduction of this innovative feature promises to enhance your convenience significantly. Just as UPI revolutionized payments by replacing debit cards, UPI Pay Later has the potential to take on credit cards. Given its significance, you might be curious about the benefits of UPI Pay Later, how it operates, and how to activate it.
What is UPI Now Pay Later
Unified Payment Interface (UPI) stands as India's instant payment marvel, seamlessly facilitating the transfer of funds between bank accounts. With millions of transactions handled daily, this payment system's efficiency is unparalleled, thanks to its QR code-based payments. Notably, UPI's popularity has significantly reduced the reliance on debit cards for shopping, though credit cards have remained steadfast.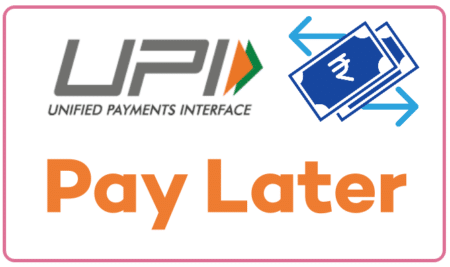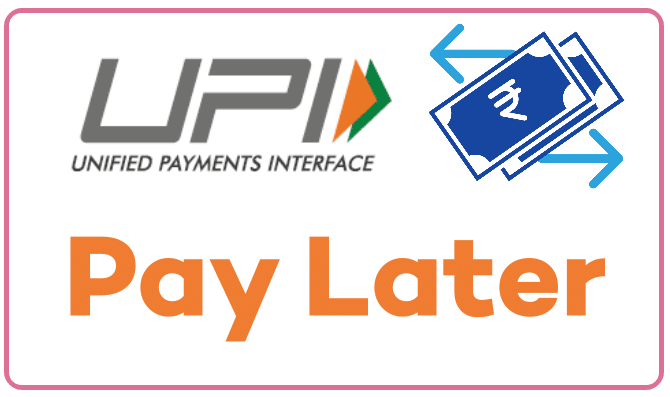 Credit cards offer the convenience of purchasing goods and services without immediate account funds, extending a credit line of up to 45 days. Likewise, the "Buy Now and Pay Later" feature on online shopping platforms has gained immense popularity.
Now, introducing 'UPI Now and Pay Later,' a feature that combines the best of both worlds. You can effortlessly make payments using any UPI app without maintaining a bank account balance. This means you enjoy speed, ease, and credit, all in one.
This innovative feature is poised to attract those who often use credit cards for short-term shopping loans. Moreover, since it's integrated into your existing UPI app, switching to 'UPI Now and Pay Later' when your bank account balance is low is far more convenient than swiping a physical credit card or entering card details.
How this feature Works
A. Making a Purchase with UPI Now Pay Later
To make a purchase using UPI Now Pay Later, start by initiating the transaction through your UPI app. It is similar to standard UPI payments.
Open the app and scan the QR code of the merchant.
Enter the amount, you have to pay.
Choose the UPI Now Pay Later account instead of the regular savings account.
Enter the UPI PIN. This completes the transaction.
B. Deferred Payment with UPI Now Pay Later
A standout feature of UPI Now Pay Later is the ability to delay your payment to a later date. When you make a purchase, you won't be charged right away. Instead, you're given a specific payment window during which you can settle the bill. This flexibility comes in handy when you need extra time to gather the necessary funds.
C. Interest and Charges with UPI Now Pay Later
Now, let's dive into the financial aspect. While UPI Now Pay Later offers convenience, it's essential to understand the potential interest and charges.
You must be aware that regular UPI transactions come with no additional costs. Whereas UPI Now Pay Later may incur interest charges. These charges can vary between banks and depend on factors such as the outstanding amount and agreed-upon terms.
Advantages of UPI Now Pay Later
UPI Pay Later gives you many benefits.
Purchase Without Funds
Sometimes, your bank account may run low on funds, but you still need to make essential purchases. In such situations, a short-term loan can be a lifesaver. UPI Pay Later offers this convenience, allowing you to continue shopping without worrying about your bank account balance.
Convenient Borrowing
UPI Pay Later is the easiest way to access a loan. You can borrow as much as you need up to the predefined limit, and there's no minimum borrowing requirement. You can utilize this feature each time you make a purchase, making it incredibly flexible.
Digital Accessibility
UPI Pay Later is just as accessible as standard UPI payments through your bank account. In fact, it creates a dedicated account linked to your primary one. Switching between these accounts is as simple as toggling between different bank accounts. It offers seamless digital convenience.
Which Banks Provide UPI Pay Later Service?
The Reserve Bank of India (RBI) has granted permission for banks to offer the UPI Pay Later facility, and the decision to implement it is at their discretion. As of now, only two prominent banks have embraced this service – ICICI Bank and HDFC Bank. These two banks are currently the sole providers of UPI Pay Later accounts.
However, it's worth noting that support for UPI Pay Later remains limited among mobile apps. Popular apps like PhonePe, Paytm, and Google Pay have yet to integrate this feature. If you're interested in utilizing UPI Pay Later, you can access it through the iMobile app for ICICI Bank's account.
iMobile serves as a comprehensive UPI app and can be used for making QR code-based payments at merchant shops. Similarly, HDFC Bank's Payzapp also offers this feature.
Activating UPI Pay Later with ICICI Bank's iMobile App
ICICI Bank offers the UPI Pay Later feature through its iMobile app.
Upon opening the app, a popup for activating this service will appear. By accepting this feature, you can quickly grasp its fundamentals and learn about associated charges.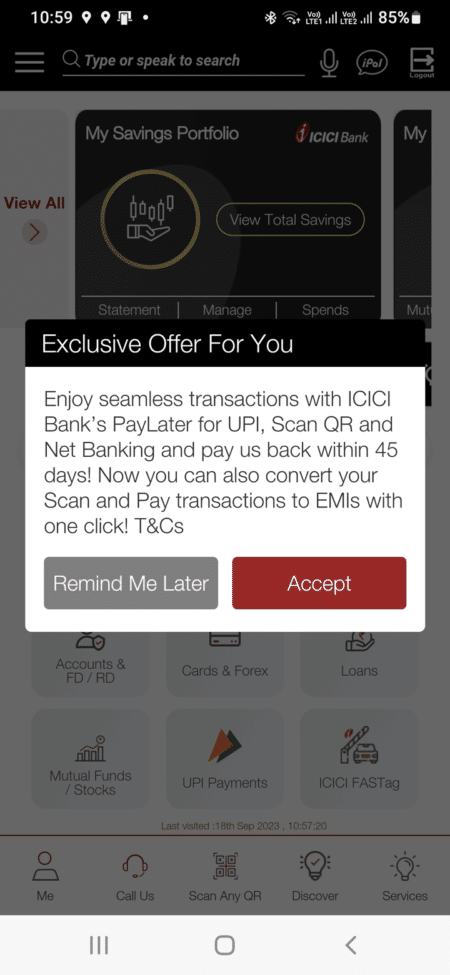 Once you've agreed to the terms and conditions, you'll need to select your bank account. After submitting the account selection, a UPI Pay Later account is generated, complete with your designated credit limit.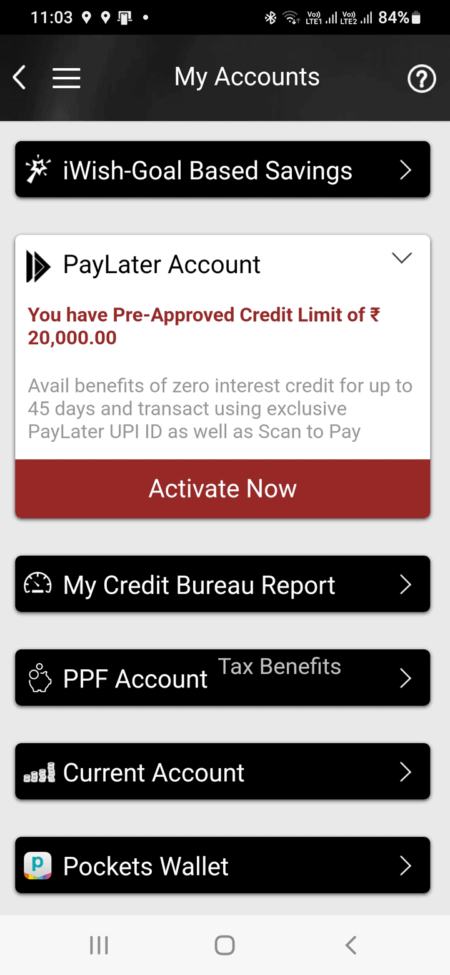 Activation is swift, allowing you to start using the this feature within the iMobile App almost instantly. The entire process typically takes less than 5 minutes.
Charges of UPI Pay Later
UPI Pay Later operates much like a credit card, but with some notable differences. One significant advantage is that it doesn't levy transaction charges.
However, unlike credit cards, UPI Pay Later offers limited or no interest waivers. With credit cards, you usually avoid interest charges unless you default on bill payments. In contrast, UPI Pay Later may start charging interest from day one. HDFC Bank, for instance, imposes a 16% annual interest rate as you use this account.
ICICI Bank follows a similar practice of charging interest from day one. Yet, they waive the interest if the amount used is below ₹3000. If your expenses exceed this threshold, charges are applied in slabs, often resembling an annual interest rate of approximately 42%.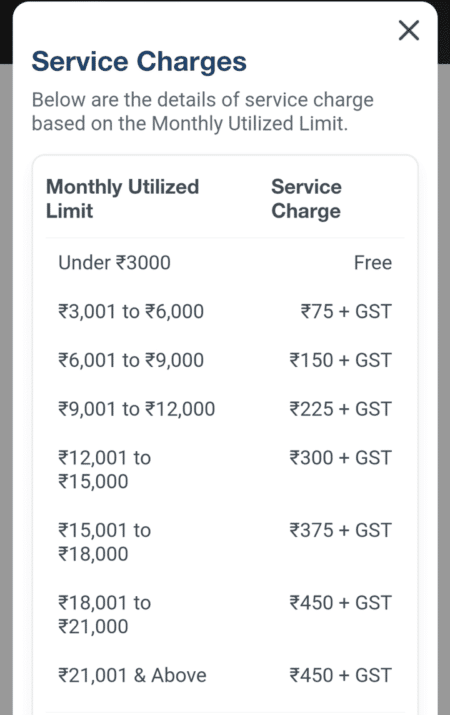 Additionally, late payment charges and GST on these fees may apply. It's crucial to be aware of these costs, which can become burdensome, especially if you default or make substantial purchases. Responsible usage is key to maximizing the benefits of this feature.
UPI Now Pay Later offers a credit card-like feature, allowing you to shop without funds in your account. The process is seamless, mirroring the smoothness of regular UPI payments. Bill payments are also effortless as they are deducted from your bank account.
However, it's crucial to use this feature responsibly due to the associated high charges.
What has been your experience with UPI Now Pay Later? How do you find it compared to credit cards? Share your thoughts.