Withdrawing cash from an ATM has become extremely easy now, thanks to the UPI. You don't even need to carry your ATM card with you. Your mobile phone is sufficient to withdraw cash from an ATM. After a long wait, banks have finally introduced the option of cardless cash withdrawal using UPI (Unified Payments Interface). This service is also called the 'Interoperable Cardless Cash Withdrawal (ICCW)' facility.
Bank of Baroda has recently started offering this service, and I have personally tried it and found it more convenient than using a debit card.
Requirements For Cash Withdrawal Through UPI App
If you are already using UPI apps for making payments to merchants, you will find this method super easy. Just like making a payment to a merchant, you need to fulfil the following requirements to withdraw cash from an ATM using UPI:
Any UPI app will work, such as Paytm, Google Pay, Phonepe, iMobile, or any other UPI app.
Your smartphone needs to have an active internet connection.
Your phone should be able to scan QR codes.
Lastly, make sure you have the required amount of money in your account.
Step-by-Step Process
Let's go through the step-by-step process of cash withdrawal:
Find a Bank of Baroda (BoB) ATM. Currently, this facility is only available at BoB ATMs.
On the screen, look for the button for cardless cash withdrawal. If you don't see it immediately, wait for a few seconds as the screen may change. You can also tap on the screen to switch to the next screen. Tap on the Cardless Cash Withdrawal button.
Next, you will see two options for cashless card withdrawal. The first option is the UPI QR Code, and the second option is the BoB World App. Tap on the first option.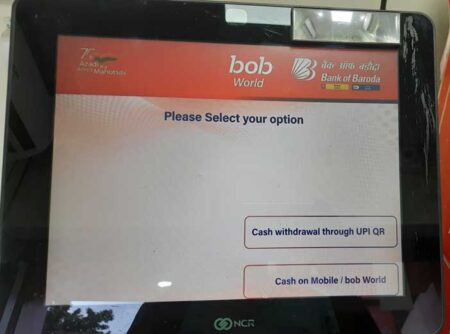 In the next step, enter the amount you want to withdraw. Make sure the amount is in multiples of 100 or 500. After entering the amount, tap on the continue button. If you change your mind, there is also a cancel button to abort the transaction.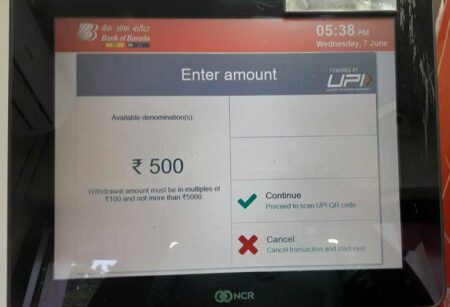 Now, you will see a QR code. Use your UPI app (any UPI-enabled app) to scan this QR code. Look for the button to scan and pay within your UPI app, which will open the camera for scanning the QR code.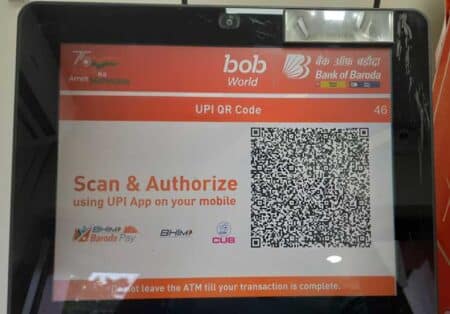 After scanning the QR code, you need to choose the bank account from which you want to withdraw the cash.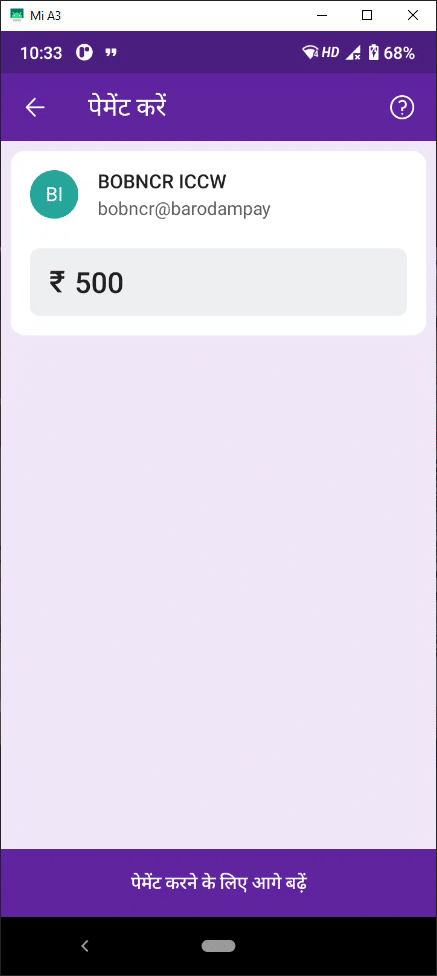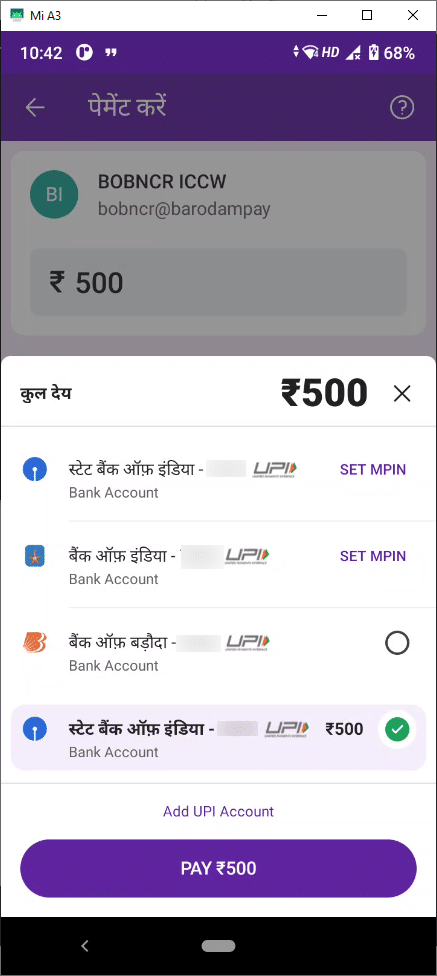 Once you've selected the bank account, tap on the Pay button.
Now, enter your UPI PIN.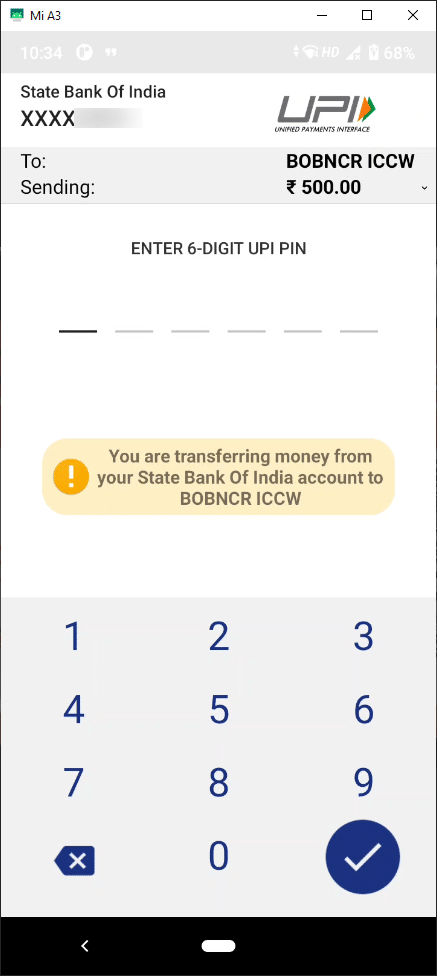 After entering the correct UPI PIN, the ATM will start counting the amount, and you will receive the required cash. Additionally, you will receive a transaction slip for your records.
Although I was unable to proceed after step 8 due to a timeout, subsequent attempts resulted in an error. However, I believe this issue is temporary, and you should still be able to withdraw the cash.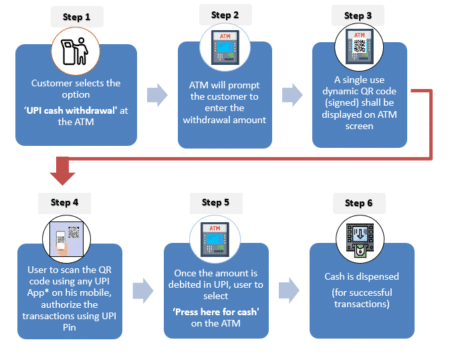 Benefits of UPI-ATM Withdrawal
The Bank of Baroda UPI-ATM facility offers several benefits:
Protection against card-related fraud: With this facility, you don't have to worry about card-related scams like skimming or cloning, as there is no physical card involved.
Enhanced security with dynamic QR codes: Each transaction generates a unique QR code that can only be used once, reducing the risk of unauthorized access to your account.
The convenience of accessing multiple accounts: You can withdraw cash from any of your bank accounts without the need for carrying multiple debit cards.
No debit card required: This facility allows you to withdraw money without having a physical debit card, offering greater convenience and flexibility.
Savings on card maintenance fees: By using the UPI-ATM facility, you can completely avoid the annual card maintenance fees associated with traditional debit cards.
Limits of ATM withdrawal
Initially, NPCI (National Payments Corporation of India) has implemented certain limitations to ensure careful handling of transactions. Currently, the maximum amount you can withdraw from an ATM using UPI is ₹10,000 per day. Each withdrawal is limited to a maximum of ₹5,000 at a time. These limits are relatively conservative.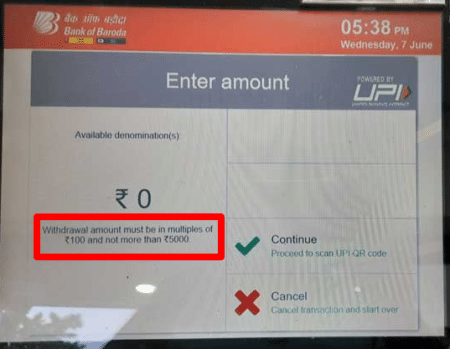 However, when it comes to non-cash payments made through UPI apps, you can make transactions of up to ₹1 lakh per day. This provides greater flexibility for making payments electronically without the need for physical cash.
Charges of Cardless Cash Withdrawal
The cardless cash withdrawal facility, just like UPI transactions, does not incur any charges. It is completely free to use.
However, it's important to note that there are limits on free ATM withdrawals. In metro cities, you can perform three free transactions from ATMs of other banks. In non-metro cities, you can perform up to five free transactions from ATMs of other banks.
If you exceed these limits, there will be a charge of approximately 21 rupees for each additional cash transaction. The specific charges may vary depending on the bank.
When using your own bank's ATMs, there is usually no limit on free transactions. However, there may be limits for Jan Dhan accounts.
Also Read – SBI ATM Card Withdrawal Charges | Mumbai, Delhi Bengaluru ATM Charges
Can We Withdraw Money from Any Bank Account
You may be wondering if the UPI cash withdrawal facility is exclusive to Bank of Baroda customers or if it is available for customers of any bank.
The good news is that this facility is available to everyone, regardless of whether you are a customer of Bank of Baroda or not.
You can withdraw cash from any bank account that is connected to the UPI platform. This means that as long as your bank is live on the UPI platform, you can utilize the UPI cash withdrawal service.
The Old Method of Cardless Cash Withdrawal
Many banks already give the cardless cash withdrawal facility. But this facility is limited to only their own bank accounts. This facility is given using their own mobile app.
Whereas, This facility is open for every customer irrespective of the bank account. You can use any UPI app to perform this transaction. It can be Google Pay, Phonepe, Paytm, Amazon Pay etc.
Important Points to Note
You need to scan the QR code within 20 seconds, otherwise, it will disappear.
Each transaction will have a unique QR code, so you cannot use the same QR code for multiple transactions.
The maximum amount you can withdraw at a time is ₹5000.