Opening multiple accounts is simple, but maintaining them can be challenging. The same applies to an Airtel Payment bank account that you might have opened a while ago. However, over time, this account may have become dormant or blocked, even though it might still hold some funds.
Are you now eager to reactivate or unblock your dormant Airtel Payment bank account? If so, you're in the right place! In this comprehensive blog post, I'm here to guide you through the various methods and the activation process for your dormant Airtel Payment bank account.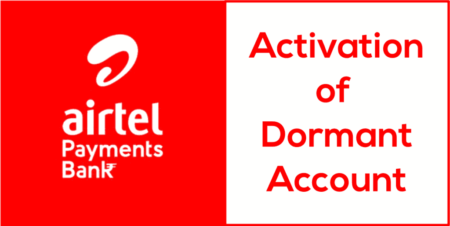 How To Open Airtel Payment Bank account Without Airtel SIM
Why Your Account Gets Dormant / Inactive
The reason behind your account becoming dormant or inactive is due to a lack of use.
Once your account becomes dormant or inactive, certain restrictions apply. You won't be able to withdraw money from the account. To resume transactions and access your funds, you must take steps to make your account active again.
Airtel Payment Bank Customer Care Numbers
How To Activate the Dormant/ Blocked Airtel Payment Bank Account
The activation of the Account requires two formalities.
An application from you to make your account active again. State the reason as well. You should give your account details in the application.
You have to again fulfil the KYC requirements. It means you have to submit the Address and identity proof again.
These two steps can be taken in two ways.
1- Online Application
To activate your Dormant account you can send your application online as well.
The address to send the mail is [email protected]
In the subject line of your application, You must mention your account number.
You must also attach your Aadhaar copy along with the Application.
Note, this method may take up to one week.
2. Activation Through the Airtel Payments Bank Banking Point
You can also visit the Airtel banking point for the activation of the Dormant account. You can find these banking points through the Airtel Thanks app or through the website.
You have to write an application to activate your account.
You don't require a document for this method. You have to only give your aadhaar number for the activation.
The Airtel store would complete the eKYC process instantly. It is done by authenticating with your fingerprint.
This process is very fast and your account gets activated instantly.
Suggested:
How To Close Airtel Payment Bank Account
Since you haven't been using this bank account, you might want to consider closing it. However, Airtel has made this process quite challenging, as there is no readily available link or information on how to close an Airtel Payment Bank account.
To initiate the account closure, you can only do so by sending an email to the Airtel Payment Bank customer care at [email protected]. In the email, clearly state your wish to close the account, and don't forget to include the account number for reference. Additionally, make sure to attach a copy of your Aadhar Card along with the email.
By following these steps, you can begin the process of closing your Airtel Payment Bank account. Please note that response times and specific requirements may vary, so it's best to keep track of any communication from the bank regarding the closure.
Benefits of Airtel Payment Bank
So now if you have activated the Payment Bank Savings account, you may avail of different types of benefits. Some of them are-
With the payment bank service, you may add money in your wallet from your bank account.
You may transfer funds to other payment bank users and bank accounts.
This service is available through IMPS or NEFT using IFS code AIRP0000001.
You can withdraw hard cash from your payment bank at Airtel Banking Point. This is just like an ATM.
You may pay utility bills and can do other functions as well.
Atal Pension Yojana facility is also available.
Currently, Airtel Thanks App (old name My Airtel App) is only for Airtel prepaid, postpaid and broadband customers. It means if you are not an Airtel subscriber you can not use the services of Airtel. To use the services of Airtel Thanks App firstly you have to switch to Airtel.
However, the Airtel Payment Bank facility is available for all customers. You can also activate Airtel Payment Bank as a non Airtel user. But you would have to go Airtel Banking Point along with your mobile number and necessary documents.