UPI is the most popular payment system in India. It instantly transfers money whether you live in Delhi, Mumbai, Banglore or any other city. It also does not charge a paisa for fund transfer.  Also, payment through the UPI is the easiest one. Because of this system, common people started to use the digital transaction.
Before this system, we used NEFT, RTGS, IMPS for online fund transfer. But this platform is better than those systems. It is simple, easy, prompt and Free. In this page, I would tell everything about it. I would cover the following topics.
What is UPI
Meaning
UPI stands for Unified Payment interface. It has given a common platform for the fund transfer among bank accounts. This system uses your mobile number for instant payments and banking. The NPCI has made this system primarily for mobile apps but now it also works on USSD technology of feature phones.
UPI Apps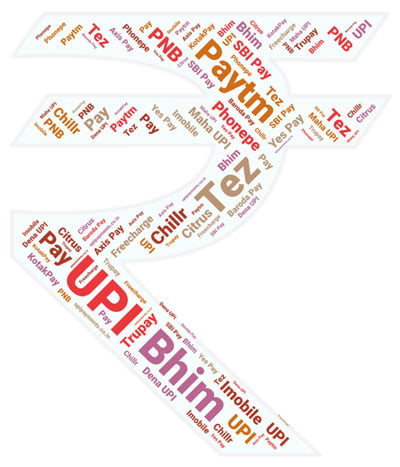 The Unified Payment interface was designed for the mobile apps. A banking mobile app can adopt this platform to give its facilities. There are various banking apps which work on this system. The NPCI itself has made its own mobile app – BHIM (Bharat Interface For Money).  Following Popular Apps also use this system.
Paytm
Tez
Phonepe
SBI Pay
Freecharge
Chillr
iMobile
UPI For USSD Banking
The USSD (Unstructured Supplementary Service Data) technology works on mobile. It works when you dial a number which starts with * and ends with #. When you dial the code, immediately you would get the response on the screen. Further, you can choose an option to interact with the system. This USSD technology is also used for the UPI system. When you transact by using the USSD, it is called as the USSD banking.
What Can it Do?
You can perform following banking tasks through the UPI apps. This app may be from any of the bank or financial company.
Send / Pay Money

Virtual Address
A/c no. & IFSC code
Mobile no. and MMID
Aadhaar

Request money from another person
Check Account balance
Transaction History
 Add bank account
 Change / Set MPIN
 Notifications
A/c Management
The basic task of these apps is to send money. To do this, its system makes contact with your bank, debits the money and credits to another bank account.
Unique Features of UPI
Today People widely use the UPI apps to send and receive money. Let us understand those unique features which have made it very popular.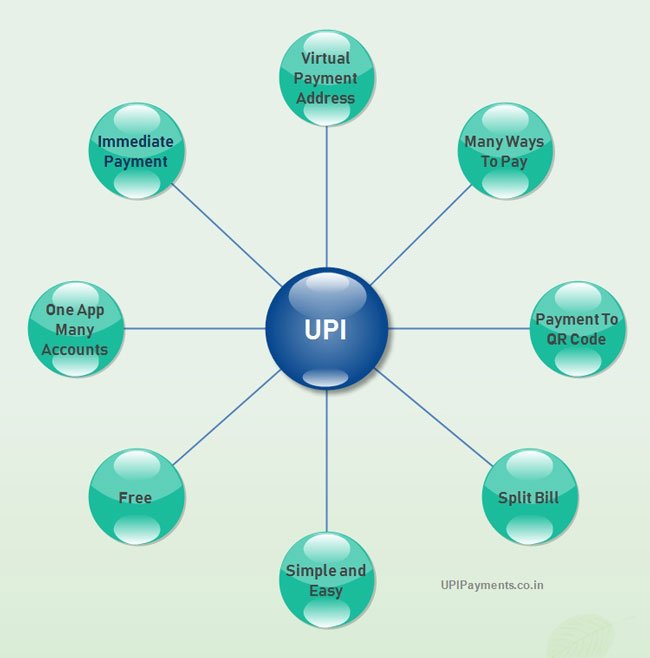 Immediate Transfer
The Unified payment system transfers fund immediately from one account to another. This transfer facility is available round the clock and on all days. There is no outage, strike or holiday.
Single App for Any Bank Account
It is the only payment system which gives you the power to access any bank account form the same app. It is not necessary to use SBI app to access the SBI bank account. A UPI app from the ICICI Bank can access your SBI bank account. Google Pay (Tez) is not related to any bank still, it can access your bank account. Similarly, BHIM app can link any of your bank accounts.
UPI ID or Virtual Payment Address
It gives you the facility to get money to a UPI ID or virtual payment address. You can make a VPA of your UPI app. When someone transfers money to this VPA, the money directly goes to the linked bank account. Because of the UPI ID, you are not required to share your bank account details. This system of  UPI ID works among all the UPI apps.
Multiple Ways To Pay
Besides UPI ID, you can also send money using bank account number and IFSC. It is the same old method. The UPI apps also give you the options of mobile number and QR code to send the money. Thus there are 3 ways to send the money.
Virtual Address
A/c no. & IFSC code
Mobile no. and MMID
QR code
Also Read: BHIM Aadhaar Pay  For Merchant Transactions
Payment To QR Code
UPI also supports the payment to QR code. In fact, a QR code is like the UPI ID But, it is readable only to the machine. When you scan a QR code the app identifies the recipient. Further, you can pay money to that recipient. The shopkeepers and merchant use this QR code to get payments.
Cashless transactions have now become simpler and convenient thanks to BHIM UPI.#DigitalIndia #InstantPayments #HighOnUPI @dilipasbe pic.twitter.com/c0fqTwK9Do

— NPCI (@NPCI_NPCI) September 1, 2018
Split Bill
The UPI app gives you the facility to split the bill among many people. It is useful when many people want to pay to a single person. The system equally splits bill among the named payers.
One Time Mandate
The UPI App also gives you the facility of the one-time mandate. In this facility, you can schedule a payment for the future. In this system, you can set a maximum limit for the transfer. The biller can itself draw the amount without your further permission. It is very useful in case of regular payments such as bills and rent.
Besides One-time mandate, the UPI 2.0 has added some extra features as well.
Easy To Use
You know that using a banking app is easier than internet banking. The UPI has made it further simpler. The fund transfer through it is simple due to the following reasons.
You can open app by entering easy to remember PIN.
You are not required to add a beneficiary previously. You can immediately transfer money to anyone. There is no compulsory wait period.
The final authentication is also PIN-based. You have to enter the UPI PIN to approve the payment. There is no alphanumeric transaction password.
It is Free
The NPCI does not charge anything for the Unified payment system. It is freely available to the participating banks. In turn, banks are also not charging anything for their apps and facilitation. Everyone is trying to keep this system free so that people can widely use this new mode of digital transaction. However, in future banks may charge some amount for using their app.
As of now, people are getting cash back and rewards for using these apps. You can earn a reward by using Tez app and Referring BHIM.
Requirements
So, now you know how useful the UPI is. But are you eligible to enjoy this facility? What are the requirements to use these apps?
Don't worry, there are not very strict requirements and conditions. Most of the people can use this system. You have to fulfil following conditions.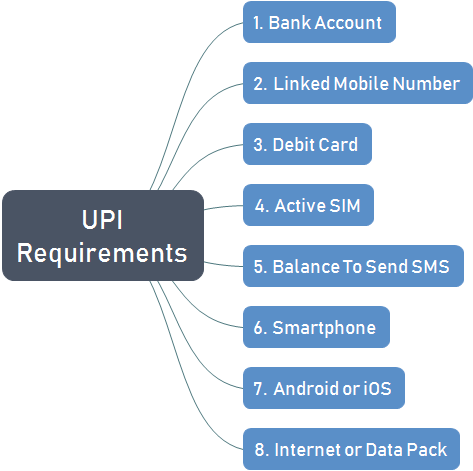 You must have a saving or current bank account.
The bank should have a registered mobile number.
You should have the debit card.
The mobile number should be active on your current handset.
There should be some balance to send SMS.
To use UPI mobile app, you must have a smartphone.
The smartphone should have Android or iOS operating system. 90% smartphones use these operating systems.
You should have data pack to avail the its services.
How Can You Use
The use of UPI app starts with the Download. As usual android users can download it from the Google play and iPhone users from the App Store.
Registration
After the download, When you open the UPI app, the registration process begins. This process may be slightly different for different apps. However, you have to go through the following process.
Selection of language
Selection of SIM if there are 2 SIM in Phone.
Permission to access messaging, Phonebook, calling and media gallery.
Setting the PIN to open App.
Choose UPI ID
The good feature of UPI is that bank account number is not required for payment. You can use a virtual Payment address instead of the bank account. One can send money to your VPA and you would receive it into the bank account.
When you first time use this app, it asks you to set the UPI ID. You set the ID of your choice. The process is similar to the Email address setting. You can learn more in my detailed post about the UPI ID.
Add Bank Account
Once, you give permission to use messaging, the UPI app sends an SMS to the server. On the basis of this SMS, the system finds out your mobile number.
The mobile number is again used to find out those bank accounts which are linked to the number. Through this process, the UPI server ascertains your linked bank account number.
After the registration, you have to link a bank account to the app. This process has two steps.
Choose You bank from the list. There are 58 banks which support this system. All, big banks are the part of it.
If you have more than one account in a bank, you would see the account number of both the account. You should choose the desired amount.
You can add all of your bank accounts. However, You have to choose one default bank account. This account would be used to send and receive money. If you want to change the account, you must change the default account. It is one tap process.
Generate UPI PIN
You can not directly pay from your bank account. Rather, you need to authenticate before the payment. This authentication is necessary for security so that no one can misuse your app.
This authentication is done through the UPI PIN. It is a 4 digit PIN which is required whenever you pay to someone. Your Every Bank Account would have its own UPI PIN. You must use PIN accordingly.
You can generate or reset PIN from the app itself. To generate the PIN, you have to enter last 6 digits of your debit card number and validity of the card in MM/YY format.
To know more about UPI PIN generation and reset process you should read my detailed post on UPI PIN
The steps listed above are the one time process. After performing these, you can perform the following task through the UPI app. To learn in detail about these tasks, you should follow the link. I have documented these process for BHIM app, one of the most popular UPI app.
Send Money
Request Money
Check Balance
Bill Payment

Read More: How To Use UPI Apps
Terms and Condition
There are some important terms and conditions of using UPI app. You must learn about them.
You can not transfer more than ₹1 lakh in a day through an app. There is a UPI transaction limit.
The BHIM app limits this amount to 40,000. Through BHIM, you can't pay more than ₹20,000 in a single transaction.
The UPI works only with the bank accounts. You can't add mobile wallets to it.
Read More: Top Terms and Conditions of UPI
Recommended: Fund Transfer Limits of NEFT, RTGS, IMPS and UPI
---
Best UPI Apps
There are several UPI app available. You can use any of them. Each app has basic features but you would experience some difference. The BHIM has upped the bar very high.
UPI apps are competing to give you best experience. I have also tried many apps to find out the best one. I have installed 5 best UPI apps on my phone. I use them regularly and assess. I have found following apps the best.

It is the game changer app. After the launch of BHIM, we get to know that how easy a financial app can be. This is the app which taught the mobile banking to most of the people. Till date, it is one of the easiest and simple apps.
The BHIM is developed by the NPCI itself. Initially, the government of India has promoted it. To encash its popularity, the NPCI has added BHIM word to the UPI system. It has also advised the banks to use BHIM word with their UPI app. Many banks have endorsed this. You can see BHIM Baroda Pay, BHIM SBI Pay, BHIM axis Pay etc.
To know more about BHIM you can explore this site. I have written many articles on BHIM.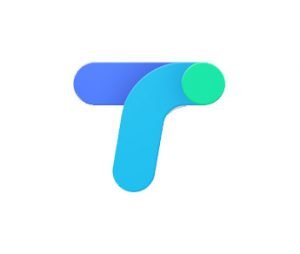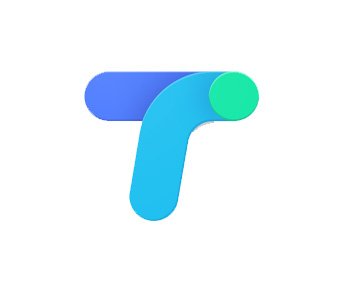 As evident from the name, this app is developed by the Google. This app is relatively new as it came almost 9 months after the BHIM and other apps. However, It has become quite popular because of it simple and focused approach. The Google has partnered with 4 banks to give UPI services. You can choose any of the 4 banks for the transactions.
The Google Pay (Tez) has a unique feature 'Cash Mode'. In this mode, you can very easily send money to a nearby person. It works like the Shareit app. The Tez is also giving you the bill payment facility.
The popularity of Tez app is also due to its reward program.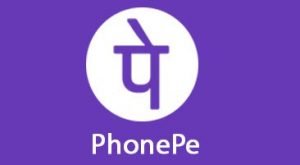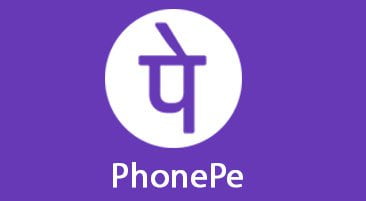 It is one of the oldest UPI app. This app is very convenient and feature-rich. The app is promoted by the Flipkart. It gives discounts as well if you pay through the Phonepe. This app also works as a mobile wallet. You can recharge your mobile through this app. This app also gives facility to pay the bill for electricity, water, gas and DTH. Recently, Phoenpe has started selling digital gold through it.
Paytm has almost become a synonym for the mobile payments. You can see a Paytm QR code at many shops. However, It has been a mobile wallet. It has promoted its wallet heavily. However, The ease of UPI forced Paytm to embrace it. Now Paytm also supports this payment. The Paytm has launched its own Payment bank the Paytm Bank.
Like its original wallet, UPI payment through the Paytm is also very easy. People easily recognise this app hence, it is easier to pay at merchant shops using UPI payment of Paytm. However, sometimes the clutter of a shopping site irritates us. The Paytm also sell products through this app.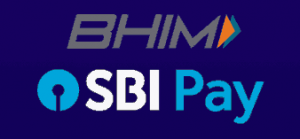 The SBI Pay is now BHIM SBI Pay. This app is launched by the SBI. It is also one of the oldest UPI apps. Since then, SBI has modified it many times. Now it is sleek and easy. It is very easy to check account balance through the SBI Pay. It has only basic features of UPI app but very user-friendly. However, sometimes it gets slow.
---
In this post, I have discussed the UPI payment system for Smartphone. I have deliberately skipped the USSD based UPI. If you want to learn this for your featurephone, you can read my post on USSD *99# Banking.