What is the UPI Transaction Charges? You must be asking this question after learning about the UPI or Unified Payment Interface. However, It is very difficult to find out the UPI charges. I, also, wanted to know the transaction cost of the UPI. Hence, I searched the internet thoroughly. Even, I have gone through the procedural guidelines document of UPI. But, All in vain. There is no clear mention of the UPI charges. However, there is some discussion about the charge of UPI. Finally, I have done UPI transaction through the BHIM, SBI Pay, ICICI, HDFC, axis and PNB UPI. I am telling you all about the transaction charge of UPI.
You must know that UPI is a smartphone based 24*7 payment system. It facilitates the money payment without even knowing the bank account number of the payee.
It is Free
The UPI money transfer is free. The UPI transaction charge is zero. I have transacted through many banks but none charged a single paisa for UPI payments. It is unbelievable but true.  It further makes UPI a better method of money transfer. I have already told you 11 benefits of UPI against the NEFT, RTGS and IMPS.
The UPI is free because of its simple and low-cost design. The NPCI has made UPI to bring the mobile payments to the masses. It makes UPI a preferred mode of payment even for a small sum.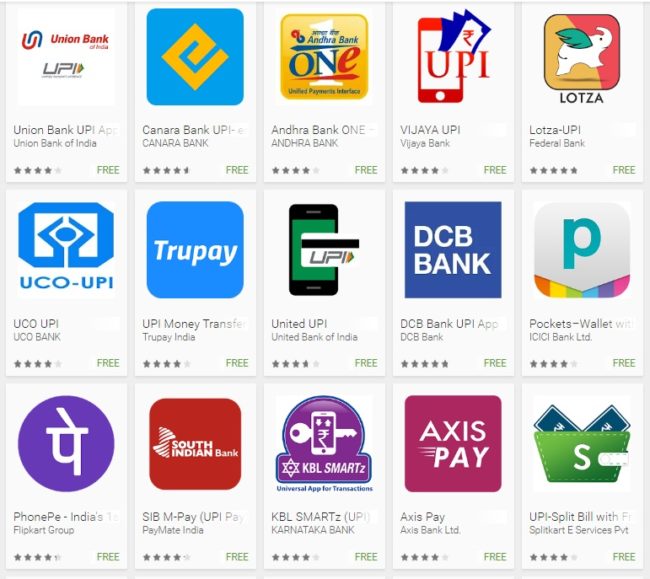 Cost of UPI Transaction in Future
Yes! it is right that UPI is free now. But it does not mean that UPI would be free in future as well. As there is no in-principle decision to keep it free forever. However, NPCI would try to keep it low cost. It has given an indication that UPI transaction cost would be in the range of 50 paise. This is a negligible amount and none would have a problem to pay this amount. So, don't worry and adopt the UPI payments as soon as possible.
Proposed UPI charges VS Others
It is interesting to know what are the charges of alternative payment methods. The numbers would leave you surprised. The UPI would charge too low.
Transaction Charges
NEFT
RTGS
IMPS
UPI (Proposed Charges)
Amounts upto ₹ 10,000
₹ 2.50 + Service Tax
Not Applicable
₹ 5 + Service Tax
₹ 0.5
Amounts above ₹ 10,000 and upto ₹ 1 lakh
₹ 5 + Service Tax
Not Applicable
₹ 5 + Service Tax
₹ 0.5
Amounts above ₹ 1 lakh and upto ₹ 2 lakh
₹ 15 + Service Tax
Not Applicable
₹ 15 + Service Tax
Not Applicable
Amounts above ₹ 2 lakh and upto ₹ 5 lakh
(Incl. ₹ 2 lakh for RTGS)
₹ 25 + Service Tax
₹ 25 + Service Tax
Not Applicable
Not Applicable
Amounts above ₹ 5 lakh and upto ₹ 10 lakh
₹ 25 + Service Tax
₹ 50 + Service Tax
Not Applicable
Not Applicable
Recommended: Government Subsidizes MDR of UPI Payment
Also Read: IMPS Fund Transfer and Charges
UPI Charge Vs Paytm
As of now UPI and Paytm both don't ask any transaction charge for money transfer. But we have to understand the cost structure of both these payment mechanism. The Paytm and UPI transfer go through these steps.
UPI Transfer Steps
You use UPI app and give the mandate to transfer an amount to a VPA or account.
The NPCI acts as the switch and identifies the correct account. The UPI charges very negligible amount ₹0.5 for this switch. As of now, it does not charge anything.
The money gets transferred directly to the account. The money goes directly from one account to another. Since it is an interbank transfer, UPI Enabled banks do not charge with each other.
Paytm Transfer Steps
Paytm wallets get the deposit from the bank account. The banks charge 1-2% for this transaction. But Paytm doesn't charge it to you. It bears this cost.
You transfer money from one  Paytm wallet to another. The Paytm doesn't charge for this as well.
The receiver of fund transfers money back to his account. The Paytm doesn't charge for this, however, It charges if amount goes beyond ₹ 10,000. It is 1% of the value.
You can see that Paytm bears the fees charged by the bank. It is not transferred to you because Paytm is spending on customer acquisition. But once the Paytm ends promotion, the money transfer into a Paytm wallet can be charged. However, Paytm would try to compensate this expense through selling products on its platform. Also, for a big amount Paytm is too costly.
Thus, I advise the UPI app instead of Paytm because it is based on very simple and cheap infrastructure. Moreover, UPI doesn't try to sell you and works across the banks without any intermediary. In fact UPI has many benefits over existing payment systems. There are many UPI apps such as BHIM,  SBI UPI, ICICI UPI, HDFC UPI, Axis UPI etc. You can choose any from the best UPI apps. There is too much flexibility.