You can pay very easily by using Google Pay, phonepe or Paytm. All these mobile apps give the facility of UPI payment. But to use them, you must have an atm card. But not everyone has an atm card. Some people do not even have a bank account. Now the question is, how do such people make their payments? Today, in this post, I will tell you about such a jugaad, which makes UPI  Payment very easy.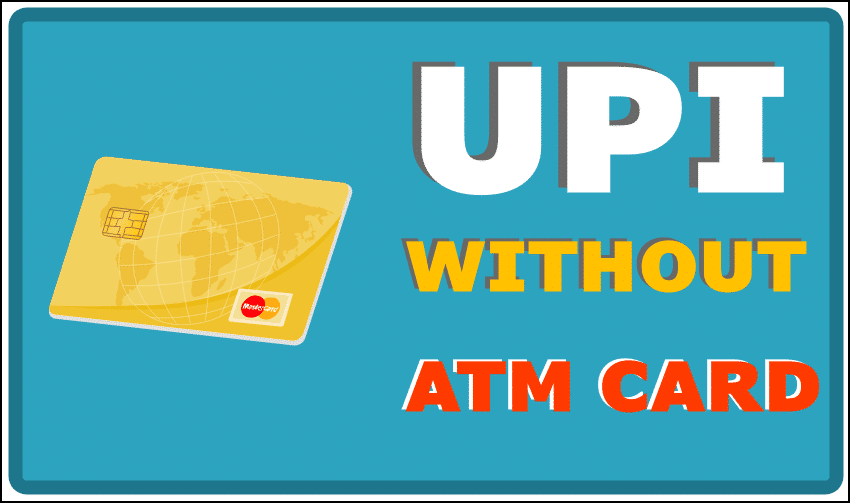 The Trick for UPI  Payment without an ATM card
Friends, many people want to know how to use UPI without an ATM card. Some people want to know how to reset their UPI PIN without a debit card. 
You will find many such posts that tell the method of using UPI without a debit card. But we would not mislead you. We are telling you clearly that you cannot use UPI without a bank account or without a debit card. However, there is a Jugaad. It would solve your problem. After reading this post, you will use UPI payment today.
So friends, in this process you will have to open a savings account that becomes active immediately.
Along with this, you should also have the details of the debit card of that account. This is necessary for UPI.
Useful Post – How to Withdraw cash without ATM card using UPI
Use Virtual Debit Card
Friends, such savings accounts are easily opened in the payment bank. And through them, you can use UPI easily. Not only this, you get a virtual debit card immediately from this account.
That is, you will not have a plastic ATM card in your hand. Rather, there would be complete details of the atm card in its place. Of course, you would not be able to withdraw cash by using this card. but by using its details, You can easily make UPI Payments.
So if you do not have an ATM card or bank account, then first you have to open a digital savings account in the payment bank. Many payment banks open such accounts.
You can open a digital saving account immediately. You can open it in Paytm payment bank, Airtel payment bank and India post payment bank.
Instant ATM Card from Payment Bank for UPI
If you don't have a debit card. If you don't have a bank account. Then you should open a savings account immediately in the payment bank. Let us tell you how to open an account in a Paytm payment bank.
1. Go to the Paytm Bank Section
For this, you have to open the paytm app. If you do not have a paytm app, install it. This app will be registered based on your mobile number. Open the paytm app after registration.
Now in the Home page, search for the Paytm Bank. You would find it in the My Paytm section. Tap on the 'Paytm Bank'.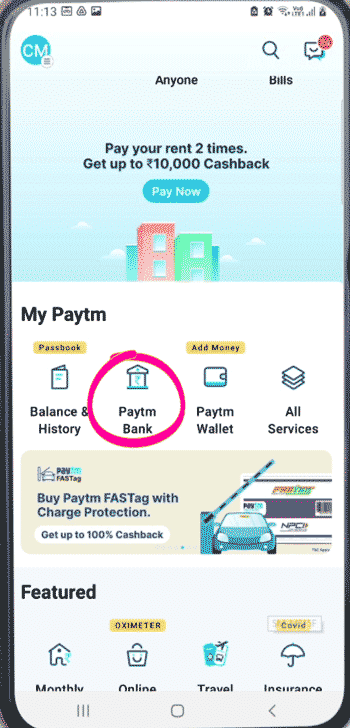 On the next page, you would find all the good things about Paytm Payment bank saving account. Such as, this is a zero balance saving account. It also provides a fixed deposit facility. There is no cost for the transactions. Further, Digital Debit Card is also free.
Actually, we are also opening this account for this Debit Card only. So let's tap on 'open your savings account'.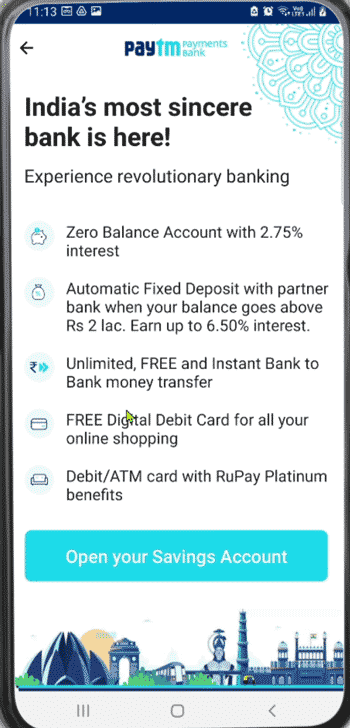 2. Set Passcode for Paytm Bank online access
Now we are once again being asked to set a security passcode. This would be a 4 digit PIN is for Paytm bank. Here Paytm call it Passcode. This code is required when you access Paytm Bank. It is not for opening the Paytm app. Let us set the PIN and confirm it as well.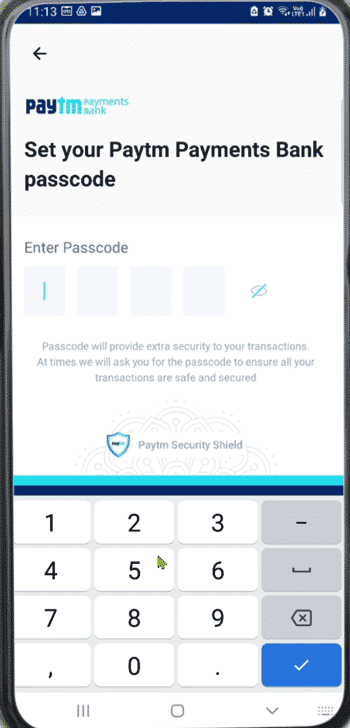 3. Fill Nominee Details
Now we would reach a page which gives us the option to give nominee details. We can also skip it for the later. I have done so.
Now we have to give consent for sharing personal details with the KYC registry. We can give this consent by tapping on the checkboxes. Finally, let us tap on the 'Proceed' button.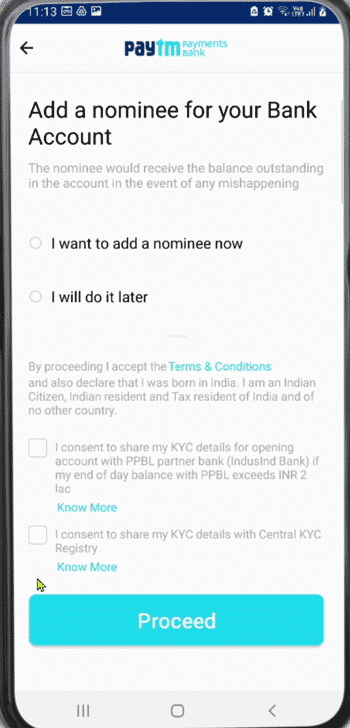 On the next page, we are required to upgrade the account. We have to tap on it as there is no other option. In the next step, we have to give some personal details. Fill the form and Tap on the proceed.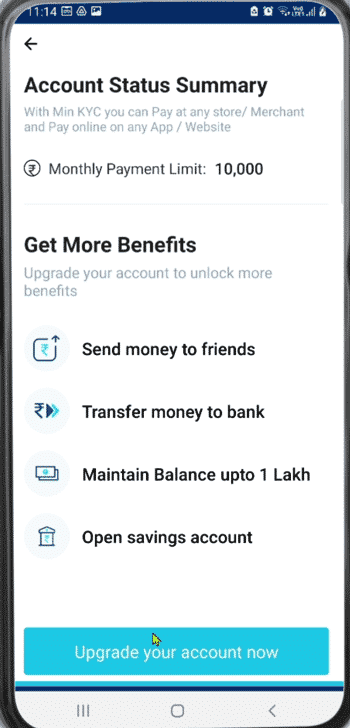 4. Choose KYC Method for the ATM card
Now we have to choose the KYC methods. There are three ways of KYC verification.
The first one is the video KYC. This method is recommended by Paytm itself. In this method, you have to appear for a video call. In this call, you have to show your original PAN card.
The second KYC method is the Paytm KYC centre. You can find a Paytm KYC centre in your location. You can visit that centre.
The third option is Paytm Agent. The agent would visit your place and perform the KYC there. The agent would charge ₹150 for this.
Well, I have selected the the video KYC method.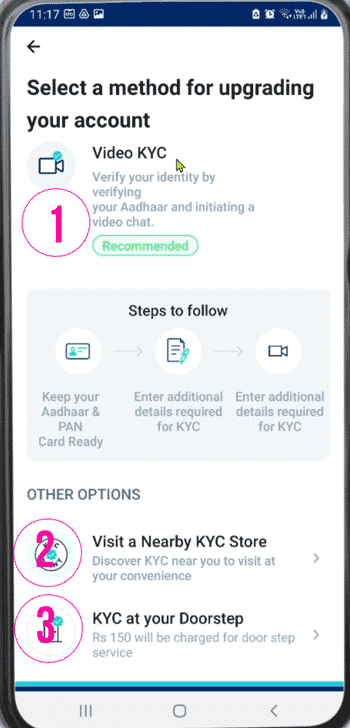 5. Aadhaar Verification
On the next page, we have to enter the Aadhaar number and Name. By using our Aadhaar number, Paytm fetches some personal details from the Aadhaar database. To give permission for this, we have to agree on the terms and conditions. So tap on the checkbox and Proceed.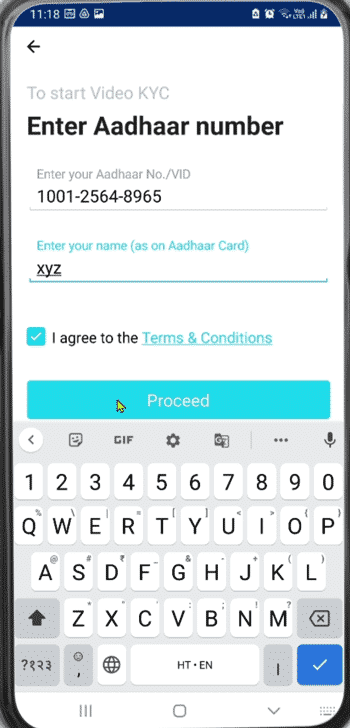 As we tap on the Proceed Button, an OTP is sent to our mobile number. This OTP is sent by the UIDAI (Aadhaar Authority). Note, the OTP would be sent to the mobile number which is registered with the Aadhaar. The submission of OTP verifies that the same person is entering details to which this Aadhaar number belongs.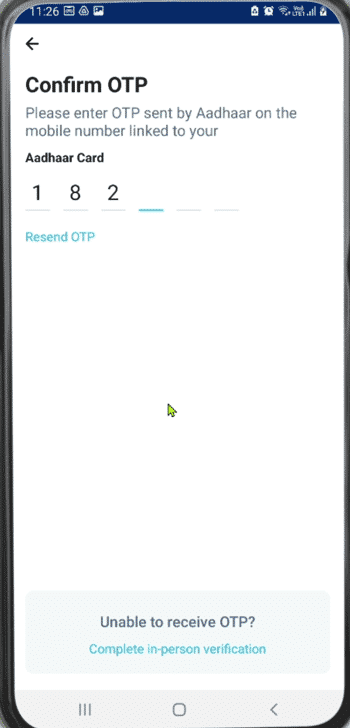 6. Video Call KYC
On the next page, we have to enter our PAN. Now tap on the button- 'Proceed to video call'.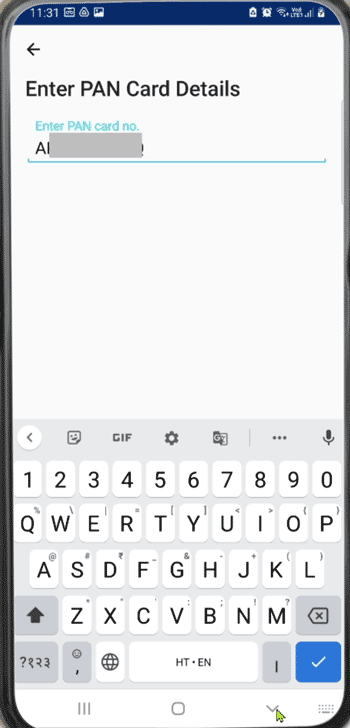 Now we have to get ready for the video call. We should be in a place, which is quiet and has proper light. In fact, good light is necessary as the Paytm agent would click a photo of the original PAN card. The process would not complete unless they have a clear picture of the PAN. So, reach the suitable place along with the original PAN. Tap on the Start My Video Verification.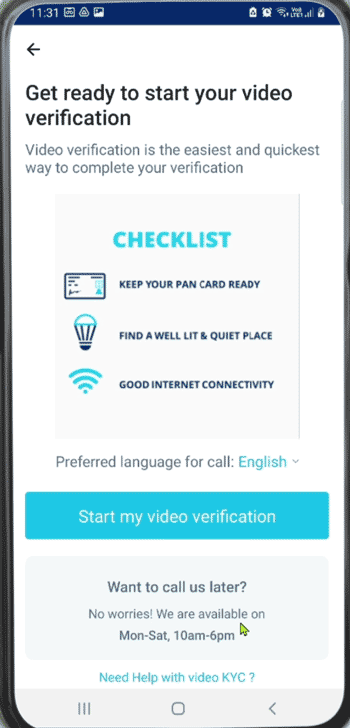 The system would again ask for checking PAN. Once again we have to tap on the button 'continue with Video KYC'. Now we have to wait for the Paytm Agent. There can a waiting period of few minutes. But often, it is not more than 5 minutes.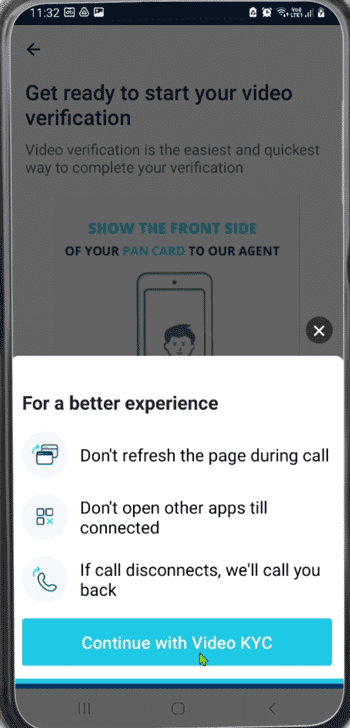 In this video call, we can't see the executive. But he/she can see us. They take our picture and Original PAN as well. They also ask our name, date of birth and state just for verification. For a clear picture of the PAN, you can switch to the back camera.
If the executive takes a clear picture of PAN, The video KYC is approved within 2 hours. A message would be sent If it succeeds. If not, you are again asked to perform video KYC.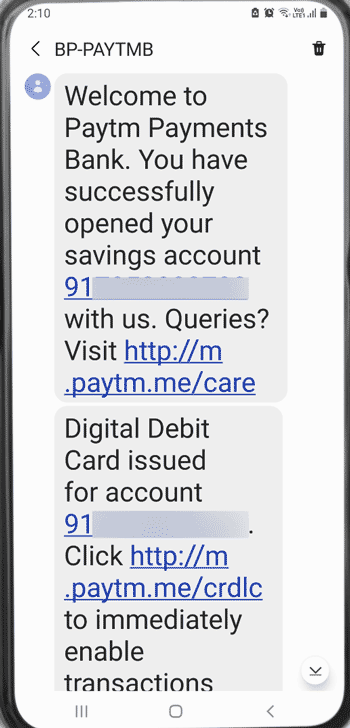 Open Your New Paytm Bank Saving account
Normally, Your video KYC gets an approval within 2 hours. So check for the message. Else, you can also open the Paytm and tap on the Paytm Bank. Enter your Paytm bank passcode.
Promotion for Visa Card
If your application would have been approved, you would see the bank account number. But there can be a promotion for the Visa debit card. By default, Paytm provides a Rupay debit card. I did not consider the Visa card and tapped on the Cross sign.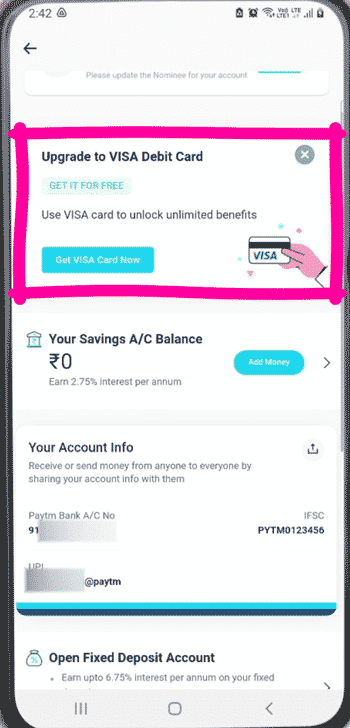 Activate Online Transactions for virtual ATM card
Now you would see a glance at the debit card. But, It does not show the full 16 digit number. Rather, the 6 digits would remain hidden. Thus to view the full number, we have to tap on the Activate card transactions.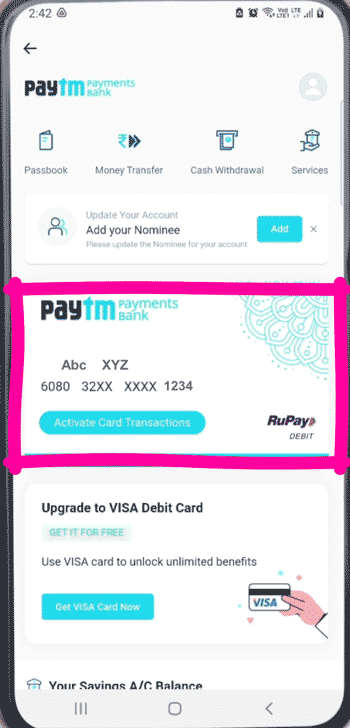 On the next page, we have to activate the online transactions as this virtual debit card can be used only for online payments. As you activate it, you would also see the option to set the limit. By default, the limit is ₹1 lakh. However, you should decrease it if not required. Because It would give you greater security. That is why I have set the limit at ₹10,000. Now, save the changes and tap on the back arrow.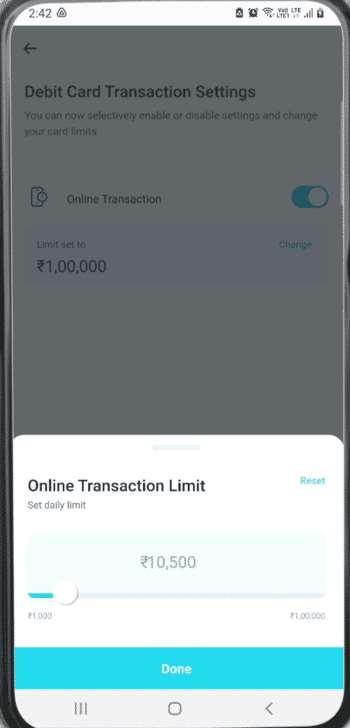 View Debit card Number, Expiry date and CVV
Again, look at the virtual debit card. Now it has the link for 'View and Manage your Debit card'. So, let us tap on it. But, again we are not able to see the full details of the debit card. There is another link to 'View CVV and Expiry Date'. As we tap on it, we have to enter the passcode again. It should be the same passcode that you would have set for Paytm Bank.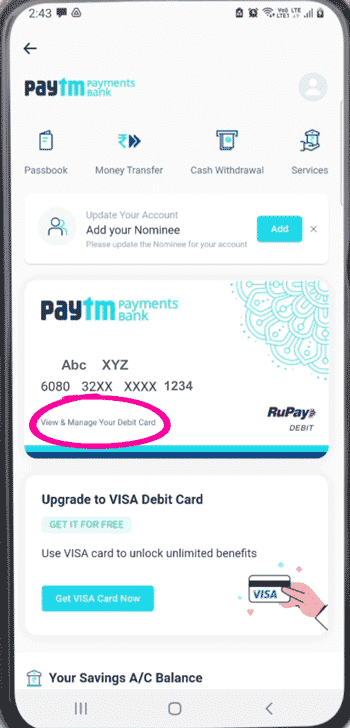 Finally, we can see the full details of the Debit Card. There are all 16 digits of our new virtual debit card. Also, we can see the expiry date and CVV. For Setting the UPI PIN we have to enter the last 6 digits of the debit card along with the expiry date. You can't make UPI Payment without the UPI PIN.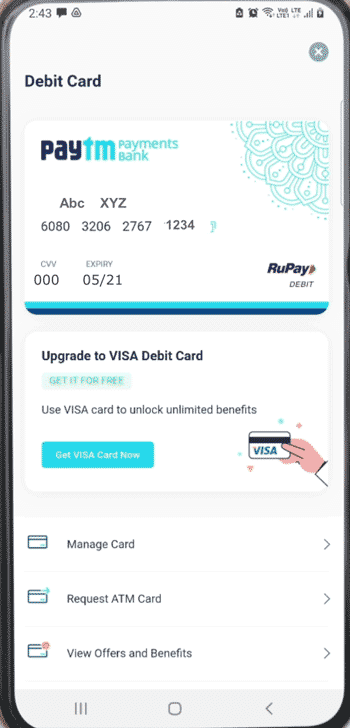 You would have a New UPI ID
While you set UPI PIN yourself. the Paytm allots you a UPI ID itself. It is made by using your mobile number. The UPI ID is required to request money and payment at shopping sites.
Note, now you can use any of the UPI apps using the ATM card details of Paytm Bank. As It is not necessary to use only the Paytm app. You can link the Paytm bank account even in the Phonepe or Google Pay. But, to make a payment, you must have money in the Paytm bank account. Don't Worry, You can credit money to this account from any other account by using UPI, NEFT, IMPS etc.
Friends, like Paytm bank, you can also use digital account details of India post payment bank and Airtel Payment bank. They would also work in the same way. So this is the only way to use UPI payment without an ATM card. It goes through opening an instant digital saving account.