Like other UPI Apps, the online shopping app Amazon Pay has started its own Unified Payment Interface (UPI) handle. You can find this feature in the Amazon app itself. There is no need of separate UPI app.
Thus if you link your bank account with Amazon Pay UPI app, you would get the Amazon Pay Virtual Payment Address. It is same as in other UPI Apps.
How do I find my Amazon UPI ID?
To find out your UPI ID in Amazon app, follow these steps-
Step 1, Open the Amazon app. Login with user name and password.
Step 2, Tap on three parallel lines at the top left corner of the Amazon portal.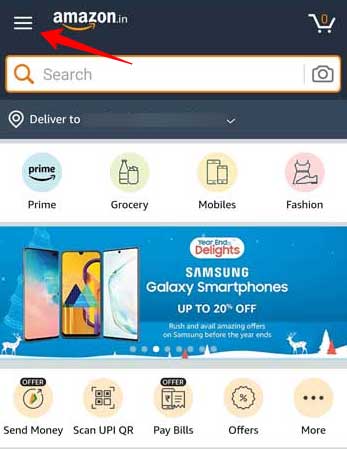 Step 3, Now tap on Amazon Pay option.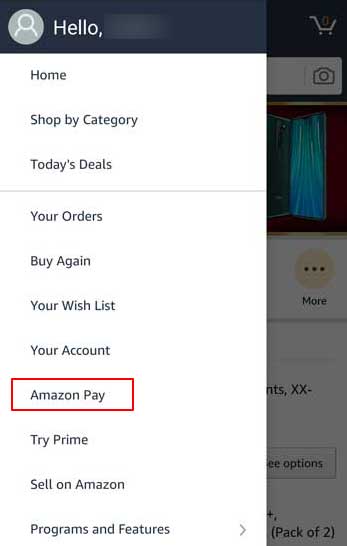 Further tap on Amazon Pay UPI tab.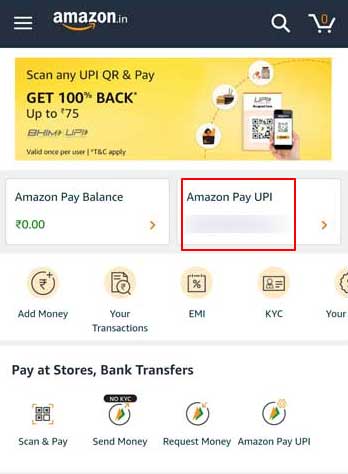 Now you can see your Amazon Pay UPI ID. It is created with your mobile number followed by @apl.
Step 4, That UPI ID is created as a default UPI ID by the Amazon Pay app. But you can create a new UPI ID and can make it as a default ID.
Amazon Pay UPI ID Sample / Format
The Amazon Pay creates UPI ID as a default with your mobile number registered with Amazon as well as linked bank account. Then the extension is created with the sign '@' and 'apl'. For example, if your mobile number is 9876543210, then your default UPI ID will be 9876543210@apl.
If you want to create a new one, you can add your name or your business name etc. for the first half of ID. Like, shubham@apl or prakashtransport@apl or any other. But you have to see whether it already exists or not. If yes then you would have to try with another one.
How do I create a UPI ID on Amazon?
Amazon app is providing UPI facility in association with Axis Bank Ltd. Moreover, Amazon Pay UPI app is working on the Android operating system only. Thus to create a UPI ID, first install the latest version of Amazon app.
Now let us see how we can create a UPI ID on Amazon Pay app-
Step 1
Open the Amazon app. Login with username and password. Click on as usual on three parallel lines. Click on Amazon Pay.
Step 2
Now click on Amazon Pay UPI tab. Or you may click on Amazon Pay UPI tab at the middle of the page.
Step 3
To set up for Amazon Pay UPI, allow permission to Amazon to send and view SMS message. Moreover, give permission to manage phone calls to verify your mobile number registered with bank account. Thus your mobile number should be the same in bank account and in Amazon app.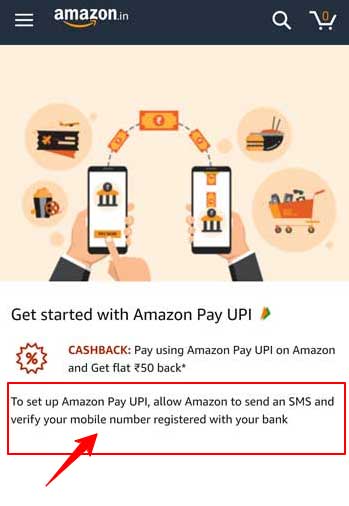 Step 4
If you have more than one SIM cards in your mobile, select the registered SIM card in bank account. Now click on Proceed.
Step 5
Thus the Amazon Pay verifies your mobile number. Now select your Bank account from the list. As soon as you select your bank, the last four digits of your account appear on the screen.
Step 6
Click on Next. Your bank account is now linked with Amazon Pay app. Then you can see your default UPI ID below this intimation. Thus in this way you can create your UPI ID on Amazon Pay app.
After creating UPI ID now you have to create UPI PIN. But, if you have already a UPI PIN linked with the bank account, then no requirement to create a new.
Step 7
To create a UPI PIN, you have to enter the last 6 digits and other details of your bank debit card. Then proceed with the instructions to create UPI PIN.
Suggested- How To Pay Amazon Using Debit Card
UPI Facility in Amazon – Main Points
In Amazon App, you may use the UPI payment facility in three ways-
A UPI ID created on Amazon app, you can use to pay on Amazon app.
A UPI ID created through any other UPI app may be used on Amazon app
Or a UPI ID created through the Amazon app may be used in other third party UPI apps or websites.
Moreover, the UPI system on Amazon comes with special benefits. Let us see-
You can create multiple UPI ID in Amazon app. And one of them must be as a default ID.
Instant payment facility directly from your bank account to phone contacts and UPI IDs. Also by scanning UPI QR code.
You can transfer money to the bank accounts of the payees with the account number and IFSC code as well.
Online shopping in Amazon app through UPI PID.
No CVV or OTP required for payment. Moreover, the payment is secured with UPI PIN as well.
You can also view UPI transaction statements.
You can reset UPI ID and UPI PIN. Besides it, you may change the default bank account as well.
If you forgot your UPI PIN, you can create a new. Also, you may deregister your UPI ID created in Amazon Pay app.