You would find hundred of android apps of banking and finance. But the BHIM UPI app of Android platform is the most useful app. In fact, these apps are stars in iOS and Windows platform as well. You can see many payment apps which are prefixing 'BHIM UPI' term before their name. All these apps have adopted the UPI payment system for their fund transfer. Almost all the big banks use UPI app payment system. Some banks have even 2-3  UPI apps.
In fact, UPI or unified payment interface is a revolutionary payment system. It has made the payments and fund transfer very easy. This system is based on the mobile apps. This system doesn't require the bank account number of the payee to transfer fund. The system is simple and secure. You should have a smartphone to use the UPI-based apps.
UPI App For iPhone and Windows
Now you can find several BHIM UPI apps for the windows or iOS platform. Earlier it was only available for the Android operating system. It means not every smartphone user can enjoy the benefits of UPI.
Also Read: BHIM For Windows and PC!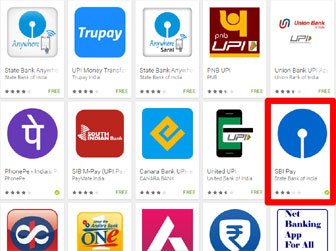 Features of UPI Android App
Instant Fund Transfer Always
The UPI android apps transfer fund immediately anytime. Ther are no holidays offs or break. It works 24*7. If you want to pay money to a bank account holder you can do it immediately. There would not be a waiting period even for the new payee. You can add a payee and pay money straightaway. You must know that some banks keep a waiting period for a new payee.
Flexibility to Use
There are several UPI apps at Google Play store. These are the banks and third party operators and you are free to use any of them. You are not bound to use the UPI apps from your bank. You can have a bank account in SBI but use the UPI app of ICICI Bank. Even you can link accounts of different banks in one UPI app. You can use several UPI apps and link a bank account to all of them. You can also transfer money to any bank account using the UPI. There is no such restriction. It is an open network of bank accounts.
Negligible Charge
All the methods of interbank fund transfer require some charge. The NEFT and IMPS charges minimum Rs 2.5. But the UPI android apps do not charge a paisa. It is free now. There can be some charge in future but it would be about 50 paise. The UPI framework was made to keep the transaction cost very low.
More Secure
The UPI android app is more secure as it does not require bank account number or IFSC code of the payee. Even it does not ask you bank account number at the time of registration. It links your bank account number on the basis of mobile number. That is why the UPI works on android mobile. On the other h and,  you can give the Virtual payment address or VPA of the payee instead of the bank account. The virtual payment address is created by a UPI app user. It is linked to the bank account of the UPI user.
Functions of BHIM UPI App
Balance Check
You can easily check your balance through the UPI app. It gives you the facility to check the balance of every account through the single app.
Fund Transfer to any Bank Account
You can transfer money to any bank account. However, the bank should have adopted the UPI payments. Almost all the big banks have become part of the BHIM UPI. To transfer fund through this method you have to choose the registered bank account as you have been doing through any banking app. However, the UPI android app gives you facility to transfer money instantly to a new payee. It is not possible with normal bank transfer.
Fund Transfer to VPA
The UPI android apps give you the facility to transfer money to a bank account without knowing the bank account number. Rather, You should know the VPA of payee. VPA or virtual payment address is set when a person registers the new UPI app. The VPA is similar to an email address. It is also called as the UPI ID.
The UPI app has a unique feature of fund collection. Through this method, you can ask money from someone. The payer would get a notification of collect fund. He/she can approve or reject the payment. This feature is very useful to e-commerce and other lenders.However, you should note that collect money feature works if both the person use UPI android app.
UPI Enabled Banks: List and Links To Download UPI App
Also Read: How To use BHIM UPI Apps
UPI Android Apps of the Big Banks
The banks have launched their own UPI app. However, it is not necessary to have a UPI app to participate in this platform. Banks are struggling to come with a standalone UPI app and integrate it in its existing mobile apps.
BHIM
It is the most popular UPI app. It is not made by any bank, rather The NPCI has launched this app. BHIM is simplest and most efficient UPI app.
BHIM SBI App
The SBI has a separate UPI based app – BHIM SBI pay. The app is simple works basic function. The SBI has launched the UPI app after two months.
ICICI UPI Apps
The ICICI Bank has launched two UPI based mobile apps. the ICICI Mobile and ICICI Pocket. You can use any of the ICICI UPI apps
HDFC UPI App
The HDFC bank was late with its UPI app. However, it has integrated the UPI payment system into the HDFC mobile app. Surprisingly It is not the chillar app
You can also read about the best UPI apps of India to get the clearer picture.
Google Pay (Tez)
This app is developed by the Google. It is similar to the other UPI apps. Google Pay (Tez) has a unique feature of Tez Mode . In this mode you can easily transfer money to a nearby person. You would not even need to enter any details of the benefeciary. The system detects the nearby feature like a bluetooth device. Using Google Pay (Tez) is as easy as BHIM.