Small Saving Schemes in India are instrumental in encouraging savings and offering secure investment avenues to individuals across the country. As we step into the second quarter of the financial year 2023-24, the government has announced revised interest rates for these schemes.
In this blog post, we provide a detailed overview of the revised interest rates for various Small Saving Schemes starting from 1st July 2023 until 30th September 2023, empowering readers to make informed investment decisions. You can invest in all these schemes through the post offices.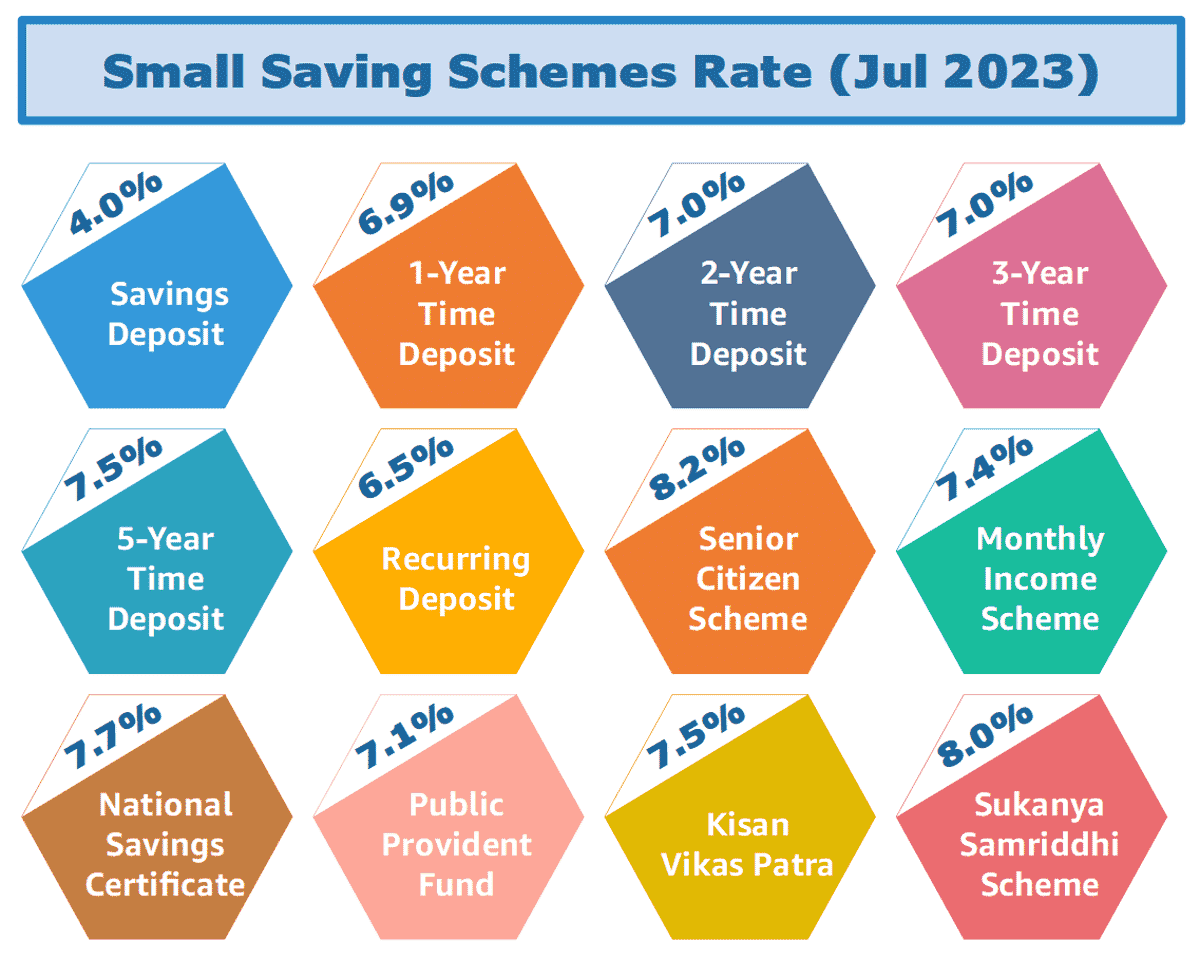 1. Savings Deposit
The Savings Deposit scheme offers a consistent interest rate of 4.0%. This scheme serves as a foundation for building savings and earning modest returns on deposited funds. It provides individuals with liquidity and easy access to their money.
2. Time Deposits:
1-Year Time Deposit:
The interest rate for the 1-year Time Deposit has been revised to 6.9%, providing a slightly higher return on investment. This scheme appeals to individuals looking for a short-term investment option with relatively low risk.
2-Year Time Deposit:
The 2-year Time Deposit offers an increased interest rate of 7.0%, making it an attractive choice for those seeking medium-term investment options. It strikes a balance between risk and return.
3-Year Time Deposit
With a stable interest rate of 7.0%, the 3-year Time Deposit continues to provide a reliable avenue for longer-term savings. This scheme suits individuals with a slightly longer investment horizon.
5-Year Time Deposit
The 5-year Time Deposit, ideal for individuals with long-term investment goals, offers a competitive interest rate of 7.5%. It provides a secure and predictable return on investment over a significant period.
3. Recurring Deposit
The 5-year Recurring Deposit scheme has experienced a significant interest rate revision, increasing from 6.2% to 6.5%. This scheme enables individuals to systematically save and accumulate a substantial corpus over time. It is an excellent option for those looking to meet future financial goals through regular contributions.
4. Senior Citizen Savings Scheme
The Senior Citizen Savings Scheme continues to offer a generous interest rate of 8.2%. This scheme caters specifically to senior citizens, providing regular income and financial security during their golden years. It offers higher returns compared to other small saving schemes and ensures a stable source of income for retirees. You can invest in this scheme through post offices and agency banks.
5. Monthly Income Account Scheme
The Monthly Income Account Scheme ensures a steady monthly income stream with an unchanged interest rate of 7.4%. This scheme serves as an excellent option for individuals looking for a reliable source of income. It is particularly useful for retirees or those in need of regular cash flow.
6. National Savings Certificate
The National Savings Certificate retains its interest rate at 7.7%. This scheme offers a safe investment option for risk-averse individuals, providing them with long-term growth potential. It is backed by the government, making it a secure investment choice.
7. Public Provident Fund Scheme
The popular Public Provident Fund Scheme continues to offer a stable interest rate of 7.1%. Alongside tax benefits, this scheme is an attractive choice for long-term savings and retirement planning. It has a lock-in period of 15 years, ensuring disciplined saving habits.
8. Kisan Vikas Patra
With a maturity period measured in months, the Kisan Vikas Patra scheme maintains its interest rate at 7.5%. This scheme targets farmers and individuals from rural areas, encouraging them to invest in their future. It provides a safe and reliable investment option, supporting the agricultural community.
9. Sukanya Samriddhi Account Scheme
The Sukanya Samriddhi Account Scheme, focused on the welfare and education of the girl child, retains its interest rate at an attractive 8.0%. This scheme provides financial security and growth potential for parents saving for their daughters' future. It offers a higher interest rate than most other small saving schemes, making it an excellent choice for long-term wealth creation.
10. Conclusion
The revised interest rates for Small Saving Schemes in India for the second quarter of the financial year 2023-24 offer a range of opportunities for investors. These schemes provide secure and reliable investment options, catering to diverse financial goals. It is essential to stay updated on the latest rates and consult official sources or financial institutions before making any investment decisions. By leveraging these Small Saving Schemes, individuals can take significant steps towards building a secure financial future, achieving their goals, and ensuring stability in times to come.
(Reference – Government Notification)