If you have used the Tez App, you may be wondering about the charges of money transfer through the Tez app. As there is no deduction transaction charge at the time of the payment. Does it charge later? Would it be a surprise? In this post, I would tell you all about the transaction charges of the Tez app.
Also Read-  Tez is now 'Google Pay', What Else Changed
Tez App Money Transfer Charges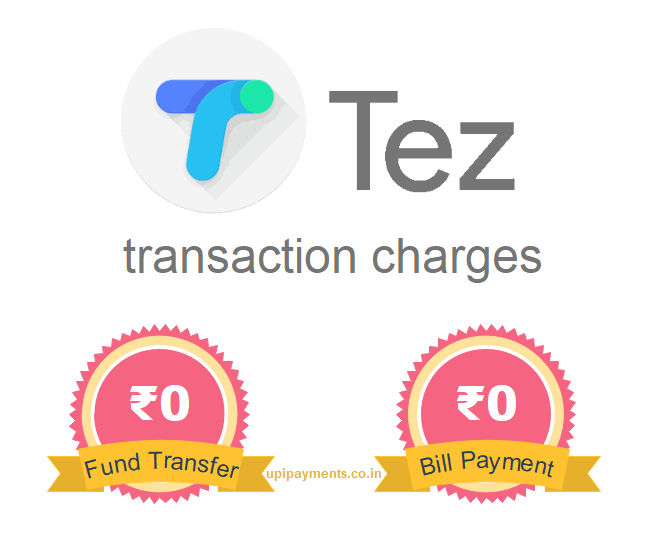 Tez is Free
Normally every service comes with a cost. Banking is also a costly affair. You would remember that banks used to charge minimum ₹5 for NEFT fund transfer. IRCTC still charges for online payments. But the Google Pay app does not charge for fund transfer. To your surprise, the money transfer charge of Tez is zero.
Other UPI Apps are also Free
It is not only Tez, but all the UPI apps do not charge for the fund transfer. All these apps are giving fund transfer services free. That is why people are enjoying these apps. You can use Tez, Phonepe, BHIM, Paytm, SBI Pay to make free fund transfer. All these app use UPI platform to process fund transfer.
UPI system Does not Charge
The UPI is fund transfer system developed by the NPCI. This system transfers money between two bank account immediately. The service is always available all day throughout the years. Every payment app uses the UPI for fund transfer. As this system does not charge anything from the mobile apps. In return, the UPI based apps also do not take any charge from the customers. However, these apps are free to recover their cost as they maintain the mobile app.
Bill Payment Charge
The Tez app also gives you the facility to pay bill. You can pay bill to almost 100 billers through the Tez. This service is also free of cost.
The Tez is not charging anything from you or biller. In fact, Tez is using the Bharat Bill Payment system to facilitate the bill Payments. As of now, this system is also free. Before the Bharat Bill Payment system, the billers had to pay a percentage of bill amount to the payment gateway. But now NPCI does not charge anything for its Bharat Bill Payment system. That is why more and more billers are adopting the BBPS.
Latest Electricity Bill Payment Offers Through Paytm, Phonepe, Google Pay
No Charge, Rather Incentive
The Tez does not levy any charge on fund transfer. Rather it gives incentive for using this app. The Google Pay (Tez) app is rewarding its customers for using Tez for fund transfer and bill payments. The first time user and referrers also earn handsome cashbacks. Of course, this generosity has attracted hordes of users to the Tez. Meanwhile, Paytm, Phonepe and BHIM also offer rewards for using their apps.
Google is bearing the cost
It is true that Google has to bear the cost of Tez app. Running and managing an app of such a big scale require big money. But, Tez is not thinking about this as it has to acquire much more customers. The Google can afford it because it has the deep pockets. But small players can't spend so much amount thus their UPI apps are not as much popular. However, no UPI app could muster the courage to charge on UPI payments. Rather NEFT and IMPS has also become cheaper. These are also the Fund transfer systems.