Now Fastag Has become mandatory for toll payments at National Highways. So if you have not purchased it till now, go for it. Toll plazas, POS centres, different banks, UPI Apps are providing FASTag. Moreover, India's largest Government bank, SBI is also giving Fastag.
Hence, in this post, I will tell you how you can buy SBI FASTag. How you can recharge it. And the special features of SBI FASTag.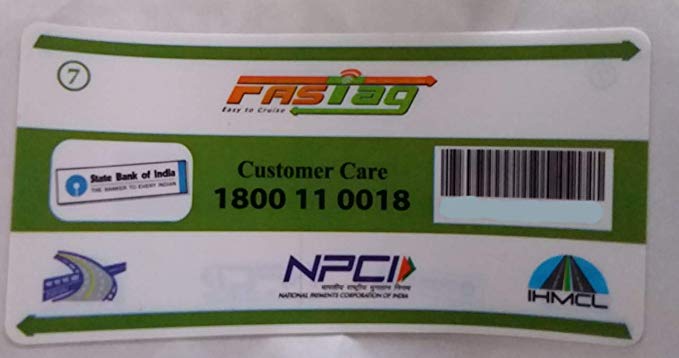 The Importance of FASTag
FASTag works on RFID (Radio Frequency Identification) technology. It is a sticker which you have to paste on your vehicle. The tag reader read it on toll plaza and deduct charges from the prepaid wallet or linked bank account. Thus this process enables you to drive through the toll plaza without halting.
Must Read – 10 Rules About FASTag
So, it is like a toll payment revolution in India. Hence no reason to ignore it. SBI has created a separate website for the SBI FASTag. But if you want to buy SBI FASTag, you have to go through the POS centre of SBI. Through the website, you can only manage the FASTag services after purchasing.
Not only SBI, but all the banks are providing FASTag offline through the POS centres. Currently, none of the banks is giving online FASTag except Payment Banks. The reason behind is, banks require your full KYC for FASTag. And full KYC is possible only through your presence at the POS centre.
Therefore, if you get an offer to buy a FASTag online through the bank, beware of it. It may be an elusion. Let's see how you can buy SBI FASTag and how you can manage it.
Suggested – Now Video KYC is also permitted
Offline Method Through the SBI POS
SBI has made approximately 3000 POS/ Agent locations across the country to provide FASTag. You may call 1800 11 0018 the toll free customer care number of SBI FASTag. The executive will help you to find out the nearest POS at your location.
Moreover, you can search the POS list of SBI through the official website of SBI FASTag. It is- www.fastag.onlinesbi.com. Now see the procedure-
Step 1
Visit any point of sale (POS) of SBI with the necessary documents. You have to take along your vehicle at the POS as well.
Step 2
Now fill the application form to get the FASTag at POS. Submit it there with KYC documents. Remember, you have to bring also the original documents at the POS for verification purpose. Thus your KYC documents are-
Registration Certificate (RC) of the vehicle
ID proof
Address proof
Mobile Number and
Passport size photo of the vehicle owner/ customer
Step 3
The representative of the SBI POS will verify your details and will give you the FASTag. He will guide you also for pasting the FASTag on your vehicle's windscreen at the spot.
Step 4
You would also get an SMS after successful verification. This SMS will contain the username and password of SBI FASTag. You may use it to login the website of SBI FASTag to manage the account.
New and Easy ways of To Recharge FAStag in 2020
Online Management of SBI FASTag through the Website
You have got your SBI FASTag along with the password. Now, whenever you want you can visit the official website of SBI FASTag to manage it. Let us see how-
Go to the portal of SBI FASTag – fastag.onlinesbi.com.
Sign in with your mobile number, password and captcha code.
In this portal, you can manage all the functions of your FASTag. Like,
You can view your details such as Address, vehicle number and other.
You can view all the transactions of your FASTag.
Even you can download the transaction statement as well.
You may recharge FASTag through your bank account.
You can suspend or deactivate it.
If you have any concern, you may raise a complaint.
And you may view the status of your service request.
Also Read – How to Affix FASTag in Your Car Windshield.
Features of SBI FASTag
SBI FASTag has some special features. This makes it different against others.
One time tag charge is ₹100. Security Deposit of the tag depends upon the type of vehicle. For car/ van/ jeep it is ₹200. And the minimum balance requirement is only ₹100.
The security deposit is refundable at the time of cancellation of the FASTag.
The validity of the SBI FASTag is unlimited. Moreover, it comes with three years guarantee after the date of issuing as well.
You can recharge FASTag online by different payment methods.
With Limited KYC FASTag account, you can not have more than ₹10,000 in the prepaid account. The monthly recharge limit is also ₹10,000.
But, with full KYC FASTag account, you can maintain up to ₹1 lakh. Moreover, there is no limit on monthly recharge amount.
You get instant SMS alert on your registered mobile number of every toll transaction. And for the low balance as well.
SBI has given you different methods to lodge a complaint about SBI FASTag. Thus if you have any complaint, you may register it with the bank. For this go through the Email Id [email protected] and CC to [email protected].
In addition, you may lodge a complaint through the toll free customer care number 1800-11-0018 of SBI FASTag as well.
Moreover, NHAI/ IHMCL has launched a helpline number 1033 for FASTag complaints at toll plaza level.
You may get a 2.5% cashback on all toll payment through SBI FASTag on National Highways. However, it is available up to 31 March 2020 only.
If you are eligible, you may get rewards points on topping up of SBI FASTag. But you have to recharge through the SBI Debit cards.
By logging through the SBI FASTag portal, you may get the history of past transactions and full detail of account statement.
How to Recharge FASTag Through BHIM UPI Apps
Suggested – How To avoid FASTag Fraud?
How to Recharge SBI FASTag
Now let us see the available facilities of recharge of FASTag-
Offline Method
If you want to recharge SBI FASTag offline, go to the SBI FASTag POS centre. There you have to pay the recharge amount by cheque or cash. Then the executive will credit that amount in your FASTag prepaid account.
Online Method
Obviously the online method is so easy and hassle free, as no need to go anywhere. Just follow some steps in your mobile or computer and you would get your FASTag recharged-
Step 1, Visit the official website of SBI FASTag. Login with your mobile number and password.
Step 2, On the next page, tap on Tag Recharge on the top of the portal.
Step 3, Now enter the recharge amount and click on Pay Now. Thus the payment page will open.
Step 4, Select the payment method. You may recharge through Net Banking, NEFT, IMPS, RTGS, Debit/ Credit card. Even you may choose the UPI App payment method like BHIM UPI, Google pay, Paytm etc.
Step 5, The break up of the charges will appear. Thus check out the details and click on Pay Now.
Step 6, Your recharge is completed. You will get an SMS of the successful recharge in your registered mobile along with other details.
How To Get Free Fastag at Home
My Experience with Paytm FASTag Recharge
Here I am sharing my experience of Paytm FASTag recharge with you. Paytm takes up to 20 minutes waiting time to get recharge Paytm FASTag. See how-
If you have a balance in Paytm wallet i.e. main wallet, no requirement to recharge Paytm FASTag wallet separately. The toll will be deducted from Paytm wallet.
Paytm reserves a minimum amount in Paytm FASTag wallet as well. So if you have not a balance in the main wallet, the toll charges will be deducted from the FASTag wallet.
But if you have not a balance in both the wallets, you must recharge the Paytm wallet only. You can do it also during the ride.
But you should do it before entering the toll plaza. Because here the waiting period starts.
When you recharge the Paytm wallet at the journey, it takes up to 20 minutes to get active for the toll payment through FASTag.
But if you have already a balance in main wallet, no requirement to recharge it again.
Thus if you are using the Paytm FASTag, you must be careful about the wallet balance before entering the toll plaza. I have no experience about the waiting period of SBI FASTag recharge. So if you have, why do not share with us your experience?