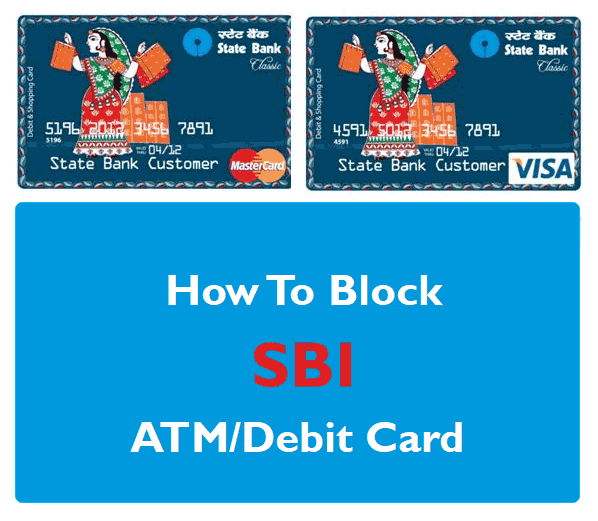 Oh! Have you just lost your SBI ATM cum Debit Card or someone has stolen it? Not to worry, have patience. Follow some steps and easily block your card. It will make safe your card from any fraudulent transactions.
In the present scenario, ATM cum Debit card is so essential for financial transactions. So, if you have lost your card, you have to block it as soon as possible. Otherwise, if an unauthorised person gets it, he can misuse it by withdrawing your hard earned money.
At this time, SBI is giving three options. You can choose any of them to block your card immediately and hassle-free. We will discuss all of them.
1. Offline Method – SMS
The first method, offline through the SMS. If you have lost your card or you want to block your card by any reason. You have to send an SMS from your registered mobile number which is linked with your account and debit/atm card.
Write down 'BLOCK [space] last four digits of your card number. And send it to 567676. When your request is accepted, you will receive a confirmation message with ticket ID, date and timing regarding card blocking.
Recommended– What if ATM Does not Give Money?
More Security – OTP for SBI ATM Withdrawal in Night
2. Call to Customer care
You can also block your card through a call. For the immediate effect of blocking you have to call to the customer care on a toll free number 18004253800 or 1800112211. This is IVRS (Interactive Voice Response System), where you will receive guidance for the blocking of the SBI ATM card.
Just follow the instructions, your card will be blocked.
You Can Set Limit and Block Online Usage of your Card !
3. Online Method- Netbanking
SBI has given its customers two options under the online method. Net Banking and Mobile Banking. So, if you want to block your card online in lieu of offline, you have to follow some steps-
Step 1, Go to the website of SBI, www.onlinesbi.com. Login with your username and password.
Step 2, Go to the e-services tab. Click on 'ATM Card Services'.
Step 3, Here you will see many options. Click on 'Block ATM Card'.
Step 4, Now, choose the account number under which you want to block your card. Click on continue.
Step 5, Here you will see a list of all cards which are active and blocked. And also you will see the first and last four digits of cards.
Step 6, After that, select the card which you want to block. Give the reason and click on submit. Verify the details and click on confirm.
Step 7, A page will be displayed regarding Authentication Method. There are two options, OTP or Profile Password. Choose the one.
Step 8, At the last step, enter the OTP or Profile Password and click on confirm.
You will receive an SMS with the ticket number, once your card will be blocked. Keep this ticket number for future reference.
New Debit card Transaction Charges
4. ATM Card Blocking Through Mobile Banking
Step 1, Login to the SBI Mobile Banking App on your mobile. On the home screen, select 'Services' option.
Step 2, You will see a list under Services option, where you have to select 'Debit Card Hotlisting' option.
Step 3, On this page, you have to select Debit Account linked with the ATM Card which you want to block.
Step 4, After that, select the debit card which you want to block.
Step 5, Here you have to select the reason for blocking the card. Either Lost or Stolen.
Step 6, Finally, enter the OTP and click on submit. Your card is blocked.
Suggested – What is Debit card and ATM card?
How To unblock
Suppose, by any reason you had blocked your card, but now you want to unblock it. You can do it through the two ways-
A phone call to the SBI customer care. The numbers are the same used for the blocking of the card. You have to give some details like, your account number, card number and registered mobile number.
An application to the SBI branch where you have an account. Attach some required documents demanded by the bank. However, it will take some time. But your card will be unblocked surely.
Currently, you can not unblock your card online, even you blocked it online.