Welcome you with the new information about the Cash Deposit Machine. In this post, I am sharing you my experience with SBI Cash Deposit Machine (CDM) without using the ATM cum Debit card.
Most of you know that you can deposit money through the Cash Deposit Machine using debit card. But there is one more option i.e. deposit without using the debit card.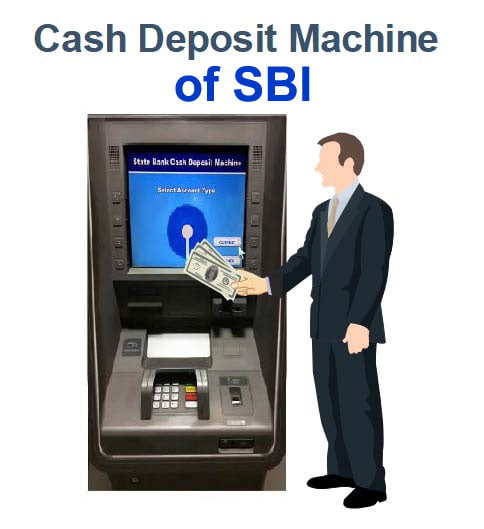 What is Cardless Deposit
Basically, cardless deposit is for money deposit in others' accounts. Just get the account number and mobile number of the beneficiary. And you can deposit cash directly in his bank account without using your Debit card.
But I thought I should try to deposit in my account without using the card. So a few days ago I tried it. Now see what happened.
Requirements of the Cardless SBI CDM
Though I have my SBI debit card, but I wanted to deposit cash in my account without using the card. So I visited the SBI CDM at my nearest location. It was a common machine with ATM facility as well. Thus there was also the card slot to do transactions through the ATM cum debit card.
Just I select the Deposit option a message appears on the screen.
It requires the beneficiary mobile number. I enter my mobile number because here I am the beneficiary.
Then it asks the beneficiary account type. I select the savings account option.
Now it says to enter the beneficiary account number. So I enter my SBI account number.
Hence to cardless deposit through SBI CDM, you must have two requirements with you-
The beneficiary's SBI account number and
His mobile number registered with that account number
Suggested – Best saving Account For Kids in 2020
Receipt before Transaction
As I enter my account number and press on the confirm button, it generates the Pre Transaction Receipt. On the receipt, there are some details like transaction number, my mobile number and last four digits of my account number.
Also, the details display on the screen with my name, account number and mobile number. In addition, it displays the transaction charge detail of ₹25 and Deposit per Transaction Limit of ₹49,900 as well.
Useful Post – How To Find CDM Near Me?
Transaction Charges
This is the main fact, I want to tell you. If you want to use the cardless SBI CDM, you have to pay ₹25 per transaction charge. This charge will be deducted from the amount deposited. For example, if you deposit ₹10,000 the beneficiary will get ₹9,975.
Moreover, you can deposit a maximum of ₹49,900 in a single transaction.
Deposit Process
Now as I verify it, the cash deposit window opens. A message displays on the screen stating that you can deposit the money in denominations of ₹100, ₹500 and ₹2000. It means you can deposit a minimum of ₹100 in a single transaction. Also, you can deposit up to 200 notes at a time.
As I wanted to try only, so I put ₹100. The CDM accepted it and generated the Transaction Receipt. Then a message displays on the screen about a successful transaction. Moreover, I get an SMS of the successful transaction in my mobile.
How To Deposit Money Through SBI CDM
Costly Transaction
As I told you there is a ₹25 per transaction charge. So I get only ₹75 in my account. But firstly, I get ₹100 credited. Then ₹25 get debited from my account. Hence, it is like 25% transaction charge for me. Hahaha… So for the small amount deposit, it is very costly.
But if you have to deposit a big amount then it is not a heavy charge.
Suggestions to You
You can enjoy the cardless cash deposit process through the SBI CDM. As it is very easy to operate, just like to pay someone money in cash form. Hence if you can ignore the transaction charge, you can use this facility whenever you have required. But you must be aware of some facts-
Currency should not be folded or mutilated.
You can not use this facility for the deposit in your account with other banks. SBI CDM is for the SBI account holders only.
Through the CDM, You may deposit in other's SBI Account if you have not an SBI account.
You should avoid depositing in your account in this way as much as possible.
You must deposit in your account through the Debit card. Because there is a high deposit limit of ₹2 lakh through the card. And no charges of transaction.
If you have not the card at the time of deposit and transaction is necessary, then only try to deposit a big amount.