The SBI has made ATM withdrawal more secure. Now, in certain situations, you have to enter the OTP to withdraw money from SBI ATM. This requirement of OTP would protect customers from Phishing and cloning. You may have heard that fraudsters clone your debit card and steal ATM PIN to withdraw money from your account. But now it would not be possible because of the OTP requirement. As OTP would come to your mobile phone.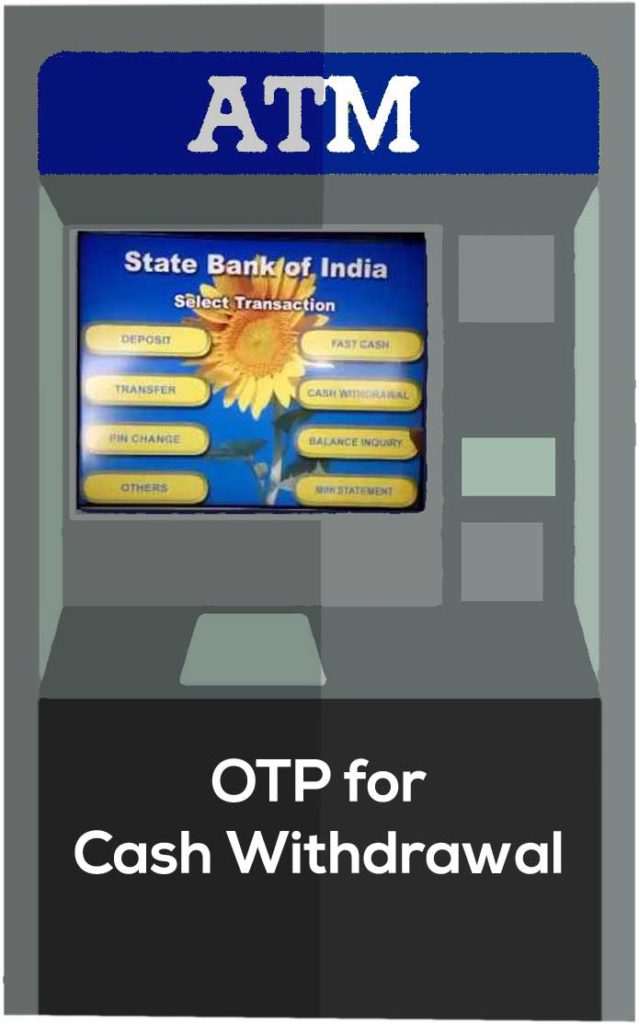 What is the new Rule of SBI ATM Cash Withdrawal?
SBI is introducing the One Time Password (OTP) based ATM cash withdrawal . OTP is a system generated numeric character which keeps our transaction safe as it is sent to our mobile.
This new amendment is applicable since 1st January 2020 for the ATM withdrawal. The OTP would be required in following situation.
SBI IMPS, NEFT and RTGS Charges
1. Withdrawal Amount is More than ₹10,000
The OTP is required for ATM withdrawal when you want to withdraw more than ₹10,000. Hence if you withdraw up to ₹10,000 there is no requirement to enter OTP.
2. During Night and Morning
The SBI ATM machine would ask OTP only for the limited hours. The OTP system is active for 12 hours starting from 8 pm to 8 am. Thus this security layer is for the night and morning. This is the time when frauds take place. However, it may be for 24 hours in future.
3. Only For the SBI Debit Cards
This new rule is launched by the SBI. None of the other Government Banks or Private Banks launched this facility. So it is for the SBI customers only. Thus you must register or update your mobile number with your account if it is not done so.
4. Only through SBI ATM Machine
The OTP system only when you transact at SBI ATM machines. So as an SBI customer if you withdraw from non-SBI ATM, this facility will not be available for you.
Moreover, if you have an account with non SBI bank and you use SBI ATM, this is not for you as well.
5. Not Through the Branch
As this facility is for the ATM cash withdrawals. There is no requirement on withdrawals through the branch.
Hence you can see how your bank is trying to protect you and your valuable money.
Must Read- 3 Ways To Block SBI ATM Card
How it will work?
The new OTP based cash withdrawal system is to authenticate the Debit cum ATM card user. However, there is no extra change.
Thus when you go for ATM cash withdrawal, you must have two things with you. First, ATM card and the second your mobile. The mobile number should be registered with your SBI bank account as well as with ATM card.
Now let's see how this process works-
You have to enter your card in the slot as usual. Then follow the instructions as before.
After entering the ATM PIN, you will receive an OTP on your mobile.
Enter the OTP on the screen. The system will authenticate the OTP.
As soon as it verifies the OTP, the ATM machine will dispense the cash.
Note:- From 1st January 2020, the Magnetic Strip Bank ATM cum Debit Cards are not working. So go to your bank to get new EMV chip card.
Also Read – SBI ATM Per Day Withdrawal Limit
What are the benefits?
Now let us see the benefits of OTP based cash withdrawal system of SBI-
Now a days there are different cases of ATM frauds. Thus this facility will be helpful to stop the ATM frauds.
It will keep safe and secure from stealing the card details. Hence no further chances for the unauthorized ATM transactions.
Protection to the SBI Debit card holders from card cloning.
Recommended – What if ATM does Not Give Cash?