You may have seen the RuPay Logo in your debit card. This logo tells that your debit card would use the RuPay payment Gateway for  transactions. RuPay is one of the most popular Payment gateway. This gateway is developed in India and most of the banks have adopted this payment system. The Rupay has many benefits over international payment gateway such as Visa and Master card
You may ask, why is this card getting too much importance? Is it most beneficial among all the digital payments?  Is it better than the Visa and Master cards? In this article, you will get the answers of all these questions and much more.
What is RuPay card?
RuPay is a payment gateway similar to the Visa, Master, Maestro. The payment gateway facilitates money transfer among banks, account and all other banking channels. Because of the payment gateway, we can use ATM machine and Swipe machine of any other bank. Even our card works in other countries. 

RuPay term is made from the combination of two words Rupee and Payment. Like other international cards such as Visa/Master, it can be used for transactions on ATMs, Point of Sales (POS) and online sites.

National Payments Corporation of India (NPCI) has launched this card on March 26, 2012. You should know that NPCI is an umbrella organization for all type of retail payments systems in India. It facilitates the payments through the IMPS, UPI, USSD and AEPS. All the big banks of India has jointly established this organisation. 
BE proud of…
Yes! Now we are the sixth country in the world which owns domestic payment gateway system. Before us, there were Other five countries only. Those were USA, Japan, China, Singapore and Brazil.
Where Can You Use RuPay Card
You can use the Rupay card at various places. You can perform following tasks using a RuPay card.
Transaction At ATM
Your debit card enables you to withdraw money from an ATM. You can get money anytime, irrespective of bank is open or closed. In India, you may withdraw up to Rs 40,000 in a day. It is the limit of a common debit card. If you own a higher value card you can use it to withdraw up to 1 lac rupees per day. The banks fix the withdrawal limit, thus it can vary. You can also know your bank balance and get a mini statement through the ATM. You would have seen this feature.
Also Read – ATM Withdrawal Limit of SBI and Other banks
Payment At a Shop
Using your RuPay card you can also pay for a product or a service. This facility is available on those shops which have the POS machine. This machine is used to get data from your card. It pays to the merchant immediately. You would also get a receipt of this payment.
Online Payment
RuPay card can be also used for the online shopping and payments. To use it online, you have to give the details of your Rupay card. It includes 16 digit card number, validity and CVV number. Along with this, you have to also authenticate the transaction by entering ATM PIN or 3D secure PIN.
Reach of RuPay card
Within a short period of 6 years, this card has captured a big market. After the note ban in India, the RuPay card transaction has increased 7 times. There are about 40 crore RuPay card in India of which 20 crore cards are linked to Jan Dhan accounts. About 24 lakhs RuPay debit card transactions are done daily.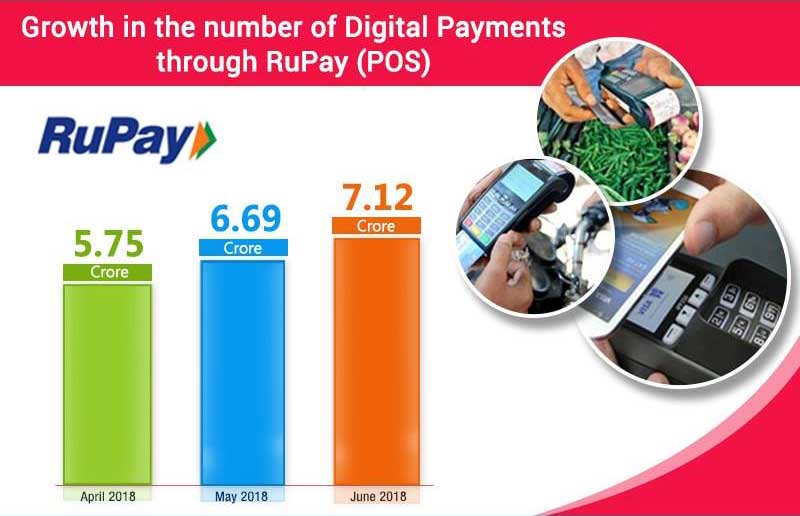 Global Reach
NPCI had tied-up with an American card issuer, Discover Financial Services (DFS). Because of this arrangement, RuPay card is accepted at all the Discover & Diner PoS and ATM networks across the world. DFS has over 25 lacs merchants worldwide. It has made the RuPay, a global card.
NPCI and Japan Credit Bureau International (JCBI) had made an alliance. By this JCB cards would be accepted at all POS terminals and ATMs in India. Same to NPCI member banks. They can issue RuPay/JCB cards which will be accepted at all POS terminals in the JCB network worldwide. Especially in Eastern countries. 
China's Union Pay and NPCI also made a deal. So that  CUP cards will be accepted at all RuPay POS terminals in India. In the return, RuPay card gets the same facility.
RuPay is Cheaper
Unlike Visa and MasterCard, RuPay doesn't take charge for joining the RuPay Payment Scheme. It proves a boon to the co-operative banks. Due to minimal cost, they are able to issue RuPay cards. Now 27 Public Sector Banks, 13 Private Banks and over 250 Co-operative & Gramin Banks are issuing RuPay card. There are also 18 prepaid instruments on board which issue RuPay prepaid cards.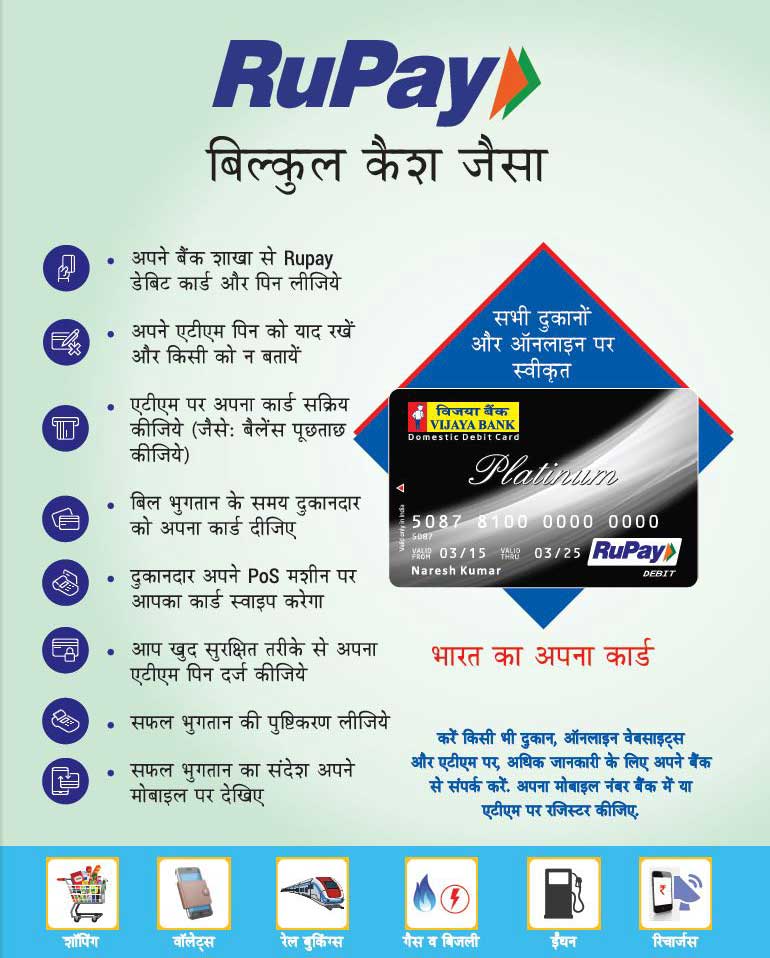 Security of RuPay Card
It uses high-end technology EMV chip, especially for high-end transactions.  Actually, It was quite easy for criminals to clone magnetic stripe cards. They used skimming to steal information stored in magnetic strip. RuPay card with chip and PIN cards are very difficult to clone. So RuPay card has lesser chance of fraud.

Data of customers and transactions doesn't go out of the country. It also makes RuPay card secure.

Users will get SMS alerts for every transaction made through this card. 

NPCI has partnered with Acculynk to provide secure encryption and authenticated consumer PIN for all its customers for e-Commerce purchases under the brand RuPay PaySecure.
Latest SBI ATM Withdrawal Limit
Insurance Benefit 
If you are a RuPay cardholder, you get a personal accident death and permanent total disability insurance cover of upto 2 lakhs. With Visa or Mastercard It is not available. However to get this insurance you should have done at least one transaction in last 90 days. It can be done in an ATM, a POS terminal, a MicroATM or in the online transaction. Bank transactions are also valid in such a case.
Advantages for banks or Merchants
Affordable electronic transactions for local banks
RuPay card is more beneficial for banking institutions.Banks pay the higher transaction fee in case of foreign cards such as Visa and MasterCard. RuPay cards are 'made in India' so these are available in less cost than international cards. RuPay charges 40% less for clearing and settlement than the international debit cards like Visa and Master card.
For example: If we do a transaction of Rs.2000 through an international card, the banks have to pay a transaction fee of around ₹3.25.  whereas for RuPay card this would be around ₹2.50. Also for ATM, e-commerce and point of sale transactions, RuPay card is cheaper. 
Low expenditure for Merchants
According to a State Bank of India, Bank get  0.75% fees for transaction from merchant in case the amount is less than Rs 2,000.  If the amount is more than Rs 2,000 then it is 1% of the amount. SBI had completely waived off this fee for any transaction through RuPay cards. Other public and private sector banks are also giving such benefits to Merchants.
RuPay Card: Limitations
As we learned RuPay cards provide us many benefits in comparison to Visa or MasterCard debit cards. But there are some limitations also.
RuPay card is not widely accepted globally.

RuPay offers mainly debit cards, however, Visa and MasterCard offer both debit and credit cards.  

Through RuPay Kisan card , It has also entered in credit section, but it is only for specified uses.
Conclusion
You must know the importance of Self-Dependence. Foreign companies have to work under the laws of their country. Suppose, USA government tells Visa to block services to the banks of other country, they have to do so. It has happened in past. During Ukraine crisis, Visa and Mastercard have blocked Russian banks. To prevent any such condition you need a trusted system. Through NPCI's RuPay card Indian government and RBI has developed such a system.