UPI ID is needed in many places. You have to enter it, whether you do online shopping or want to take money from someone. When you start using phonepe, the UPI ID is automatically generated. And you can even find out this ID. Apart from this, you can also create a UPI ID of your choice. Let us tell you step by step how to find your UPI ID and how to create it.
Step 1- Open the phonepe app
If you are using phonepe for the first time, then you have to download the phonepe app first.
The app has to be installed after downloading.
After installing Phonepe, you have to register. It's as simple as that.
So to know the UPI ID, registration in phonepe is necessary.
If the registration has been done, then open the phonepe by scanning your PIN or fingerprint. While opening phonepe for security, you have to enter a pin.
Step 2- Go to the profile page
On the profile page of phonepe, you have information related to your bank account and UPI ID.
To open the profile page, you have to go to the top left corner of the Phonepe dashboard.
There you will see your picture. If you have not uploaded the picture, then a blank space will appear.
Tap on the space for the picture. Now you will come to your profile page.
Your name, mobile number and bank account appear on the profile page. Here you would also see other settings of UPI.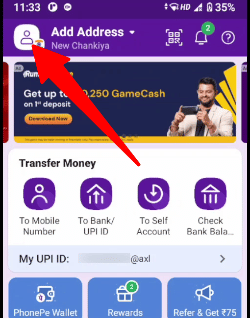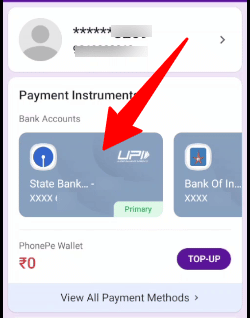 Step 3- Tap on the bank account
On the profile page, you have to choose the bank account. Your bank account numbers would be listed on this page. You can identify accounts by their last 2 digits.
Tap on the place where the last two digits of your bank account will be written.
Phonepe has different UPI IDs for each bank account. Therefore, choose the same bank account from which you want to transact.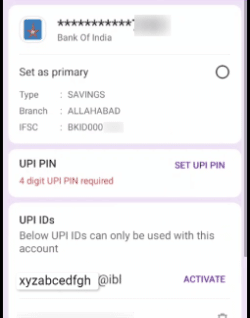 Step 4 – Go to the page with the bank account
As soon as you go to the page of your bank account, you will see the details of your bank account at the top.
But above it, you will also see a tick mark. This is to set any bank account as the primary bank account.
If you have more than one bank account, then you have to set up one bank account as the primary account. You can do this from here. The account which is set as primary would be already chosen when you make the payment.
Below you will also see the option to set UPI PIN. 
After that, you will also get the option to check your bank balance.
Finally, You can see your UPI IDs
Step 5- Find the correct UPI ID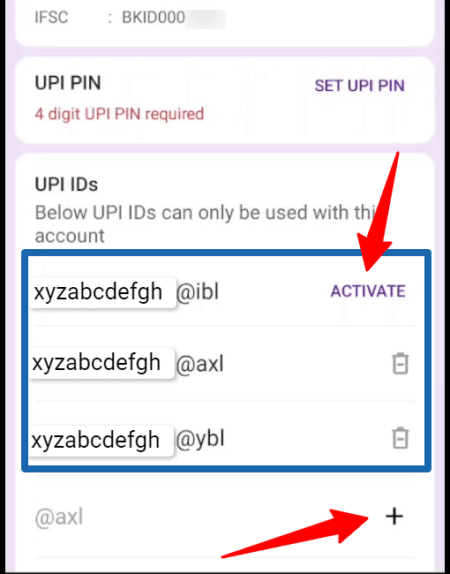 In the phonepe, you will see many UPI IDs. This may confuse you.
Actually, phonepe has agreements with three banks. These banks are Axis Bank, ICICI Bank, and Yes Bank. That's why phonepe gives the UPI IDs of all three banks.
Out of these only one bank's UPI ID would be already activated. While the rest of the UPI IDs are presented to you as other options.
You can activate any of the available UPI IDs here. If you want, you can activate all UPI IDs.
Rather, phonepe says that you should activate more than one UPI ID.
The advantage of this will be that if something goes wrong in the server of one bank, then the server of the other bank can be used.
So now you can see your UPI Ids. You can use any of the activated UPI IDs wherever required.
By the way friends, initially, phonepe creates a UPI ID for any one bank account using your mobile number only.
For the second bank account, you can choose some other word or number.
You have to just check whether the word or number is available or not. Because if someone else has taken the same UPI ID, you will not be able to create it.
Another Page of the UPI ID
By the way friends, there is another page to check and activate UPI ID. For this, we once again go to our profile page.
There we can see the link to UPI settings.
As we tap on this, we will directly come to the page with UPI IDs.
On this page, you will see linked UPI IDs from all bank accounts. Whereas in the earlier method you could see only the IDs from any one bank account.
From here also you can check your UPI ID. Apart from this, you can activate or deactivate different UPI IDs.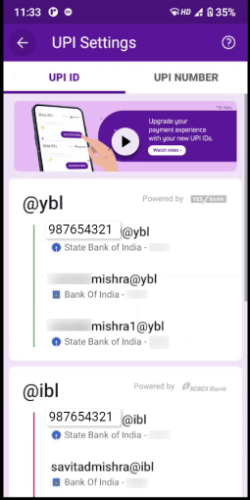 How to create the UPI ID of your choice
Friends phonepe also gives you an opportunity to create a UPI ID of your choice. But this chance comes only once.
Once you have created the UPI ID, then you cannot even modify it. But you can delete or deactivate it.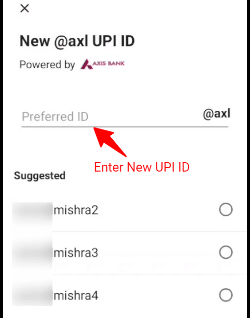 So for this, you have to first come to your profile page.
On the profile page, you have to tap on the bank account number whose UPI ID you want to create.
Now you will see many UPI IDs below on the bank account page. At least one of these would be activated. Whereas you can activate the rest if you want.
All the UPI IDs you activate here will be linked to the same bank account. Apart from this, below you will also see the option of creating a UPI ID of your choice.
For this, you tap on the plus sign. On the next page, you can check by entering the UPI ID of your choice. If it is available then you can set it.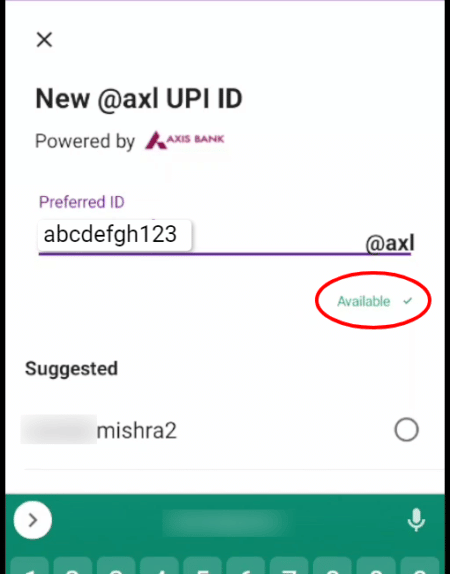 Along with this, you will also see some suggestions. You can also choose any UPI ID from these suggestions.
After entering the UPI ID, tap on Create.
Now your new UPI ID will be created. You can also activate it with the handle of different banks.
And with this, you can set your own UPI ID in the Phonepe App.