Phonepe App is the most popular payment app now. You will find approximately all merchants are using this payment app. Here we will discuss the top 10 features of PhonePe App.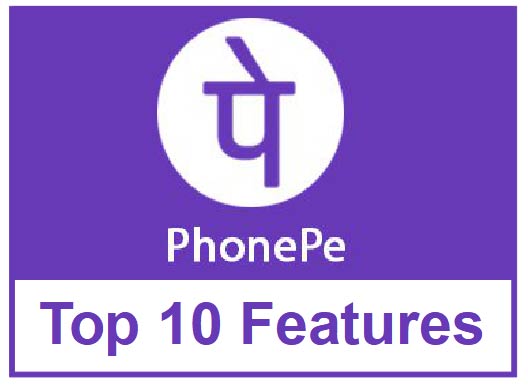 1. Easy Interface
Phonepe has an easy interface. There is no requirement of login when you open this app. You may directly reach into the home page and access the required option.
Besides it, you can see all the required popular fields on the home page. Like, Recharge, DTH, Electricity, Credit Card, Postpaid, Landline, Broadband, Gas Insurance and so on. Hence, It needs few taps for the payment.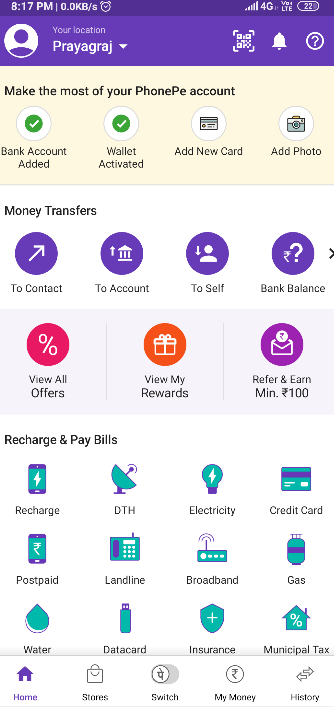 2. Payment To Merchant
When you buy grocery or other items from the local market, you can pay the bill through the phonepe app. For this, you have to scan the QR code of that merchant's phonepe account. After scanning, you can pay through the wallet or your linked bank account.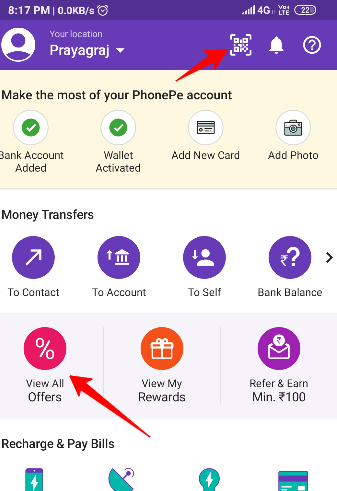 Once you pay, next time you are not required to scan the QR code again. Your favourite merchant will be saved by its name and phone number. Next time you can pay with just a click on the name of the merchant.
Besides it, you may shop online too and do hassle free payment through the Phonepe app. You may also get amazing discounts and offers on your favourite merchants and stores. You can view all available offers by tapping on %Offers icon.
3. Fund Transfer
Through Phonepe, you can instantly transfer money directly from your bank account to anyone. You can transfer up to ₹1 lakh in less than 3 seconds. This may be done by linking your bank account with UPI on Phonepe platform.
You may transfer the fund to your saved contact numbers by clicking on To Contact.
You can transfer to the saved bank account number through the To Account icon. For this, you have to enter the bank account number and IFSC Code. Or you may send to a mobile number.
Besides it, you may transfer the fund from your one bank account to another account by clicking on To Self icon. But, you have to link multiple bank accounts into phonepe. After that, you may transfer money between your bank accounts.
Moreover, you may check the balance of your saved bank accounts, split the bills and request money from your contacts as well.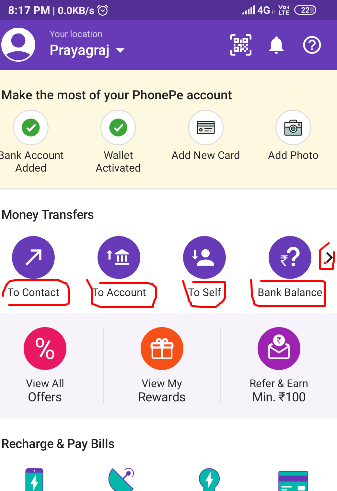 4. Recharge and Bill Payments
Phonepe app gives you the facility of recharge and bill payments as well. You can recharge any prepaid mobile number, DTH, Datacard etc. On the other hand, you can pay the bills too viz. Electricity, Postpaid mobile bill, Credit card, Landline, Gas, Insurance, House Tax etc.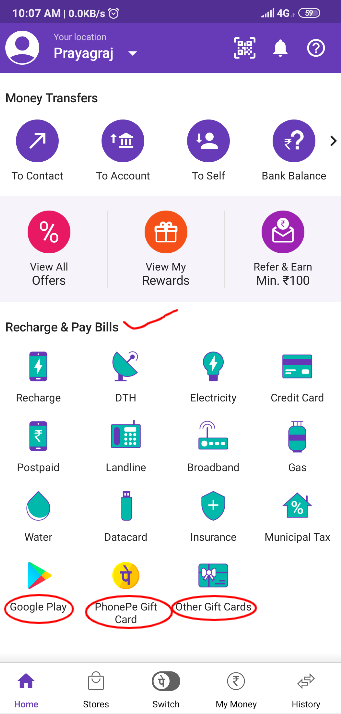 Moreover, you may buy Phonepe Gift Card and purchase the apps, games, digital content and in-app items available in Google Play Store. You can do all these acts through your bank account or debit card.
Useful Post – Paytm Vs Phonpe? Which is a Better Mobile App
5. Autopay of Bills
Phonepe is giving Autopay service at your permission. When you make a payment for the first time via UPI, you have to pre authorise Phonepe to make payment for that service later on your behalf. Thus, on the next due date, Phonepe will complete the process of autopay of the bill by debiting from your account. However it requires payment through the credit card.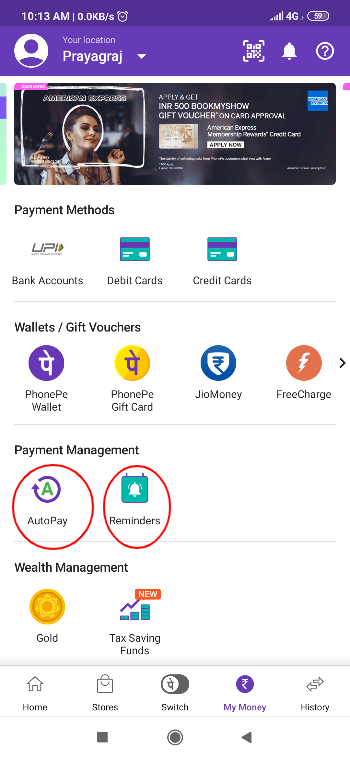 Also, you can set the reminder for the payments next time. This feature will give notification on the due date for EMI payments, Rent, bills, money transfer between your own accounts, any other bank account or any phonepe user etc. Then you can proceed hassle free with just a click. You can see the Autopay and Reminders icons under the My Money tab.
6. Cashbacks and Rewards
Payments to the merchant and service providers give you the cashback. This cashback amount directly goes in your wallet balance of Phonepe wallet. You can use this cashback for any transaction initiated via the Phonepe app. But, you can not transfer this amount into your or someone else bank account.
You can also earn Rewards and Scratch Cards with cashback or coupon or other offers. Phonepe is giving much cashback amount compared to other UPI apps.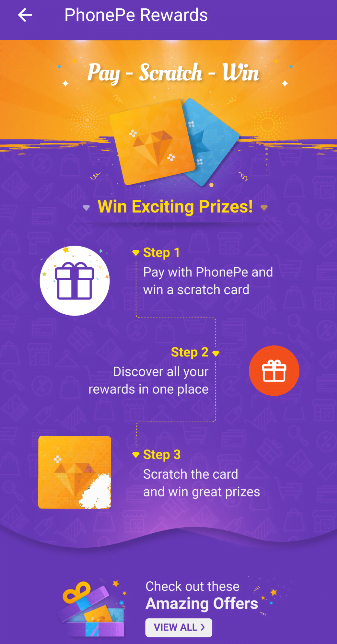 7 Linked Services as PhonePe SWITCH
Phonepe is providing you with its SWITCH service. Through the SWITCH service, it brings all your favourite apps in one place. So, you don't have to download and install the apps. Tap on Switch icon and launch your favourite app viz, Olacabs, Dominos, Grofers, IRCTC, OYO Hotels, Delhi Metro, Faasos, Red Bus etc. You can make payment to the partner app through your Phonepe app. Let us see how the Phonepe Switch work-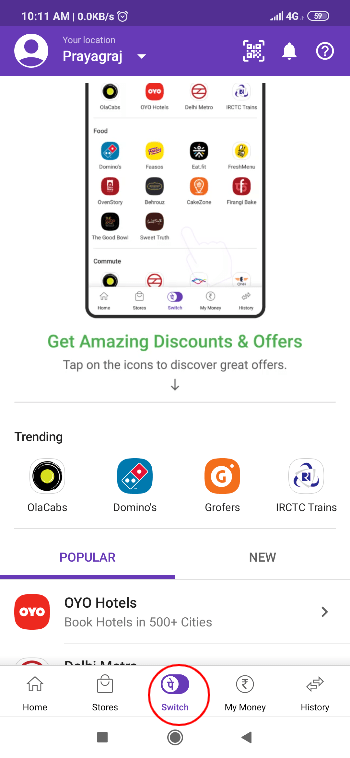 You can switch between more than 50 multiples apps without leaving the Phonepe app.
You do not need to download and update those apps.
No need to register and logins on each app. With just a one click you can access the app.
All the individual apps on Phonepe app is managed by the respective app partners.
But, you use that app on the basis of their own terms and conditions.
Phonepe never shares your personal details with the partner apps without your consent.
You can avail the discount offers related to the respective app as well. And you can check these offers in only one place i.e. Phonepe app.
Switch service is very safe because Phonepe neither share nor save your card details on each app individually.
Phonepe Switch is like a shortcut to a world of apps. The respective app partners are solely responsible for the services. But, Phonepe does not deny its duty as well.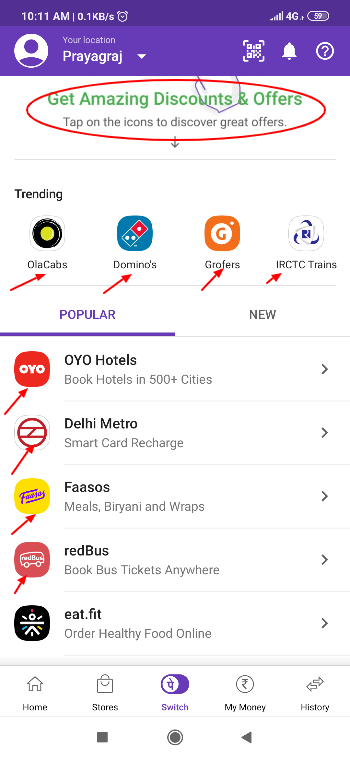 8. Linked Wallets (Jio Money, Airtel Money, Freecharge)
Besides Linked Services, Phonepe app is giving Linked Wallets service as well. Not only the Phonepe Wallet, but you can use Phonepe Gift Card, Jio Money, FreeCharge, Airtel Money and Oxigen wallets. These wallets can be used in Phonepe app.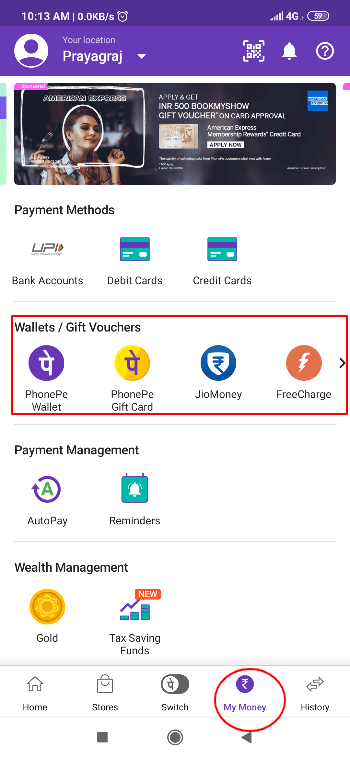 To use the wallet, tap on My Money icon at the bottom. Then all available wallet services will be shown on the screen. If you are using any wallet already shown in the list, can access from here.
Otherwise, tap on Phonepe wallet and choose the option out of TOPUP and WITHDRAWAL. Through Topup option, you can create wallet balance by debiting the bank account linked with BHIM UPI or through the Debit Card. You can use the Withdrawal option to withdraw the hard cash. But for this feature, you have to complete the full KYC.
Useful Post:Full KYC Rules of Paytm, Phonepe and Amazon
9.Explore Nearby Stores
You can explore nearby stores at your location by clicking on Stores button. This icon is at the bottom of the home page. You can see a list with the map of your area. This map shows the nearby stores. You can find out your required shop to drag the map. Otherwise, scroll down to view the full list of stores.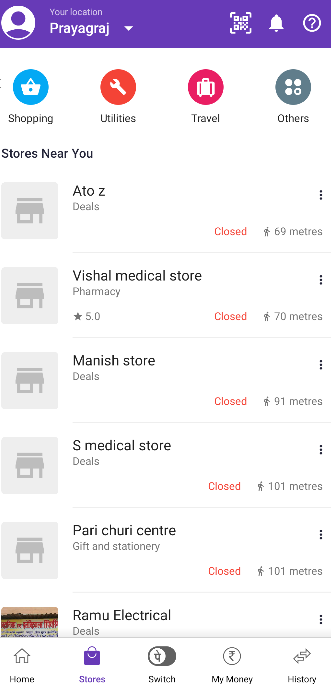 You can choose the type of shop out of Food, Healthcare, Shopping, Utilities, Travel and Others options. This feature helps you to search for any store using Phonepe app near you. You can shop there and scan the QR code of that store's Phonepe app to pay.
10. Effective Customer Service
Phonepe App has very Effective Customer Service. Tap on the Question Mark (?) icon at the top right corner of the home page. You will get the Help page relating your query.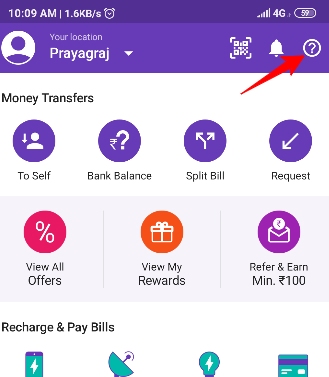 This page is full of near about all questions and answers related to Phonepe app. I think here you can find the appropriate reply of any query. Hence, you would not be required to contact the customer care by a phone call.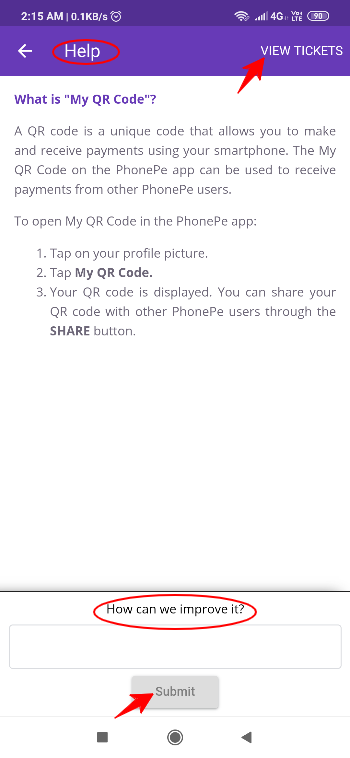 Read the reply and give feedback in the form of YES OR NO. If you are not satisfied with the reply, tap on NO. You will see a box where you may write your suggestion or further query. Tap on submit. Your query will be forwarded to the customer care and a ticket number will be allotted to you.
Within 24 hours you get the reply in the form of a message with the allotted ticket number. You can also check the status of your query by clicking on VIEW TICKETS.
Also Read – My Experience With Phonepe Customer Service
However, if you do not find the appropriate reply in the Help section. You can make a call to the customer care through a toll free number. The toll free phonepe phone number is 0124-6789-345.