If you are going to install any of the apps between Paytm and Phonepe, and want to know which is the better app. This article will helpful to decide which one is best for you. However, both apps have merits and demerits. Let us compare them on 11 parameters
1. Interface
First of all, we discuss the interface of both apps. This is the most important and primary feature of any app. Both apps have a different interface. Let us see how-
Clarity
Phonepe home page is more clear than Paytm. In Phonepe, all icons have much spacious, while icons on Paytm's home page are very close. So, you have to give some time to find out your required icon in Paytm.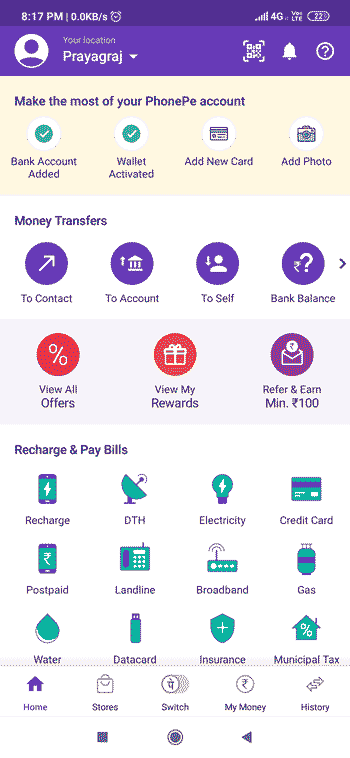 Fonts
Phonepe home page icons are a little bigger than in Paytm. So, you can easily get your icon. Paytm has more services than Phonepe, like Paytm Mall. So, it is difficult to show icons in big fonts. That is why in Paytm fonts are smaller than Phonepe.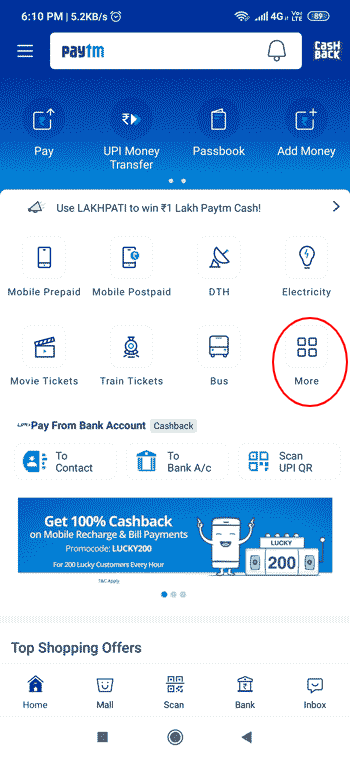 Ease of Access
Because of clarity and bigger fonts in Phonepe, you can easily access the required icon. While in Paytm, there are very few icons appears on home page. You would have to click on 'More' button to find out extra utilities. The reason is the same as above.
Paytm provides you with many different types of services, like, 'Travel Entertainment and Food, Brand Vouchers, Paytm Mall Shopping, Education, City Services, Financial Services, Deals, Play Games etc. So, it is impossible to give all linked services on home page.
App Open Time
Paytm takes more time than Phonepe to open the home page. Phonepe directs you quickly to its home page. While Paytm firstly gives you information that you can Scan any QR to pay using Paytm. It takes a few more seconds to visit the home page.
Hence, on the interface parameter, Phonepe wins. because of its clarity and user friendliness.
2. UPI Payment Facility
In Phonepe app, you can easily make a UPI payment to your contacts, other account holders with IFSC code. Or you can transfer money in your another account.
For this, on home page, you can see the first option 'Money Transfers'. Just tap on 'To Contact'. Your phone contacts list opens where you can choose the beneficiary. In a single click, you reach on the payment page. Then click on SEND. The payment would be completed.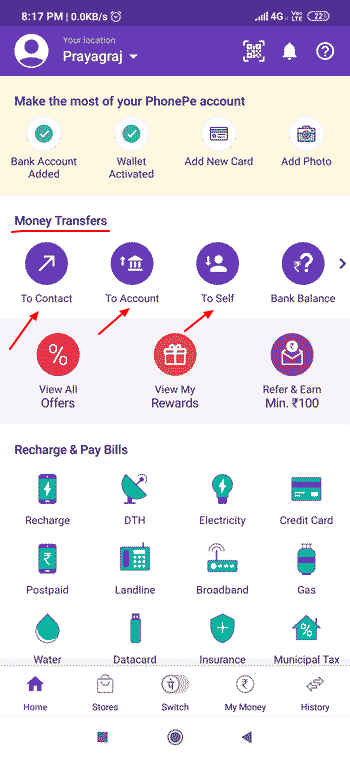 The same process is for other UPI payments as well. But, in Paytm you have to take few more steps to make a UPI payment.
The best thing for UPI payment in Phonepe is, you can easily see your contacts using the Phonepe app. Moreover, once you complete the payment, the beneficiary person name and account number will be saved on the home page.
Therefore, also on this parameter, Phonepe is better than Paytm.
Recommended –
3. Ease of Merchant Payment
Phonepe gives you the easier interface of merchant payment than in Paytm. Firstly, Phonepe has QR icon on the top of the home page, while in Paytm it is at the bottom.
However, you have an extra option to pay the merchant with QR code in Paytm. For this, you have to click on 'Pay' icon at the top of the home page. The same page will be displayed where you scan QR code or tap the automatically saved merchant name.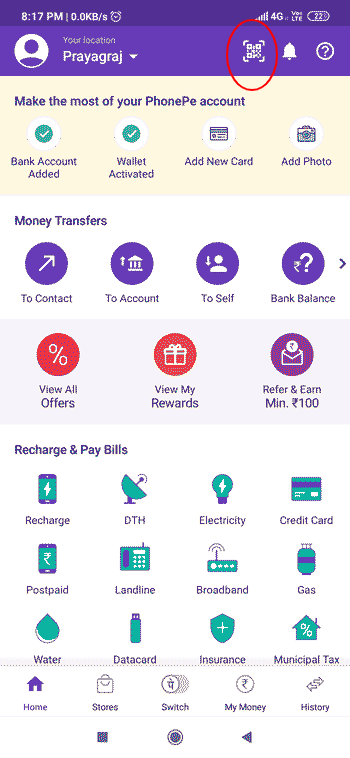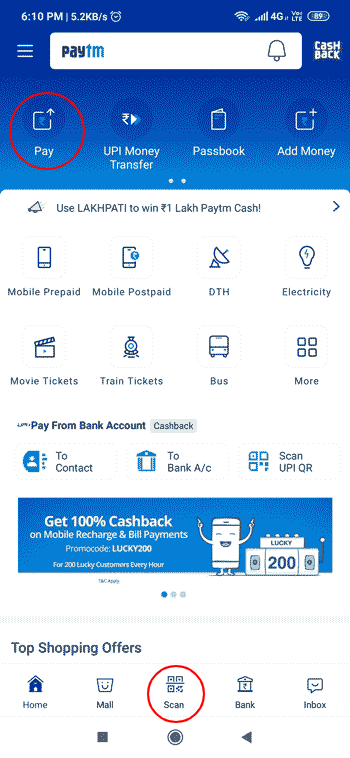 Moreover, Phonepe saves the merchant name and account number on the home page, just like your beneficiary name and account number. Hence, you have not to visit the second page of Phonepe. From here, you can reach directly to the payment page.
Because of easily access to the payment page, Phonepe saves your time. So, I think in this section Phonepe wins.
Suggested – Phonepe App For Business
Positives and Negatives of Phonepe
4. Recharge
Both apps are giving the Recharge facility of mobile or DTH or other utilities. But, Phonepe completes this process quickly than Paytm.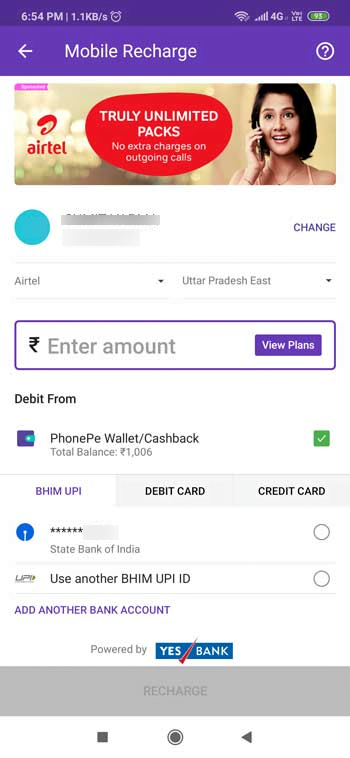 Paytm takes more time to reach the required page. Also, you have to visit more pages to recharge through Paytm, like offers page and Payment options page.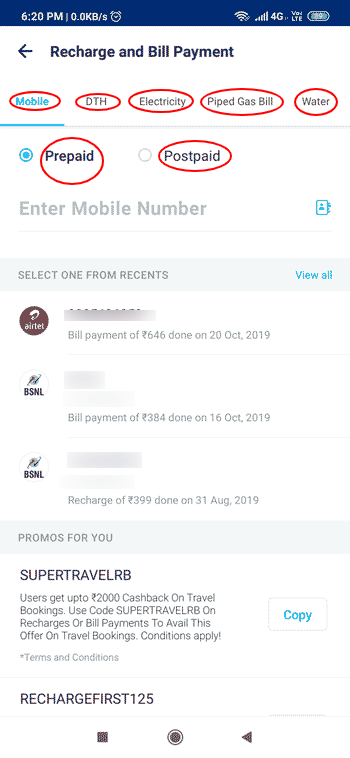 However, in Paytm when you tap on the Recharge icon, it directs you to the page where you can recharge any type of service, like DTH, Electricity, Piped Gas bill, Water, Apartments and so on. Hence no need to select the separate utility on the home page.
Hence, both the apps have advantages and disadvantages in this section. So, here is a draw match.
Suggested – Top 10 Features of the paytm App
5. Bill Payment
Like, Recharge facility, the Bill payment feature is very easy in Phonepe as well. Only through a single click, you may reach the payment page. The rest procedure is same as in Recharge feature.
Paytm takes a few steps more than Phonepe same as in Recharge section. But, only through a single icon, you have the facility for recharge or bill payment.
This section is approximately the same as the Recharge section. Thus, also in this section, no one is winner.
6. Cashback
Both the apps are giving the cashback benefits on your payments. Sometimes Paytm gives more, some other time Phonepe gives more. It depends upon the circumstances. Like, if you are making first time transaction, may be you get the higher benefit.
Generally, in Paytm you have to activate the offer to gain the cashback benefit. If there is no offer available, you would not get cashback. But, normally Phonepe provides the cashback benefit on maximum transactions without activating the offer.
Moreover, if there is no cashback offer available, you may get other benefits as well. Hence, Phonepe is better than Paytm for the cashback offers.
Also Read – How To Find UPI ID
7. Charges
This field is the same for both the apps. Because Paytm and Phonepe both levy the charges for fund transfer from your wallet to your own bank account. Hence, neither Paytm nor Phonepe is giving relief for fund transfer charges. However, vice versa there is no charge.
Note:-If you want to withdraw your wallet balance to the bank account, you have to complete Full KYC.
Useful Post:Full KYC Rules of Paytm, Phonepe and Amazon
Moreover, in the next coming future, it may be, the merchants have to pay the charges for fund transfer. If they transfer money more than ₹50,000 to their bank account, they have to pay some charges. However, what will be the charges, it is not decided yet. So, wait and watch.
Thus we can say that both the apps are similar to each other for Charges section. So, no one is the winner.
8. Useful Services (Travel Tickets, Movie, Train Status)
Both apps are providing many financial services. But, in Paytm these services are more than in Phonepe, like Movie Tickets. You can not book a movie ticket in Phonepe, while in Paytm this service exists by browsing the cinema halls in your city or in other cities. Moreover, you can browse the movies in different languages. So, movie ticket booking is very easy in Paytm.
However, you can book travel tickets in both the apps. Besides it, you can check the train status as well. I think, Paytm is easier than Phonepe for this section too. Because through just a single click you may reach all types of travel booking section.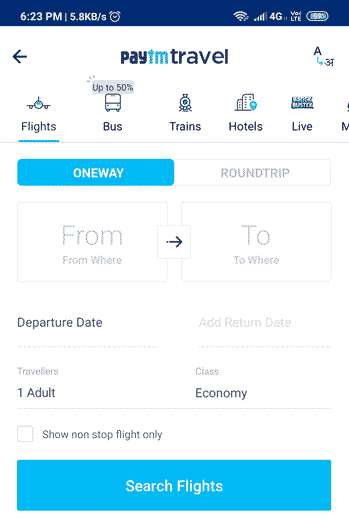 Not only the train and bus ticket booking, but you may book the flight ticket and a room in a hotel also through Paytm.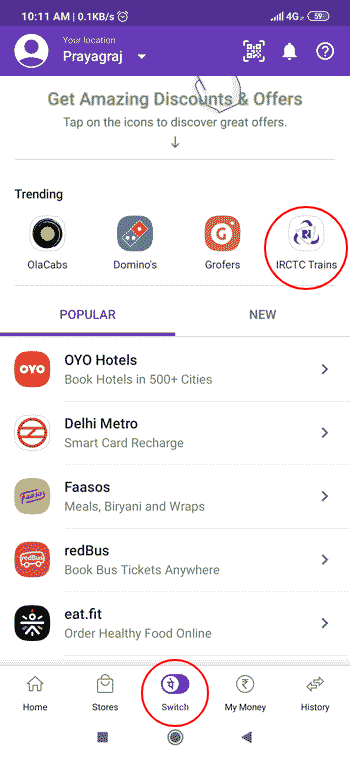 Whereas, in Phonepe, you have to tap on the specific icon. However, Phonepe gives you the option of booking through the recognised booking apps in SWITCH service.
Therefore, Paytm is better than Phonepe in Useful services. Hence, in this parameter Paytm is the winner.
Recommended – Phonepe Customer Care Helpline Number
9. Account Management
In Account Management feature Phonepe is better than Paytm. Within one or two clicks, you reach the required option. Generally, Account Management feature has the Autopay of bills, Reminder of bill payment and Wallet Topup services.
Autopay and Reminder
Phonepe has a better interface for these services. Just tap on My Money tab and you reach on Autopay and Reminders icons. From here you can set the autopay service of your utility bills and set the reminders for next time.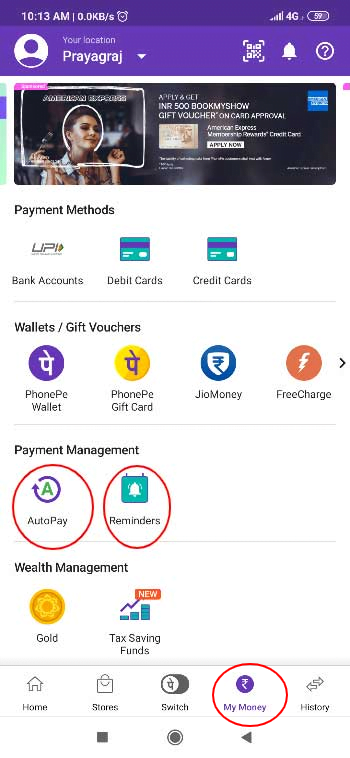 On the next due date, Phonepe will remind you through the notification. Then you can pay the bill with lesser effort.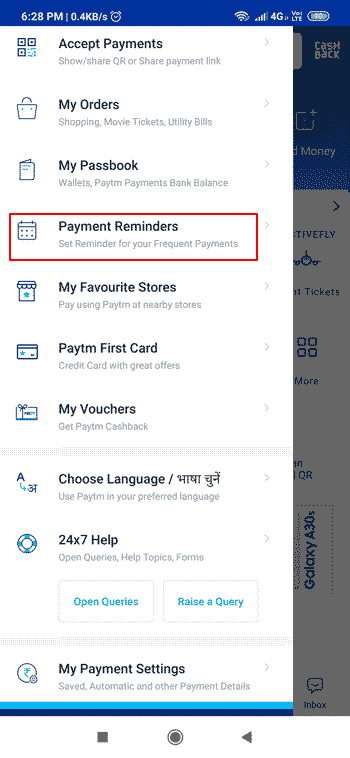 Whereas, in Paytm there is no Autopay icon separately. So when you pay the bill, then only you can set the autopay service. Or you have to access the three parallel lines at the top left corner of the home page to set the Reminder in advance.
Wallet Top-up
Wallet top-up is easier in Phonepe. On the other hand, you have to take one more step in Paytm for top-up. But it is because of different types of top up are available in Paytm under a single icon. In Paytm, you can add money in your Paytm Wallet, Paytm Savings Account and Bank Accounts.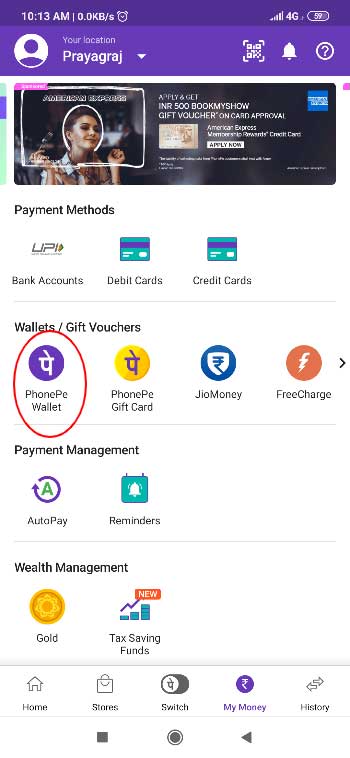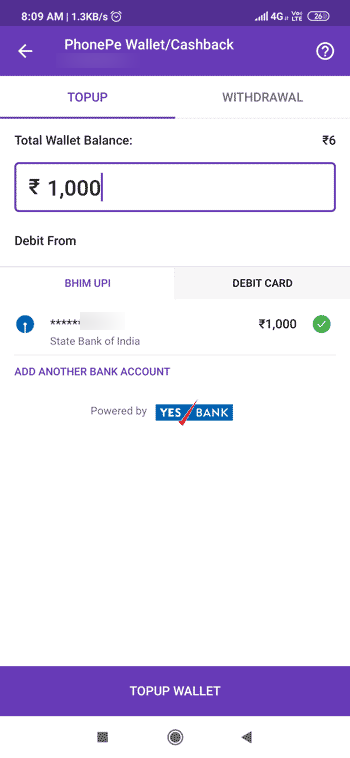 But, in Phonepe, you may top up your wallet only. However, with the help of another option, you can transfer money in your bank accounts.
Therefore, it is clear that Phonepe wins this parameter.
10. Transaction History
You can see Transaction History in a better way in Phonepe app. It is available on the home page.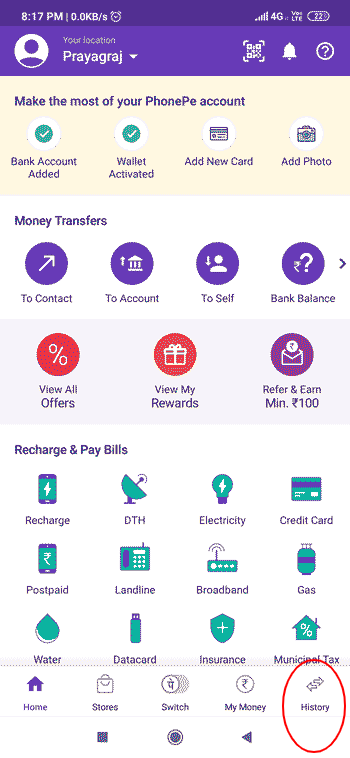 From here you can see the failed and pending transactions as well. And proceed further even from this page.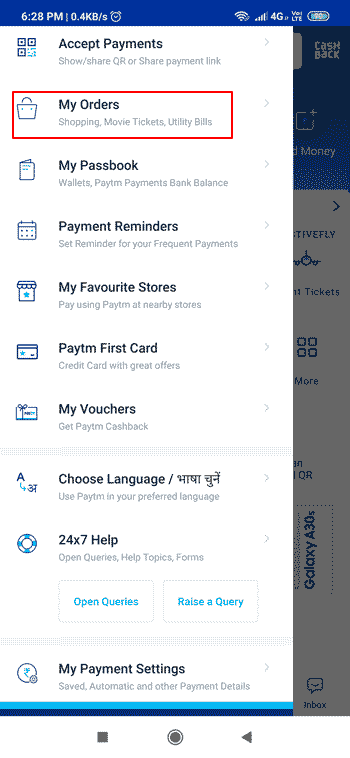 Whereas, in Paytm, you have to tap on that 3 parallel lines. Then you can see all transactions including failed transactions through the My Orders section. Rest procedure is the same in both the apps. So, transaction history is easily available in Phonepe.
No doubt, Phonepe is much better than Paytm for the transaction history parameter.
11. Customer Care
Also, the customer care is more efficient of Phonepe than of Paytm. However, the customer care of both apps reverts quickly. But, Phonepe's Help section is very broad. So, if you have any query, search in this section, read properly and you can solve it. Your maximum queries may be resolved by the Help section.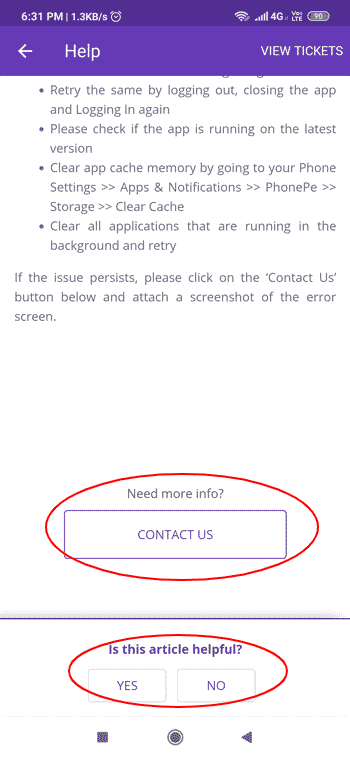 But, if you are not satisfied and need more information, tap on 'Contact Us' below the information. Send the message and get a reply within 24 hours. Moreover, you may give suggestions to improve the information as well.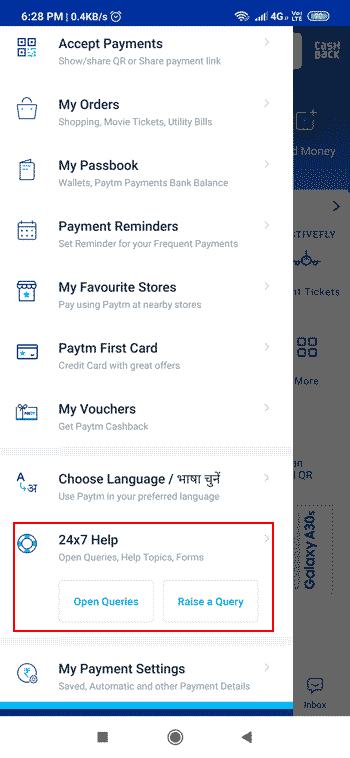 Paytm's '24X7 Help' named customer care service is also helpful to resolve the issue. This section is under the 3 parallel lines at top left corner. From here you may check your open queries and raise a new. Moreover, you can read the suggestions if it matches with your issue. But, the written suggestions in Phonepe are much better and broader than in Paytm.
Again the Phonepe is better than Paytm in this section. So, Phonepe is the real winner.
Hence, on the basis of the above comparison, we find that Paytm and Phonepe are better against each other under the separate features.
Phonepe is easier and faster than Paytm. But, Paytm gives you more services than Phonepe in a single app. That's why Paytm is less easier and it takes more time to access compare to Phonepe. But according to the overall look, we find Phonepe is much better than Paytm.