When you transfer money through the Paytm, you get the option to send money to a UPI Address. This option is given along with the Bank account number. You may be wondering about this address. What is this UPI address and How would you know it. What is the benefit of this address over the bank account? In this post, I would answer these valid questions. I would also tell you the trick to find out the UPI ID of any Paytm user.
What is UPI Address in Paytm
Paytm Has Endorsed UPI
The term UPI address is new for many Paytm users. As this is only related to a new feature of Paytm – Bank to Bank transfer. In fact, the Paytm is promoting the UPI system in the name of 'bank to bank' fund transfer.
You may be aware that UPI payment system has changed the whole fund transfer system of India. Because of the UPI, the digital payment has become very easy. Lately, the Paytm has also understood the benefits of UPI. Hence, It has adopted the UPI payment system since 2018.
UPI Address is Unique to UPI Payment System
The UPI payment system is based on mobile. Only mobile users can use this system. In this method, The money is transferred immediately. The system never shuts down and you can transfer money 24×7. As of now, this system is free to the consumers. There is no charge for UPI transactions. The unique thing about this system is UPI address.
Also Read – What is Paytm Postpaid
How To Find Your UPI ID from Phonepe, Google Pay and Paytm
secure alternative to Bank Account Number
The UPI ID or UPI address is the virtual payment address. It is similar to the email address for example- xyz@paytm, abc@sbi, kgh@icici etc. This address is used in place of the bank account number and IFSC.
In the normal course, we need bank account number and IFSC of the beneficiary to send the money. But UPI has ended this requirement. Rather, you can transfer money to a payee without knowing the bank account number. You only need UPI ID of the payee.
Every user of the UPI system has to create a UPI address. This address gets linked to the bank account. So when a person sends money to this address, it goes into the linked bank account. In fact, it acts as intermediary and hides the bank information.
Also Read: Paytm QR Code: Payment to Bank Account Without Charges
However, the UPI system also gives you the option to use bank account and Aadhaar number instead of the UPI ID. But, Paytm has only adopted the UPI address and Bank account number for fund transfer.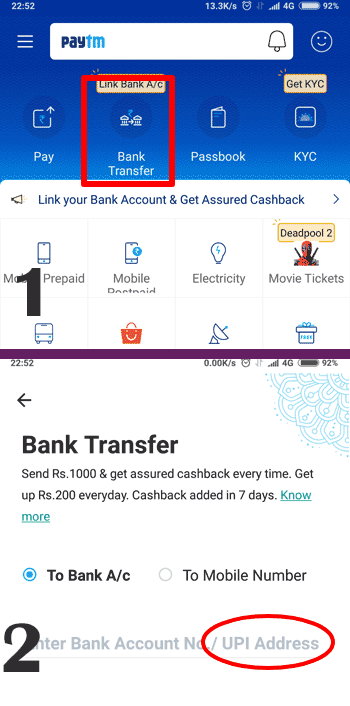 How to Create UPI Address in Paytm
So now you know that UPI address is an easier and secure alternative to the bank account number. It is sufficient to make a payment. But do know your own UPI ID. How can other person send you the money in the same manner?
Recommended – Paytm अकाउंट कैसे बनाएं, ट्रांजैक्शन कैसे करें
As I have said, every UPI user has to get a UPI address. Most of the UPI apps lead you to create one in the beginning. Like email address, you can even choose your own UPI ID. But, it is not as simple in the Paytm. In fact, you may not find the way to create it in the Paytm.
In fact, the Paytm does not permit you to create a UPI ID. Rather, It automatically creates it for you. That is why you can't find the way to create it. However, you can find out your pre-created UPI Address.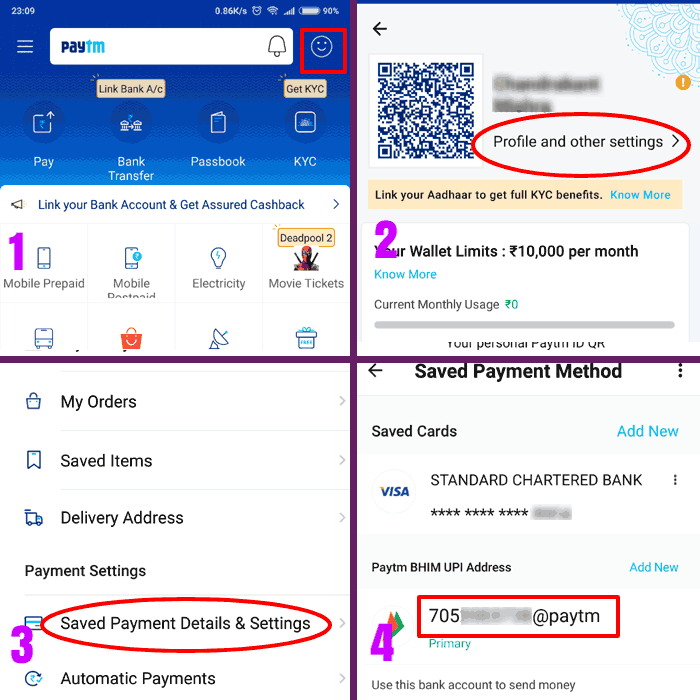 How To Find Out UPI Address of a Paytm User
UPI address is convenient and secure than the bank account. But you have to still ask it for making a payment. What if you know it without contacting the beneficiary. It is possible in Paytm. Today, I will tell you this trick.
As I have said that Paytm itself creates UPI address for every user. To create it, Paytm picks the mobile number of the user. As the mobile number is unique to most of the user, the Paytm successfully uses this mechanism. The normal UPI address of Paytm user would be like 9876543210@paytm.
So, if you want to know the UPI ID of a beneficiary just pick his/her mobile number and add @paytm. Put this UPI ID in the beneficiary column and verify it. If the system shows correct name, go ahead and make a payment.
By using this method, Paytm identifies your contacts and make the fund transfer easier. It has become as easy as sending an SMS.
Recommended: Paytm Bank: 10 Most Important Features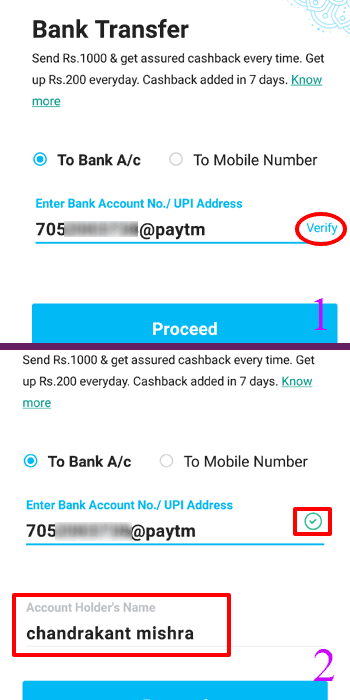 Benefits of UPI Address
It is a virtual payment address. Because of this address, you don't expose your bank account number.
You can make several UPI ID as per your need.
Because of UPI address, it has become very easy to find out the payee.
Unlike bank account number and IFSC, it is easy to remember a UPI ID.
Also Read: Top 5 benefits of UPI ID
---
In this post, I have told you about the UPI address of the Paytm. Next, you can make UPI money transfer through the Paytm. You can also learn how Paytm sells the digital gold what is the benefit of it. If you have any problem, you can also contact to Paytm Customer Support. It is very efficient.