Finally! there is a good news for Paytm Merchants thanks to the QR Code. Now the merchants can get the Paytm payments to their bank account without any charges. The Paytm has quietly done away with the bank account transfer charge for  merchants. You would know that there had been a bank account trasnfer charge. But due to the competition, the Paytm was forced to make it 0% for the mechants. Now, it has made it more convenient.
What is New
The new Paytm QR code gives you the opportunity to directly credit all the payments to your bank account. It means, there would not be a Paytm wallet in between. Thus, you are not required to make any effort for the fund transfer from the bank account. This direct fund transfer has become possible because of the UPI. You may know that Paytm has also adopted the UPI payment system.
The UPI is payment system to transfer money from from one bank account to another bank account. It is an instant service and does not charge any fees.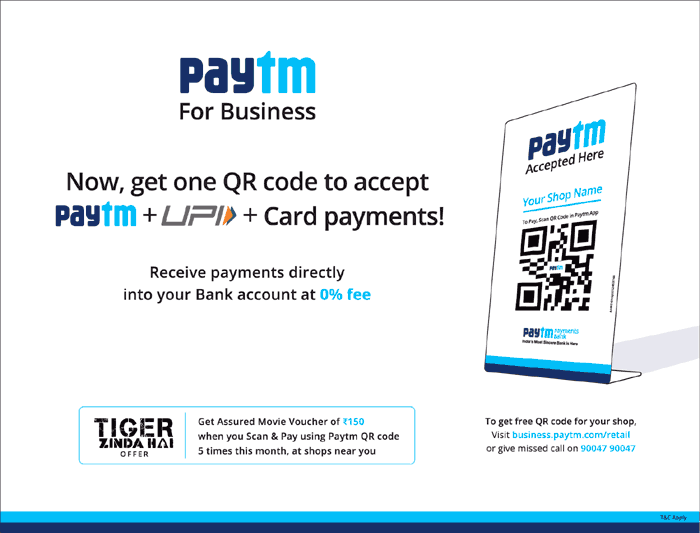 How New System of QR Code Would Work
For direct bank account transfer, the merchants have to use the same QR code. You may have been using the QR code to take payment at your shop. But there would be a change for the customers. When a customer would scan the QR code of the merchant, it would see three options for payment. These options would be Paytm Wallet, UPI or Debit/credit cards. The customer can choose any of the options. The money would directly go to the bank account of the merchant. You would know that UPI and Cards directly debit money from your account. If you choose any of these two options, you are not required to transfer money to the Paytm Wallet.
Do you know in this system of payment, the Paytm would not play any major role. It is a UPI payment facility and Paytm has adopted it after getting the license of payment bank. Now, there is a Paytm bank which can accept deposit upto ₹1 lakh. This free system of payment would help Paytm bank to increase its business.
Also Read: What is UPI Address in Paytm
Main Features of Paytm QR Code
You can receive Payments directly into your Bank Account without any  Charge
There is No monthly limit on receiving payments.
Paytm Does not charge any fees for providing the QR Code.
The customer can pay money from a bank account (through UPI app), debit cards or Paytm wallet.
Why Paytm is Giving Payment Facility Without Any Charge
You may be wondering why would Paytm earn from this system. As money goes from one account to another. There is no deduction either for customer or merchant. So how would Paytm make money?
In fact, Paytm would not make any from these transactions. Rather, it is going to spend ₹500 crore to promote UPI transactions. You would know that UPI payment system is free of cost. No one is making money from this transaction. The Google Pay (Tez), Phonepe, BHIM, SBI Pay. All of these payments app giving free service. Do you know, the Google Pay (Tez) has surpassed the Paytm within 3 months of its launch. There are more transactions taking place on Google Pay (Tez) than BHIM or Paytm.
After the surge of Google Pay (Tez), Paytm is trying hard to keep customers on its platform. To retain the customers, now it is relying on the merchants. Because, if there would be a merchant push, the customer would use the Paytm as well. Of course, Paytm is losing money in this battle, but it expects to recover this cost in future.
Do you know, almost every payment wallets and shopping sites are losing money on their business. They all expect to recover it in the future when people would develop a habit.
Also Read: How To Set or Reset UPI PIN in Paytm
Paytm QR Code Vs Bharat QR Code
You may have used and seen the Paytm QR code at the shops. The Paytm is promoting this payment system. Now it has also made its bank account to bank account transfer. It is a free service as well. But do you know that Bharat QR code has all these qualities from the beginning?
Recommended: How To Lodge Complaints with Paytm Customer Care
You may not have seen the Bharat QR code, but it also facilitates from account to account and it is free as well. Moreover, You can use any UPI app to pay through Bharat QR code. It means, if a merchant has Bharat QR code,  you only need any of the UPI apps. It may be BHIM, Tez, Phonepe, SBI Pay or any other. Every bank has integrated UPI with their mobile apps so you can also use them.