The Paytm users are concerned about the charges of making payment through it. The concern is genuine as in the whole process of the payment, the money goes from your bank account to another bank account. The Paytm Does not get any fees from this transaction. Thus, when Economic Times reported that Paytm is going to charge for every transaction through it, there was a huge uproar.
Today most of the people are using cashless payment because it is convenient and they don't need to pay extra for that. If there would be a fee, most of the people might go back to cash payments. So, Is it true that Paytm is going to charge for Card payment and UPI payments? The Paytm has clarified about this in a blog post. But before that let us learn what is reported in the Economic Times.
The ET Reported From Sources
The Paytm Would Charge for Transactions From July 1, 2019.
The Charge would be 1% for credit cards, 0.9% for debit cards and ₹12-15 for netbanking and UPI transactions.
The new Fees would be applicable for Topping up the wallet, Utility bills, School Fees and Buying Cinema Tickets.
There is a pressure on Paytm from its investors to make the company profitable as today it is spending money on these facilities.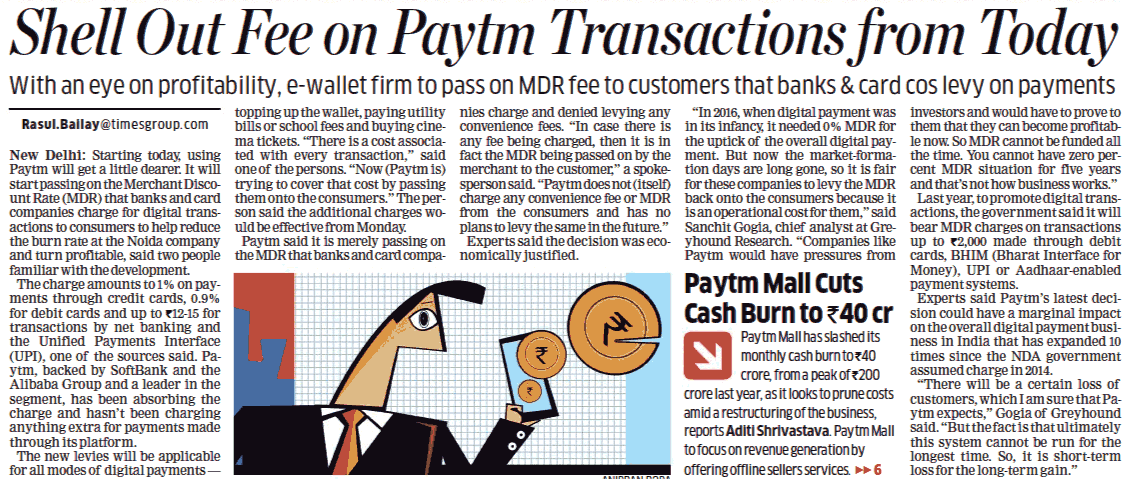 The Paytm Clarified
The Paytm has declined any charge on its customers through Twitter and Facebook.
Important: Paytm neither charges nor will charge any convenience or transaction fee from customers on using any payment method which includes Cards, UPI and Wallet. Read our blog for more. ⬇️
https://t.co/rfPp21MAx1

— Paytm (@Paytm) 1 July 2019
In response to the Economic Times Article, the Paytm has written a blog post.
The Paytm Said that it " neither charges nor will charge any convenience or transaction fee!"
There would not be any charge for wallet top-up, UPI Payment, Card or Net Banking.
"Paytm customers can continue using all services available on our platform without any fee (same as before)."
However, the Paytm Does accept that "There have been few merchants like educational institutes or utility service providers who do not absorb credit card charges and expect customers to pay the same." The Paytm has also advised some tips in such cases. It has suggested the "users to pay through their debit cards and UPI to avoid these charges"
Moreover, the Paytm has Categorically stated that there is no plan to levy any such Fees in the future either. 
This clarification has given a big relief to the Paytm Users. There are 350 million registered users of the Paytm. It is the most popular Payment wallet in India.