Paytm is the most popular mobile payment app of the India. This mobile recharge wallet today gives many other services as well. In this post, we will talk about its top most 10 features which we use frequently.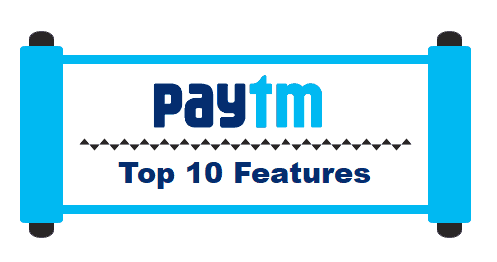 1. Merchant Payment
The first feature is Merchant Payment. Purchase the items from any shop and pay the bill digitally through Paytm. Without using the cash you can pay through the 3 different ways. Paytm Wallet or Paytm Payment Bank Account or from your Bank Account linked with Paytm. But, it is necessary that the merchant should also use the Paytm App.
Now you can pay through the Paytm by scanning any QR Code.
Useful- You can Use Rupay card for Paytm QR payment
2. Fund Transfer
You can save your bank account with the Paytm and make online payments and fund transfer through your saved accounts. It will be transferred directly into the recipient's Bank Account.
You can also transfer from your Paytm Payment Bank Account. You can link your account with the BHIM UPI at the Paytm platform. Besides this Paytm also gives the fund transfer facility through the IMPS and NEFT. And it takes no charge.
However, if you want to transfer the fund into your Payment Bank Account from the wallet, you have to pay up to 5% fee. It is a little bizarre because both are the features of Paytm App.
How To Set UPI PIN For Fund Transfer in Paytm
3. Mobile Recharge
As I stated above, Paytm provides the mobile recharge facility from the earlier stage. So, it is the primary services of the Paytm. You can recharge any mobile number with any amount at your convenience 24 X 7. Also, you can browse the various plans of each telecom company.
Suggested – Paytm KYC Suspended! Truth Behind this Message?
4. Bill Payment
You can pay different types of bill as well like, Postpaid Mobile bill, Electricity bills, DTH, Cable TV, Water Tax, Gas, Data Card, Landline, Broadband, House Tax, Credit Card Bill etc.
However, all the service providers are not registered with Paytm. So, you can only make the payment of the bill if your service provider is registered with Paytm. Hence, you must check it.
How Paytm All-in-one QR code Works
5. Digital Gold
You can also buy the Digital Gold through the Paytm. However, it is the responsibility of MMTC-PAMP and AUGMONT to sell and keep your gold.
You can buy the digital gold in grams or rupees.
Through Paytm you can buy the digital gold as low as ₹1 or 0.001 gram
The price of gold would be real-time with no hidden costs.
You can put the digital gold safely in your Paytm Account.
When you want, you can change your digital gold into physical gold. This will be delivered at your doorstep in the form of gold coin. But, you have to pay the making and delivery charges.
Paytm provides you with digital gold with 24 karat and 99.99% purity. Moreover, you may earn reward and cashback also by purchasing digital gold.
You can safely manage this gold in a secured and 100% insured locker with MMTC-PAMP or AUGMONT GOLD at no extra charge.
6. Financial Investment
Paytm also gives various financial services
You can pay your loan EMI to your lender.
You can invest in Mutual Funds / SIP through Paytm Money. But, you have to install its connected App from the Play Store separately.
You can make a Fixed Deposit in Paytm with a 7.50% interest rate.
You can pay the life insurance/health insurance premium, can buy a new policy and can manage your policy. However, there are very few insurance providers are registered in Paytm till now.
You can avail Paytm First Card for contactless payments powered by Citi Bank.
7. Movie Tickets
Thrugh the Paytm you can also book the movie tickets. You can book the tickets with offers at your convenient show time and seats. Also, you can see the preview of the movie, can read the synopsis of the movie. The reviews by the renowned media circle may be helpful for you to decide to watch the movie or not. Note, there would be a convenience charge for ticket booking.
8. Travel Tickets
Through the Paytm Travel service, you can book Train Tickets, Bus Tickets and Flights (national and international). Also, you can book Hotels or Metro Tickets. Moreover, you can see your previous bookings under the 'My Bookings' section.
Besides it, you can check the PNR status and Live Train Running Status.
However, if you book a ticket through the Paytm App and your trip is cancelled by the corporation like, UPSRTC. You would not be eligible to get the refund from Paytm or Corporation.
9. Payment Bank
You can open Paytm Payments Bank Savings Account. It gives interest rate of 4% per annum.
But you can not avail all banking services because this is only a Payment Bank.
You can set the Automatic Recurring Payment to any Account from your Paytm Payments Bank Account.
Paytm provides you with a Digital Debit Card powered by RuPay. like a Physical Debit Card, you can use it for all type of payments as well.
However, Paytm also issues a Physical Debit Card with the same details as of Digital card on your request. But, you have to pay renewal charges of ₹100 per year.
You can request for a Paytm Cheque Book also. However, it is not available at the time of writing this article.
10. Play Games
Paytm not only gives you financial services, but it also gives you chances to entertain yourself by playing online games. Like, Paytm First Games, Snake Wars, Rummy, Live Quiz, Wheel of Fortune etc. Moreover, you can play and earn money also in your loyalty wallet connected with the games.
Paytm History
Paytm was founded in August 2010 in Noida by its founder Vijay Shekhar Sharma. Its initial investment was $2 million. At the initial stage Paytm was providing only prepaid mobile recharge and DTH recharge. But, in 2013 it started postpaid mobile, data card and landline bill payments facility.
After the 2016 demonetisation, in 2017, Paytm launched its online and cashless banking facility. It is started as a part of Paytm Services namely, Paytm Payment Bank Limited (PPBL). So, gradually, Paytm is growing up and providing regularly different types of cashless and hassle free services.