Paytm a UPI enabled Payment App has come with the new changes in the year 2020. If you are a regular user of Paytm, it may affect you in many ways.
I am telling you mainly two changes introduced by Paytm. So let's start-
1. Charges on Add Money in Wallet
Paytm is now imposing a heavy charge on adding money in your Paytm wallet through Credit Card. Earlier it was totally free. However, this is not for the first time when Paytm is levying it.
The charges are 1.75% + GST i.e. 2%. But mind it, there are some conditions as well-
If you add money less than ₹10,000 there is no charge.
But if you add more than ₹10,000, you have to pay the charge.
The charges are applicable when you transact through the credit card.
Transaction limit works on the basis of the calendar month.
Thus if you add money more than ₹10,000 in a month through the credit card in your Paytm account, you have to pay the charges. However, less than this amount is totally free of cost.
How the new rule work
Now see when you add money through the credit card, then how you have to pay charges. I am trying to explain it for you with the help of 3 examples-
Example 1,
You proceed to add money ₹11,000 in your wallet through the credit card. The amount deducts from your account 11,000+ 2% of 11,000= 11,220. But the amount credits in your Paytm wallet only ₹11,000. Thus you have to pay ₹220 as a charge. All subsequent transactions are also chargeable.
But if you add less than ₹10,000 or exact ₹10,000, you have not to pay any charge. Even you can add in parts as well. However, if you add any more amount which exceeds the monthly limit, then the later added amount will be charged. Have a look-
Example 2,
In a month you add ₹5000. No charge you have to pay on this amount. After this, you add more ₹7000. Thus in this case, you have to pay @ 2% charge on ₹7000. Not on ₹2000 (5000+7000-10,000= 2000). That is the main problem. Further transactions will also chargeable accordingly.
Example 3,
Suppose you add ₹2000 for the first time. The second transaction is ₹3000. In addition, the third transaction is ₹5000. Here total add money in a month is ₹10,000 which is under the limit. Thus all these transactions are not chargeable anyhow. But after this, all transactions will be chargeable.
Note:- If your third transaction is ₹5001 in the place of ₹5000, the entire amount of ₹5001 will be chargeable. Thus because of only Re. 1, you would have to pay charges on the full amount. You can see this as in the second example.
How You Can Avoid this Charge
However, you can avoid these charges if you opt for the following options. Like,
Do not add more than ₹10,000 in a month using a credit card.
Use other modes to top up the wallet. Like UPI, Debit card, Net Banking or Paytm Payment Bank.
Transact next month if you reach the limit.
2. All in One QR for Merchants
Paytm has launched its all in one QR facility for the merchants. This is for accepting payments from customers through different methods. This new feature is a part of Paytm for Business App. Though there is already a QR code facility available in the app. But that is to accept payment from the customers through their Paytm wallet only.
But now Paytm is facilitating the merchants by giving an All in One QR facility. This single QR enables them to accept unlimited payments by three different ways in spite of Paytm wallet only-
Paytm Wallet
All UPI based Payment Apps
Features of All in One QR
How this new QR is different from other QRs? What is the need for this new QR? Have a look-
This new QR enables the merchants to receive payment directly into their bank account.
Now they can accept unlimited payments at 0% fee through this QR.
Earlier there was a free limit of ₹50,000 through the old QR.
This platform offers a single window of all payments through the Paytm for Business App.
Suggested – Paytm KYC Suspended! Truth Behind this Message?
How does it work?
The Merchants have to order for the All in One QR. They can make an order through the Paytm for Business App.
Currently Paytm is offering this QR free of cost at the doorstep.
After getting the QR, merchants would have to place it in their shop.
The customer may scan it to pay in different ways. Thus it is also beneficial for the customers as well. As they can pay by the three modes of payment.
Paytm has introduced the new feature 'Business Khata' in the Paytm for Business app. Through this feature, merchants can maintain a Digital Ledger of all cash and credit transactions.
Merchant will receive the payment through the All in One QR. And this transaction will automatically record in Business Khata.
Thus with the help of All in One QR and Business Khata merchants can manage their business records easily.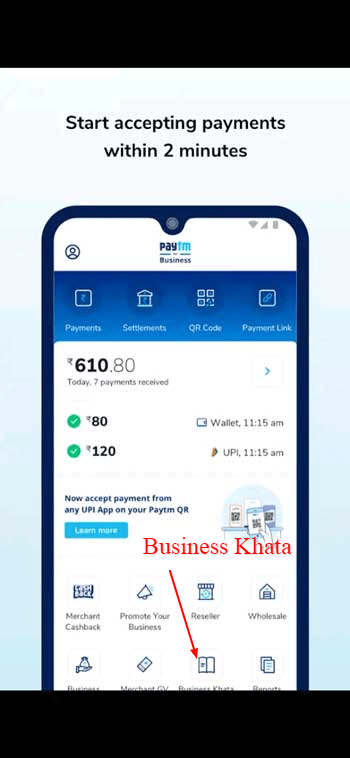 Do You Know?
Merchants can get a Business Loan in Paytm for Business App. There is no requirement for any paper work. No need to go to the bank. Even they may get the loan directly in their bank account within a minutes.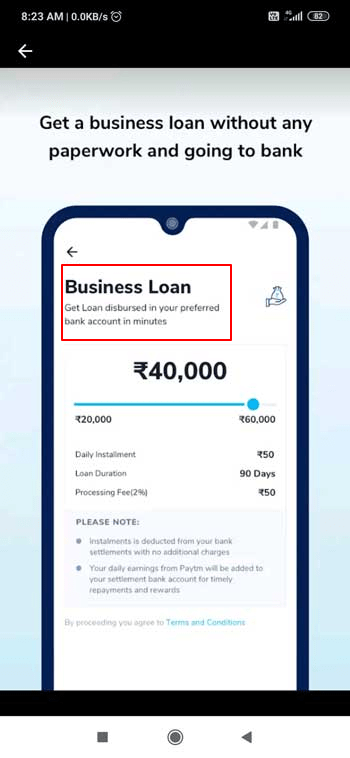 2. Moreover, now Paytm is offering 24 hours NEFT facility for its all customers. However, UPI and IMPS facilities are already available.