You have definitely heard about the payment banks. The Airtel and Paytm is widely promoting their payment banks. Even they are offering a higher interest rate on the saving account. But, before investing in those banks, it is wise to understand the concept of payment banks. As these are not the same old-age banks. It has different rules and regulations.
Payment Bank Meaning
Payment banks are the new age banks with limited facility. These banks mostly operate through the small vendors and shopkeepers. But, you would rarely find a physical branch of the bank.
According to the RBI Rules, these banks can open saving and current account. But, you would not be able to open an FD account or take a loan from this bank. However, with the partnership of existing regular banks, these can give all other facilities.
In fact, the payment banks exist in between the mobile wallet and regular banks.
Special Features
To understand the payment bank better, you should pay attention to its features.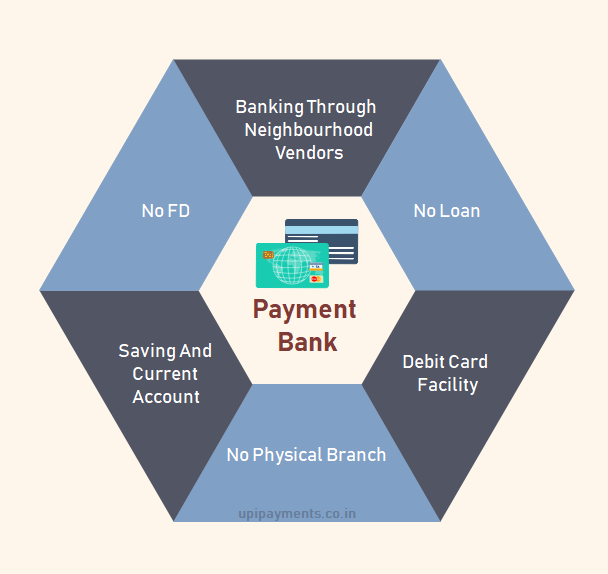 Saving Account and Current Account
A payment bank can open only a saving account or a current account. All other types of account are not permitted.
Zero Balance
You do not require to maintain a minimum balance in the payment bank account. You can keep a zero balance account.
Issues Debit Card
Like any other bank, the payment bank also gives a debit card to its account holder. This debit card works as usual. You can use this card at any ATM or swipe machine. The charges are also similar to debit cards. In metros, first 3 transactions are free while in Non-Metros First 5 transactions are free. There would be an annual charge for debit card.
Online Account Opening
The payment bank gives you the facility to open the bank account online. Within 5 minutes, you can open an account.
Works Through the Bank Correspondents
The payments bank normally don't have any bank branch. It has only a few main offices. Hence, you can't visit the bank. Rather, the banking services are given through its touch points. These touch points also process the KYC formalities.
However, the Jio Payment Bank would have their own 70,000 outlets across India.
Also Read: Jio Payments Bank Advantages
Higher Interest
Because of the less expense on physical presence, the Payment bank can give more interest to its customer. The Airtel Payment bank, Indiapost Payment bank are giving higher interest rate on the saving account. But, Paytm Bank is giving only 4% interest rate like most of the other banks.
Services of Payment Bank
A payment bank provides following services to its customers.
Accept deposits
Remittance services
Mobile payments
Fund transfers
Debit card and associated services
Net Banking services
Sell third-party financial products like insurance and mutual funds
Payment Bank Vs Regular Bank
| | | |
| --- | --- | --- |
| Features | Payment Bank | Regular Bank |
| Saving Account | Yes | Yes |
| Current Account | Yes | Yes |
| Maximum Deposit | 1 Lakh | No Limit |
| Fixed Deposit | No | Yes |
| Loans | No | Yes |
| Credit Card | No | Yes |
| Fund Transfer (NEFT/IMPS/UPI) | Yes | Yes |
| Cheque/Draft Facility | No | Yes |
| Cash Withdrawal Limit/day | 25,000 | No Limit |
|  Cash Deposit Limit |  1,00,000 | No Limit |
| PPF/NSC/SCSS Account | No | Yes |
| Overdraft Facility | No | Yes |
| Passbook | No | Yes |
| Internet and Mobile Banking | Yes | Yes |
| Online Account Statement | Yes | Yes |
Why Should you use Payment Bank
You have seen that a Payment bank gives limited facilities. Then why should you open an account in this bank? Let us learn some benefits of this bank.
Higher Interest
As I have said that Payment banks don't have a physical presence. This saves much of its money. Thus, these banks can give a higher interest rate on savings account. So, to get a higher interest on your saving account, you should choose a payment bank.
No Minimum Balance
Almost Every bank has set a minimum balance limit for the saving account. There would be a heavy penalty if you don't maintain the minimum balance. But Payments bank don't have any such limit.
Easy to Maintain
It is easy to maintain the saving account in a payment bank. Because of its online focus, the online platforms of such banks are very convenient. You can do every task of this bank online.
Easy to operate because of touch points
The Payment banks operate through the vendors and shopkeepers. There can much more vendors and shopkeepers than the number of a branch. Because of this model, you can find a bank representative in your neighbourhood. While in case of a bank, you might require visiting a distant bank branch.
More Working days and Longer Working Hours
A regular bank branch operates within the working hours. It would be also closed on Sunday and holidays. But, the vendors of payment banks operate for longer hours. Also, there would not be any holiday. The bank would remain open every day.
Limit the exposure of your Main Saving Account
By opening an account in payment bank, you can keep your account of regular bank separate. You can make the payment bank account an expense account. The small daily transaction should be through this payment bank account. Whereas, the regular saving account would be used for big deposits and big expenses.
List of Operational Payment Banks
Airtel Payment Bank
Paytm Payment Bank
Fino Payment Bank
India Post Payment Bank
Aditya Birla Payment Bank
Know in Detail: List of Payment banks in India
---
If you have easy access to the banks and various financial products, the payment bank may not be useful to you. But it is a quite good option to those who don't have a bank branch in their vicinity. As their neighbourhood retailer may have doubled up as the mini bank.