In my last article, I told you all about FASTag. Like, its requirement, How it works, Merits and Demerits etc. In this article, I am telling you how you may get Free FASTag online at your home.
Free Fastag
Before we start, we should know what is free FASTag. As you know, the Government is providing free FASTag up to 15th December. It means, you have not to pay the one time cost and security money up to the date of the deadline. But you have to recharge it with a minimum amount after getting.
This is a promotional offer by the Government. Hence, after 15th December when you will purchase the FASTag, you have to pay all charges.
Online Free FASTag
In my last article also I told you the places from where you may get FASTag. Have a relook-
National Highway POS toll plazas.
28,000 POS on selected Petrol Pumps
22 Certified member banks of NETC
From a dealer in case of new car
Through the My FASTag app
Payment apps like Paytm, Amazon and Airtel Thanks
Note:- Remember, the Government is providing free FASTag only through 2000 POS centres on toll plazas and petrol pumps.
But if FASTags are available at your home even free of cost. Then what is the need to go outside to take the pain? You may get the FASTag by applying through the payment apps and My FASTag App. Also, you may apply on the website of your Bank. But the main point is, who is giving online FASTag free of cost?
Suggested –
Paytm Free FASTag
Nowadays, you are seeing an advertisement of Paytm free FASTag in newspapers. Even Paytm is offering free delivery at your doorstep.
So if you are interested in online free FASTag at your home, you may try it. But remember, you can not buy more than one FASTag for a single vehicle on the same or different platform.
Do you want to know the process of getting it through the Paytm? I tell you.
Further Reading – How To Recharge your FASTag Through UPI Apps
Online Free FASTag through Paytm
To make an order through the Paytm, the Paytm App should be installed in your mobile. Then you may scan the QR Code available in advertisement with QR Code scanner.
Moreover, you may scan with the code scanner in Paytm app as well. Or without scanning, you may reach the 'Toll and Fastag' page in Paytm App. For this, type FASTag in the search bar of Paytm App and follow some steps to complete order. This process is easier and safer than others.
New and Easy ways of To Recharge FAStag in 2020
Step 1,
Tap on the first option Buy FASTag in Toll & FASTag page.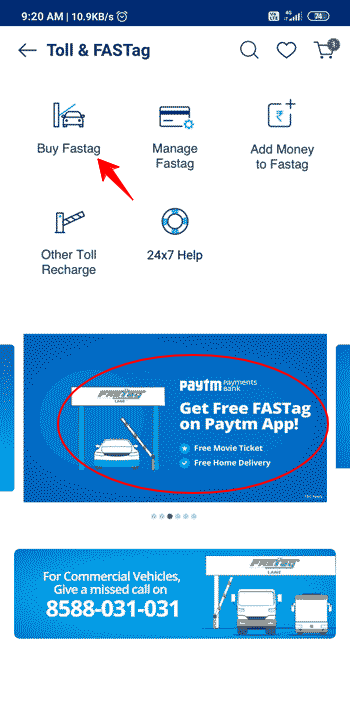 'Get Free FASTag' page will open. Here you can see the Price Breakup of FASTag –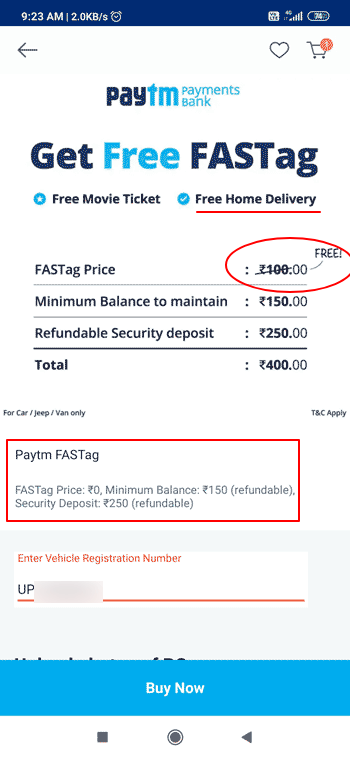 FASTag price is zero. Minimum Balance to maintain in Paytm FASTag wallet is ₹150 and Security Deposit is ₹250. Thus the total amount you would have to pay ₹400.
Here I want to tell you that Minimum Balance in Paytm FASTag wallet and Security Deposit are refundable. That means after some time if you want to deactivate your FASTag, both the money will be refunded to you. So it seems like a free FASTag.
Also, that when you cross through the toll plaza, the toll charge will be deducted from your main wallet i.e. Paytm Wallet. Not from the Balance of Paytm FASTag wallet, as it is refundable.
Recommended – How To Check Fastag balance in a Minute
Step 2,
Now enter your vehicle registration number i.e. Vehicle Plate Number. And Upload the front and back photos of RC of the vehicle. If you do not have details on the back side of RC, you can upload the front image again in the second box. Because no one box should be empty.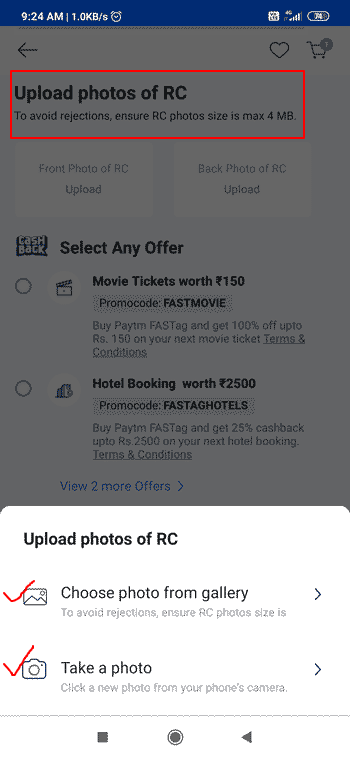 When you tap to upload the photo, there are two options. Choose a photo from Gallery or Take a photo. Select one option and upload the RC front image. Apply the same procedure for the second box.
Note:- The size of the photo should not be more than 4 MB. If it is more than this size, your order may be rejected.
Step 3,
Paytm is offering some cashback offers as well. You can select the one or may proceed without it. When you scroll down, you see a box to enter your area PIN CODE. Or you can select the saved delivery address in the app.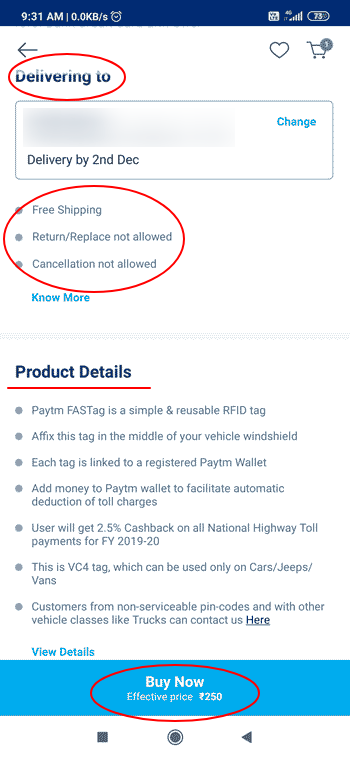 Again scroll down and view details and descriptions of the FASTag. Here you can see about FASTag, Price breakup, Working of FASTag and much more. Also, you can read the conditions when the FASTag order might be auto cancelled.
Here you can find out the toll free customer care number of Paytm FASTag as well. It is- 1800-102-6480. If you have any query, dial this number and press 1. However, you may have to wait for a long time to connect with the executive. Because this time there is so much load on this number.
Note:- The Email Address of customer care is [email protected]. And, the postal address is B-121 sec 5, Noida.
Step 4,
After selecting the delivery address, you may proceed further without going for Product Details. Now tap on Buy Now button. Here you can see the effective price ₹250. It is security deposit.
Step 5,
Now you have reached the Payment page. Paytm Wallet Balance option is already selected. But you can select any other option among, Paytm Payment Bank Account, UPI linked Saving Account, Debit Card or Credit Card.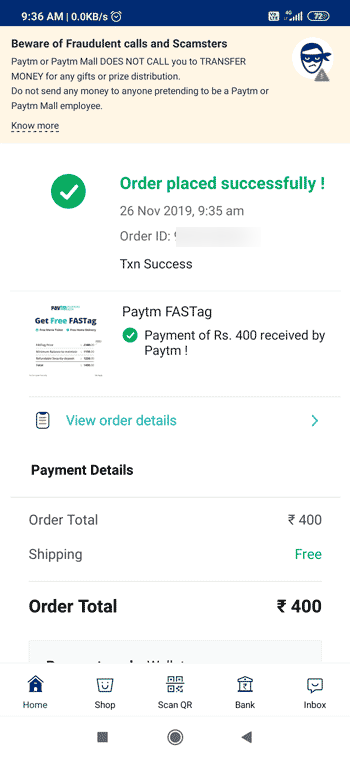 Thus tap on PAY ₹400 button. And your order is successfully placed.
Note:-
This amount includes ₹250 of security deposit and ₹150 minimum balance requirement for Paytm FASTag wallet. When you get your FASTag by post and activate it, Paytm will generate this wallet. And it will credit ₹150 in your new wallet automatically.
At the time of buying FASTag, the payment will be deducted from your selected payment option. Remember, toll charges on Paytm FASTag will be deducted from your main wallet i.e. Paytm Wallet. Not from your selected payment option.
Step 6,
From order history, you can see the order details with the expected delivery date. You can not cancel or return the product. However, you may contact customer care if you have some issue. For this select the Contact Us button on this page.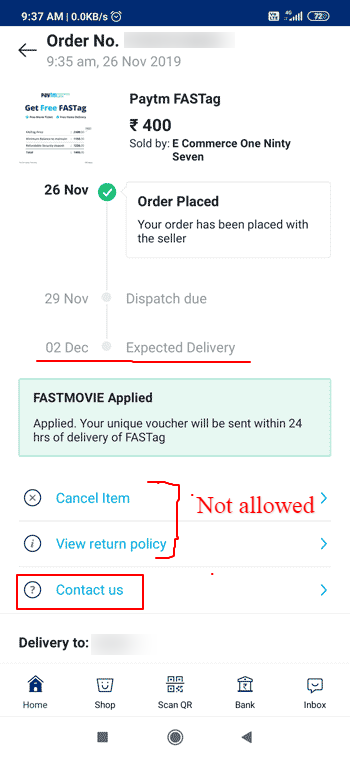 Thus if you have completed your order. Wait and soon you will get your FASTag.
Useful Post– How to Affix Fastag in your Car
Important points to note
FASTags issued from Paytm is linked to a registered Paytm wallet.
Your KYC should be completed in your Paytm Account before making an order for FASTag.
You have to add money to Paytm wallet. The toll charges will be deducted from this.
Also, you may get 2.5% cashback from NHAI in your Paytm wallet in the financial year 2019-20.
You can order multiple FASTag for multiple vehicles you own. But all the FASTags would be connected with the same wallet.
Even you can order FASTag for the vehicle which is in the name of your parents. But it would be linked with your Paytm account and toll charges will be deducted from your wallet.
Must – How to Pay Traffic e-Challan Online
Online FASTag through Other Options
Not only Paytm, but other apps and providers are offering online FASTag as well. These are Amazon, Airtel Thanks App, My FASTag App and Commercial Banks website. However, all the other options are taking full charge even with the one time cost and delivery charge. Hence, no one is providing free FASTag online other than Paytm.
So, if you want to purchase from other sources, I am giving you the procedure in short. Have a glimpse-
Online FASTag from Amazon
Amazon has a collaboration with the HDFC bank for FASTag service. Login with user Id and password in Amazon app and purchase the FASTag like other products.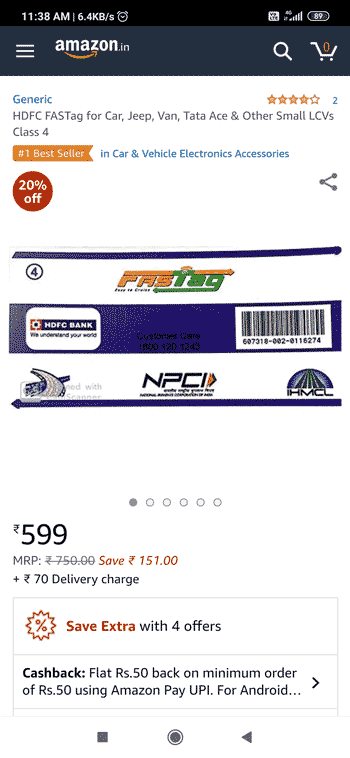 Though Amazon is offering a 20% discount on total price, still it is most costly. As its price is ₹599. Moreover, it is charging ₹70 delivery charge as well.
Online FASTag through Airtel Thanks App
If you are an Airtel subscriber, this is for you. FASTag is also available in Airtel Thanks App. This FASTag will be linked with your Airtel wallet. The procedure of making an order is the same as through the Paytm.
Airtel Thanks App is offering FASTag at flat ₹100 cashback and with free home delivery. This offer is valid up to 3rd December 2019.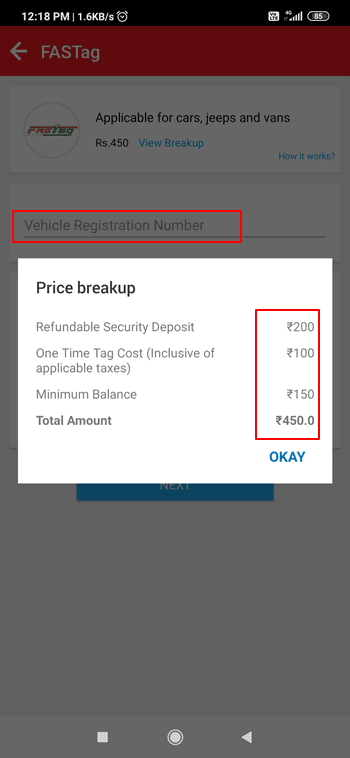 However, it is charging the one time cost as well. But on account of cashback and free delivery, the effective cost is less than in Paytm. Moreover, the security deposit is also less than compare to Paytm.
Online FASTag from Banks
Member banks of NETC across the country are providing online FASTag. But all the banks are charging fees. However, the total cost is slightly different from each other.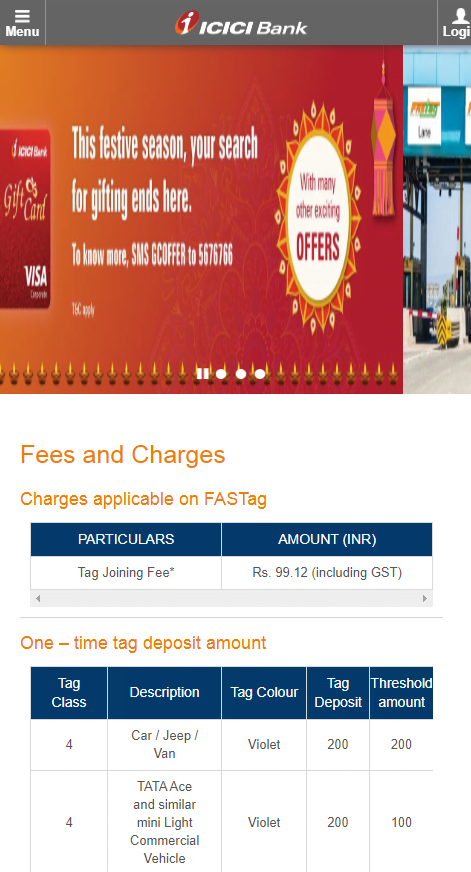 To purchase through the bank, you have to login the website of the bank. And follow the simple instructions.
Online FASTag through My FASTag App
Download the My FASTag App from Google Play Store and install it. You can link your bank account with the app and make an order for a FASTag to your bank. The payment will be deducted from your linked bank account.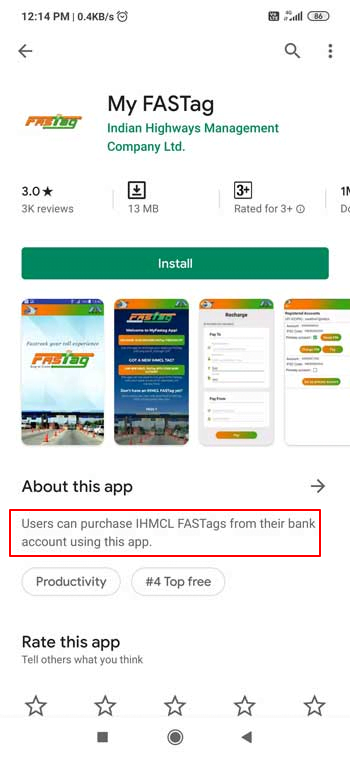 By using this app you have two options to pay toll charges-
First, from your linked bank account and
Second, create an NHAI prepaid wallet in the app. Add money in it. Then toll charges will be deducted from this wallet.
As you know banks are charging full fees of FASTag. So, when you order to your bank through the app, the bank will charge full fees.