Today banks has come to your mobile phone. You can send money and check statement, sitting at your home. But, these convenineces came along with many issues. Moreover, there may be no one to sort out your problem.
Often the money get debited from your account but does not credits to the beneficiary account.
Somtimes, banks deducts some account for some unwanted insurance scheme.
There can be a fraud with you but the banks may not take the responsibility.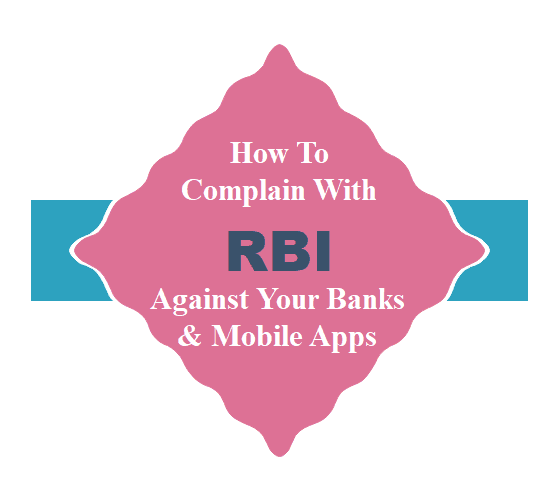 The CMS System of RBI

So, to address the customer complaints, the RBI has started a complaint managment system (https://cms.rbi.org.in) . This is an online system which deals with the customer complaints.
Through this Portal, we can make a complaint against the banks and other financial service providers too. CMS is accessible on Desktop and on Mobiles as well.
The CMS system has been integrated with the RBI Ombudsman. You may be aware that RBI has deputed many Ombudsman for different zones of the India.
For this complaint system, RBI appoints Ombudsman. This person generally becomes a Senior Official of RBI. Who tries to redress customer complaints against deficiency in certain banking services.
Against Whom can you file complaints
As I said, you can file a complaint not only against the bank but against all financial service provider. Below is the list who are covered under the Online complaint System of RBI.
Banks, All banks of the public and private sector including government bank.
NBFCs (Non-Banking Financial Companies) regulated by the Central Bank. Like, Power Finance Corporation Limited, Bajaj Finance Ltd, Mahindra and Mahindra, Muthoot Finance corporation and so on.
Wallets, Like Paytm Payment Bank, Airtel Payment Bank, PhonePe, etc.
Third-party participants, These are basically UPI Apps. Like Google Pay, BHIM App, Axis Pay, SBI Pay, etc. So, if you have a complaint against any UPI app, you can lodge it as well.
There are separate Ombudsman Officers for the digital transactions through wallets and third party participants. On the other hand for the banking issues, Banking Ombudsman works for the grievances against the banks.
How to Unlink or Remove Bank Account from UPI App
Which Type of Complaints can be Filed?
You can file a complaints against any of your issues. The RBI would take cognisance.
Complaints against Mobile Wallets (Prepaid Instruments)
If money got debited from your wallet, but not credited into the account of merchant or service provider like electricity board or DTH on time.
If money got debited from your bank account but didn't credit into your wallet.
When mobile wallet doesn't transfer money back to your bank account on expiry of validity or closure of wallet account.
Failure to refund within a reasonable time or refusal to refund in case of unsuccessful / rejected transaction.
Complaints against UPI Fund Transfer
If fund transfer doesn't take place within a reasonable time.
If amount debited from your account but the status shows, 'Transactions Failed'. And the UPI platform fails to reverse the amount into your account.
Any other unauthorised electronic fund transfer.
General Complaints
Non-payment or delay in payment/ collection/ issue of cheques, drafts, bills, etc.
When banks refuse to accept small denomination notes and coins without sufficient cause, and they charge commission in respect thereof.
If banks don't follow the prescribed working hours.
Delay or failure to provide any banking facility by the bank which they promise in writing.
Delay or non-credit of proceeds to parties' accounts, non-payment of deposit or non-observance of the RBI directives with respect to the rate of interest on different bank deposits.
Complaints from NRIs who have their accounts in India in relation to their remittance from abroad and other bank related matters.
Refusal to open deposit account without any valid reason.
Non-payment or delay in payment of inward remittances.
If banks charge a levy without informing you.
Non-adherence to the instructions of RBI on ATM / Debit Card, Credit Card and Prepaid Card operations by the banks.
Same as non-adherence in case of Mobile Banking or Electronic Banking service.
Non-disbursement or delay in disbursement of pension.
Refusal to accept or delay in accepting payment towards taxes, as required by RBI or Government.
Delay or refusal in issuing, or delay or failure in servicing or redemption of Government securities.
Forced closure of deposit accounts without a valid reason. Or refusal to close or delay in closing the accounts.
Non-adherence of RBI guidelines on other matters.
Complaints Regarding Loans and Advances
Further, you may lodge a complaint if you face any issue regarding Loans and Advances-
Non-observance of RBI directives on interest rates.
Delays in sanction, disbursement or non-observance of the prescribed time schedule for disposal of loan applications.
Non-acceptance of loans applications without any valid reason.
Non-adherence of any other instruction of RBI which it issues time to time.
Also Read – Phonepe Customer Support System
What are the stages of the complaints System
Though, you may get the relief from the Ombudsman, but it is not the initial stage of the complaint system. Apart from this, you should follow the stages of the complaint system. However, it may be frustrating and tedious but the procedure should be followed.
So, firstly do a complaint to your service provider. Wait for 30 days. Then go to the Ombudsman of your area, if
The service provider is not responding
Or you are not satisfied with its reply
Or the service provider rejects your complaint.
So, basically there are two stages of the complaints system,
The Service Provider (Bank or NBFC or System Participant)
The Ombudsman
Beware ! Customer care Number Fraud on Rise
Which Information should you have for filing a complaint
Before filing a complaint you should have some information. Naturally about you, your grievance and about the regulated entity. So, it will be-
Your name and postal address with Telephone Number, Email ID and Fax Number if any.
Name and address of the bank or branch or the entity or its registered office against which you want to file a complaint.
The necessary facts of the case with all related documents if required and demanded.
Your bank account number.
Your Debit or Credit Card number if the complaint is for the card issue.
The nature and impact of the loss on you and the nature of relief what do you want.
Other supporting documents which you think may be pivotal.
Useful Post – Google Pay Tez Customer Care Number
Steps to File the Complaint Online
Now I tell you the steps through which you can file the complaint online-
Step 1
First, you need to visit the portal of RBI for online complaint. This is https://cms.rbi.org.in as I told you at the beginning of the article. After that, click on File a complaint tab against Bank/ NBFC/ Digital Wallets.
Step 2
Select the language from the right side of the corner of the portal page. And select the type of entity. It may be Bank, NBFC or System Participant.
Step 3
Now fill the details, like mobile number, area, district and so on. Then click on Next.
Step 4
A new page will be displayed where you have to enter full details of your grievance. 'Is complaint sub-judice/ under arbitration', 'Have you made a complaint to the Bank' and other details with the date of complaint and complaint category, and also the date of reply from bank. After that click on Next.
Step 5,
Next page is Complainant details. Here you have to enter your details viz. Name, Gender, Age, Category, Email, Mobile Number, Telephone number and address. Hence, click on Next.
Step 6
After that, Bank Details page will be open. Where you can see the name of Nodal Officer and his address. Choose the option if your complaint against wallet or business correspondent. Again click on Next.
Step 7
Now fill your bank account details along with bank account number. Then click on Next.
Step 8
Next page is Complaint Details, where some fields are pre-filled. You have to enter the disputed amount involved, the compensation sought and facts of the complaint. After that click on Next.
Step 9
This is the Declaration Page. Read carefully the instructions and click on Next Button. Next page is Nomination details page, where you have to fill the details of that person against whom you are complaining. Click on Next and Proceed.
Step 10
A new page will be displayed where you may upload complaint related attachments if any. As you click on the submit button, your complaint will be filed successfully.
After that, you will get the auto-generated acknowledgement. Moreover, you can also track the status of your complaint. But, if you are not satisfied with the resolution, you can appeal against the decision of Ombudsman online. For this, RBI will guide you on its website.