Today there are many ways to transfer the fund. Each has its merits and demerits. But, the fund transfer limit is the first thing which comes to your mind when you choose a money transfer system. In this post, I would tell you the fund transfer limits of NEFT, RTGS, IMPS and UPI.
Fund Transfer Limits of NEFT
Before UPI, the NEFT has been the most popular way of fund transfer. This system is available on internet banking, mobile banking and at the bank branches. NEFT fund transfer is done in the batches. The Timing of NEFT is from 8 AM to 7 PM.
There is no minimum limit of fund transfer through the NEFT. You can transfer as low as one rupee. Similarly, there is no maximum limit of fund transfer through the NEFT. You can transfer any amount.
Some banks have reduced the charges of NEFT transaction up to an amount.  SBI doesn't charge more than ₹5 for NEFT transaction.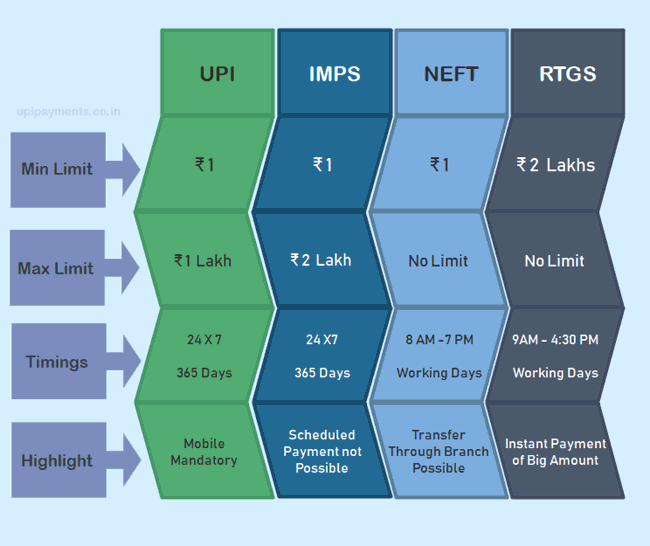 ---
Minimum and Maximum Transaction Limit of RTGS
RTGS is the best method of fund transfer for a big amount. It transfers the money instantly. But there is a fixed timing of the RTGS.  You can use this method through the bank branch and online as well. The system is managed by the RBI.
The RTGS has a minimum limit of ₹2 lakh for fund transfer. That is why you can't use this system for small fund transfers. Like NEFT, there is no upper limit of transfer. You can pay as much as you want.
The SBI has reduced the charges of RTGS for online transfers. However, private banks still charge a higher fee.
Also Read: Difference Between NEFT and RTGS
---
IMPS  Fund Transfer Limits
IMPS (Immediate Payment Service) is a relatively new system. It has done the groundwork for the UPI. This system is based on your mobile number. You can use IMPS through online or mobile banking. It is not available through the branches. The IMPS system is available 24 hours every day. Registration of beneficiary is necessary to use this system.
The IMPS has no minimum limit. But there is a maximum limit of ₹2 lakh. You can't use the IMPS for more than ₹2 lakh. This limit is applicable if you use the bank account number and IFSC of the beneficiary. For the Mobile number and MMID based transfer, the limit is only ₹10,000.
Read More- IMPS Fund Transfer Limits
Recommended- IMPS Fund Transfer Charges of SBI, HDFC, ICICI etc
SBI Charges of NEFT, IMPS and RTGS
---
Transaction Limits of UPI
UPI is the smartest method of payments. In this method, you don't need to know the bank account number of the beneficiary. The UPI ID is enough for making payments. This system also does not require registration of the beneficiary. The UPI is available only on mobile. You can't use it on your PC and bank branch. To use this system, you need a UPI app. There are many UPI apps available at Google Playstore.
There is no minimum limit of fund transfer through the UPI. But there is a maximum amount limit. You can send upto ₹1 lakh through the UPI. For a higher amount, you have to use other systems.  Also, you can't transfer more than ₹1 lakh in a day.
The best thing about UPI is that it is totally free. To promote this system, neither app developers and banks nor NPCI charge anything.
---
Best Way of Fund Transfer
So, you have seen that there are many ways of fund transfers. Each method has its own limitation. That is why one system is not suitable for everyone. Let us find out the best payment system for you.
The UPI is best if you use a smartphone and fund transfer amount is less than ₹1 lakh. It is instant and free.
The IMPS is best if the amount is more than ₹1 lakh but less than ₹2 lakh. It is instant.
You have to use the NEFT if you want to schedule payment for future. For a loan or credit card account,  NEFT and RTGS are best. NEFT is also best for cash transfer through the bank branch.
The RTGS is best if you want to transfer above ₹2 lakhs instantly. You can also use this method for loan account and scheduling.
In this post, I have told you the fund transfer limits of NEFT, RTGS, IMPS and UPI. Besides this you should also know the ATM withdrawal limit as banks have reduced it. You should also check out the charges of fund transfer of these methods.