NEFT and RTGS are the two older ways of fund transfer. These are still used Because It gives some exclusive benefits. But in this post, I would discuss the difference between the NEFT and RTGS. You would learn the different usage of these two methods of payment. I hope, after reading this post you would select the best payment method for you.
Difference Between NEFT and RTGS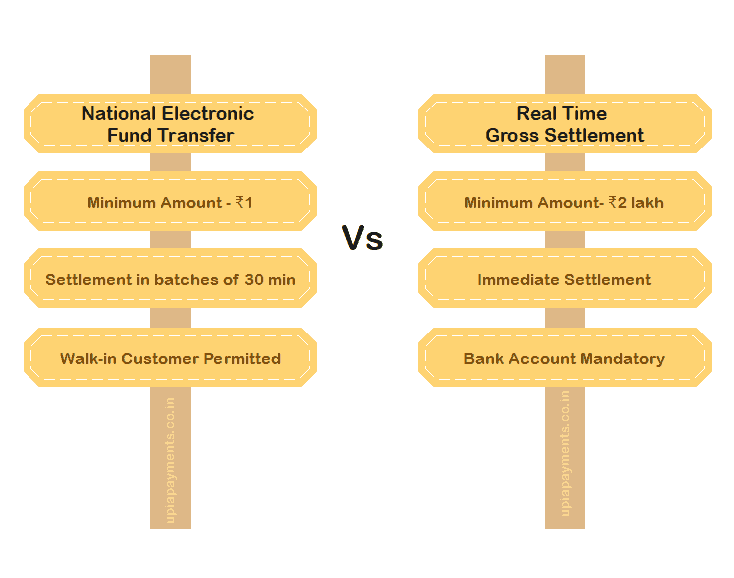 NEFT
RTGS
Full Form
National Electronic Fund transfer
Real Time Gross Settlement
Minimum Payment
₹1
₹2 lakh
Maximum Payment
No Limit
No Limit
Maximum Cash Payment
₹50,000
Nil
Fund Transfer Mode
Payment is done in batches. The minimum difference between two batches is 60 minutes
The Payment is done continuously. The transfer is processed instantly
Clubbing of Mandate
Many fund transfer mandates are clubbed together and settled simultaneously in batches
Each mandate is settled individually
Walk In Customer
The Customer who has not a bank account with a branch can also use NEFT to send Money
Walk-in Customer can't use RTGS
Working Hours
8 AM to 7 PM (Week Days)
8 AM to 7 PM (First and Third Saturday)
9 AM to 4:30 PM (Week Days)
9 AM to 4:30 PM (First and Third Saturday)
Maximum Charges /transaction
(To Other Bank Account)
Up to 10,000: ₹2.5
10,000 – 1 lakh: ₹5
1 lakh – 2 lakh: ₹15
Above 2 lakh: ₹25
2 lakh – 5 Lakh : ₹30
Above 5 Lakhs: ₹55
Money Credit Expectation
Within 2 hours of the Batch settlement
Within 30 minutes of Initiating Transfer
Refund of Failed Transaction
Within 2 hours of batch settlement
Within 1 hours of payment to the beneficiary bank
Recommended: IMPS, NEFT and RTGS Charges of SBI
Facts About NEFT
It Facilitates one to one transfer from a bank account or person to another bank account. This system of fund transfer works across India among most of the banks. Today majority of the bank branches are NEFT enabled hence you can easily transfer money.
You can use NEFT fund transfer system through Net Banking, mobile Banking and by visiting the branch. In the branch you can also deposit cash for the fund transfer. However, the cash amount can't be more than ₹50 thousands.
The NEFT does not transfer your money immediately. Instead, system works in the batches. These batches operate during the working days and working hours. Now after every 30 minutes a batch settlement is done.
The NEFT system requires the Bank account number and IFSC of the beneficiary. Only these two information is sufficient to transfer money. Every Bank branch has its own unique IFSC.
You can use the NEFT system to transfer money to the NRE or NRO account. But, you can't send money out of the country except Nepal and Bhutan.
Unlike UPI Payment system, and IMPS you can't ask or request money using this system.
You can learn more about the mechanism and other important facts about NEFT Charges and timings in my detailed post.
Facts About RTGS
This system was primarily designed for the businesses. It is the fastest and low cost system of high value fund transfer. But because of the minimum limit of ₹2 lakh common people rarely use this system.
In this system a fund transfer order does not wait for the batches or pooling. A transaction is immediately initiated for fund transfer. The transaction is recorded in the RBI database. Hence, there is no chance of the reversal.
The RTGS requires following information for making a fund transfer.
Amount to be remitted
Remitting customer's account number which is to be debited
Name of the beneficiary bank and branch
The IFSC Number of the receiving branch
Name of the beneficiary customer
Account number of the beneficiary customer
Sender to receiver information, if any
After the successful RTGS transaction the remitting customer and beneficiary both would receive a message in this regard.
In this post, I have told you about the differences between NEFT and RTGS. Now you can also learn about the actual charges of NEFT and RTGS as several banks charge less than the maximum limit given by the RBI. The charge is far less if you use the Net Banking. The banks have also slightly different timings for the RTGS mandates. You should also learn that UPI apps do not charge for the fund transfer, however, there is a limit of the transaction through them.