Like UPI and IMPS, NEFT is a fund transfer system. Recently this system has also become almost free. This is not an instant payment method, however, It is fast enough. This system is managed by the RBI and almost every big bank participates in this system.
Full Form and Meaning of NEFT
The full form of the NEFT is National Electronic Fund Transfer. It is a nation-wide payment system which facilitates one to one fund transfer. Under this Scheme, individuals, firms and corporates can electronically transfer money from any bank branch to any individual, firm or corporate having an account with any other bank branch in the country participating in the Scheme. Following are the features of NEFT.
This payment system Works in whole India
It credits fund to a bank account
The RBI manages this system
This system works only on working days
NEFT is available across the platforms. You can use this system at the branch, ATM, mobile app or online banking.
Uses of NEFT
The NEFT had made the fund transfer very easy. Before this system, the fund transfer used to take many days. However, now IMPS and UPI provide a better experience. Still, NEFT is useful in many cases. You can use this fund transfer system in following ways.
Transfer of funds from a bank branch to any bank account.
Online transfer from one bank account to another.
You can also pay the credit card bill outstanding.
The fund transfer to NRE/NRO account is also possible.
You can also use this system to pay the Loan EMI.
Benefits
You get certain benefits of NEFT (national electronic fund transfer). Because of the following benefits, this system is still popular in the age of IMPS and UPI.
It is a low-cost fund transfer system
It is an almost instant system. The fund transfer takes place in batches after every half an hour.
The NEFT is a convenient system as you can use it sitting in your home or office.
You can schedule a payment through the NEFT.
The system reverses the payment in case it is not credited to the beneficiary account.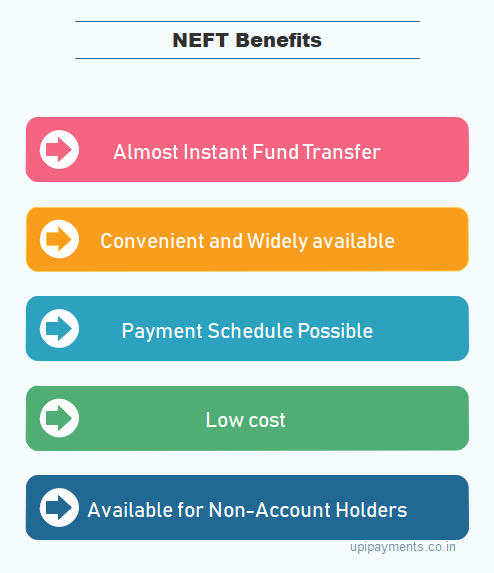 How To Send Money
You can send money using NEFT in following ways.
Bank Branch
ATM
Net Banking/mobile app
To use any of the above methods, you should have following information.
Name of the beneficiary
Bank account number
Bank account Type
IFSC of beneficiary bank account
Amount To be transferred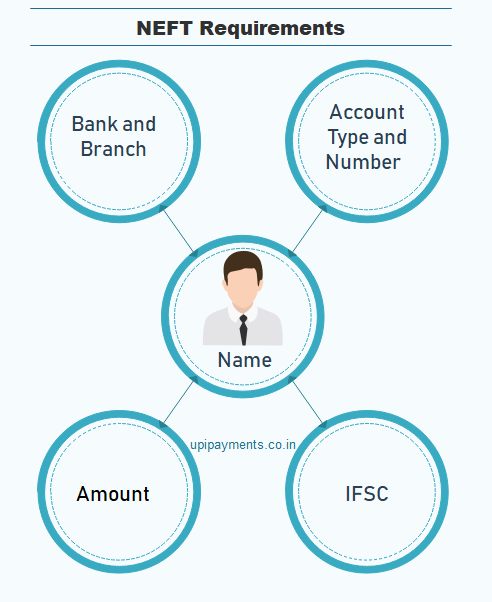 Send Money Through Bank Branch
Sometimes people think that NEFT only works online. But, this system can be used through the bank branches. You can go to any bank branch and use NEFT to send money to any bank account. The whole process goes through the following steps.
Visit a bank branch and ask for NEFT form.
Fill all the details of the beneficiary.
You have to also mention whether you are giving cash or debit mandate.
The bank would accept your form and place order for next batch of transfer.
After 2 hours you can check with the beneficiary.
Send Money Through ATM
Few banks give NEFT fund transfer facility from their ATM. The process is similar to the offline steps. You have to give beneficiary details and amount. Finally, you have to enter the amount and your PIN. The amount would be deducted from your account.
Send Money Online Through NEFT
Those who are using the internet banking must be aware of this feature. I can remember that this feature is available since November 2005. Different banks may have some different process of transaction. But following are the common steps of online fund transfer.
Go the fund transfer section.
Choose the type of beneficiary, whether it is your another account, another person of same bank or another person of a different bank. The NEFT is applicable only if the beneficiary belongs to another bank.
Select the method of fund transfer. You would get the options of NEFT/RTGS and IMPS.
Choose NEFT and proceed to Register beneficiary details. If you have already registered a beneficiary, skip the next two steps.
You have to enter the beneficiary Name, Account Number, Bank, Branch and IFSC code. After entering all the details, you would get an OTP for authentication.
Often Banks do not permit fund transfer immediately after beneficiary registration. You may have to wait 30 minutes to 1 day. Further, you can transfer fund without any wait.
To Transfer the fund, select a person from the registered beneficiaries. Enter the amount and submit.
Enter your transaction password. After entering the password, there may be another authentication step. It depends on the bank. This authentication may be OTP, Answers, or grid numbers.
With this, you complete the fund transfer process.
How Do You Get Money
The beneficiary gets money into the bank account. The money would be credited same day if it is transferred during working hours. Else, it would take place on next working day in the morning. You would also get an SMS of fund credit.
Also Read: NEFT Fund Transfer Time Window
NEFT Charges
The reserve bank of India manages the this fund transfer system. It charges 25 paise/transaction for clearing. However, the participating banks can't charge this amount from its customer. But, the banks can itself levy service charge for NEFT transfer. However, there is an upper limit of this charge. The maximum charges of NEFT fund transfer are given below.
Same bank transfer
Free, Banks can't charge from the customers.
Interbank NEFT Transfer Charges Set By RBI
| | | |
| --- | --- | --- |
| Amount | Maximum Charge | Max Charge With GST |
| Up to ₹10,000 | ₹2.50 | ₹2.95 |
| Above ₹10,000 and up to ₹1 Lakh | ₹5 | ₹5.90 |
| Above ₹1 lakh and up to ₹2 lakh | ₹15 | ₹17.70 |
| Above ₹2 lakh | ₹25 | ₹29.50 |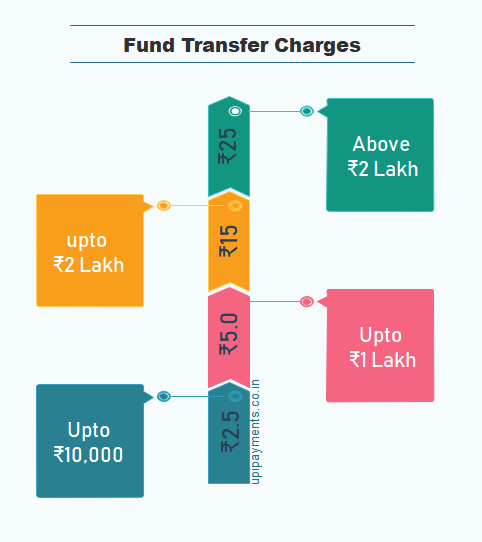 Meanwhile, some banks have waived the NEFT charges for online fund transfer.
Recommended:  IMPS, NEFT and RTGS Charges of SBI
How NEFT Works
Step-1: The sender would fill the NEFT deposit form and present the desired money. This submission may be through the bank branch or online.
Step-2: The originating bank branch prepares a message and sends the message to its pooling centre (also called the NEFT Service Centre).
Step-3: The pooling centre forwards the message to the NEFT Clearing Centre (operated by National Clearing Cell, Reserve Bank of India, Mumbai). The clearing centre would include this mandate for the next available batch.
Step-4: The Clearing Centre sorts the funds transfer transactions destination bank-wise. It also prepares accounting entries to receive funds from the originating banks (debit) and give the funds to the destination banks(credit). Thereafter, bank-wise remittance messages are forwarded to the destination banks through their pooling centre.
Step-5: The destination banks receive the inward remittance messages from the Clearing Centre and pass on the credit to the beneficiary customers' accounts.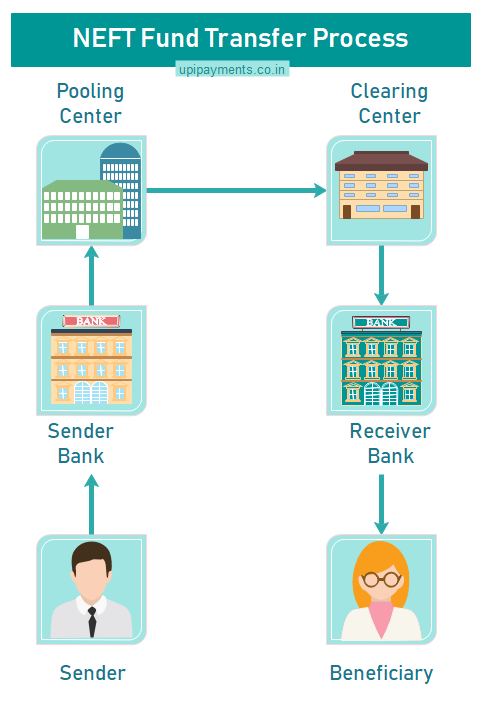 Also Read: Fund Transfer Limits of NEFT, RTGS, IMPS and UPI
NEFT Complain mechanism
It is very rare that fund does not reach the beneficiary. But, in case of non-credit or delay, you should contact your bank. Note, the sender should contact its bank. The contact number would be the same customer care number of your bank. Banks have also assigned a separate mail ID for such complaints. You can find out these customer care details of the banks on the RBI website. For you, I am giving contact details of 6 biggest banks.
STATE BANK OF INDIA
Tel: 022 -27561665/27573270/27573506
/27560743Fax: 022 – 27561664
neft@sbi.co.in
PUNJAB NATIONAL BANK
Tel: 022-22627511

Fax: 022-22610781

neft@pnb.co.in
BANK OF BARODA
Tel: 022 – 66981559 / 66981560

Fax: 022-66981591

neft.mumbai@bankofbaroda.com
ICICI BANK LIMITED
Tel: 022- 33667777 & 040- 33667777

Fax: 040-41064450

neft.query@icicibank.com
HDFC BANK
Tel: 022-30752044/ 53
022- 30751922 / 1947Fax: 022-25799814
neftoutward@hdfcbank.com
neftinward@hdfcbank.com
AXIS BANK
Tel: 022 – 24253491 /3492 / 3493

Fax: 022 – 24254400

cfc@axisbank.com
If the bank does not resolve your issue, you can raise a complaint to the RBI. It has made NEFT Help Desk (or Customer Facilitation Centre of Reserve Bank of India) at National Clearing Cell, Reserve Bank of India, Mumbai. You may contact by e-mail or correspondence. The Address is given below.
Email: nefthelpdeskncc@rbi.org.in
Address: The General Manager, Reserve Bank of India, National Clearing Centre, First Floor, Mumbai Regional Office, Fort Mumbai 400001
Also Read- NEFT or RTGS? Which is Best For You?
NEFT Reversal
If there is no credit to the beneficiary account, you would get back the money. According to the rules, the destination bank must reverse the fund to the original sender of the money. This reversal should happen within 2 hours of getting the money,
If it is not possible to afford credit to the account of the beneficiary for whatever reason, destination banks are required to return the transaction (to the originating branch) within two hours of completion of the batch in which the transaction was processed.
For example, if a customer submits a fund transfer request at 12.05 p.m. The batch clearance of this transaction would be done at 12:30 PM. If the bank can't credit it to the beneficiary account. It must reverse the amount until 2.30 PM.
Do you know
You can use NEFT, even if you don't have a bank account. The banks process the fund transfer request of the walk-in customers. However, In such cases, banks also take communication details so that it can contact you if money returns back. Also, a walk-in customer can't transfer more than 50 thousand.