In the IMPS Fund Transfer system, you can send money to a person on the basis of his/her mobile number and MMID. The Mobile number and MMID can be used in the place of Account number and IFSC code. The MMID  is a seven digit number of which the first four digits are the unique identification number of the bank offering IMPS. The MMID is a way to keep your account number private. Because of the MMID, you can get money without sharing your bank account number. In fact, It is similar to the UPI ID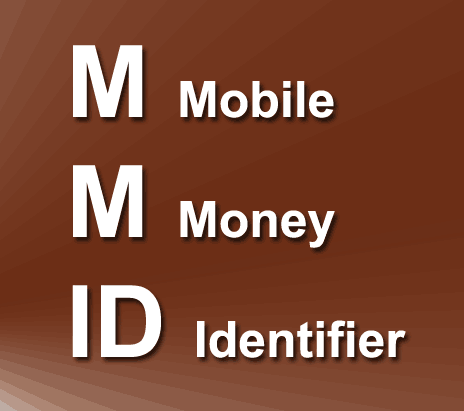 Also Read: Digital Payments in India
About MMID
Mobile Money Identifier or MMID is a 7 digit number of a bank customer who uses mobile banking. This number is used when you try to send or receive money using the IMPS fund transfer method. Every bank account has only one MMID. This MMID would be unique to the bank account. Along with the mobile number, MMID identifies a bank account. Different MMID's can be linked to the same Mobile Number.
Also Read: Charges of IMPS
Use of MMID number in IMPS
Limitations of NEFT and RTGS
Today we can transfer money to any account using the bank account number and IFSC  through the NEFT and RTGS. But these two methods of money transfer has the limitation. The NEFT and RTGS don't work round the clock. To overcome this problem the IMPS was devised.
Limitation of Mobile Number
It was thought that a mobile number can't be shared with more than one person. No two person can have the same mobile number. Hence, this number can be used to identify a person and his bank account. Banks generally keep the mobile number of their customers. It would make the money transfer possible without knowing the bank account number.
MMID to different Account Numbers
But, this idea had a problem. One mobile number can be linked to many accounts. How would the system know the exact account number? To deal with this hurdle, the concept of MMID came. An MMID can be used only by one bank account. You can't have the same MMID with two bank accounts.
AEPS के बारे में हिन्दी में जानें
Mobile Number + MMID
Now, when we use a mobile number and MMID both, we get to know the exact account. This combination has made the IMPS a successful mobile banking platform. The UPI is also based on this IMPS platform.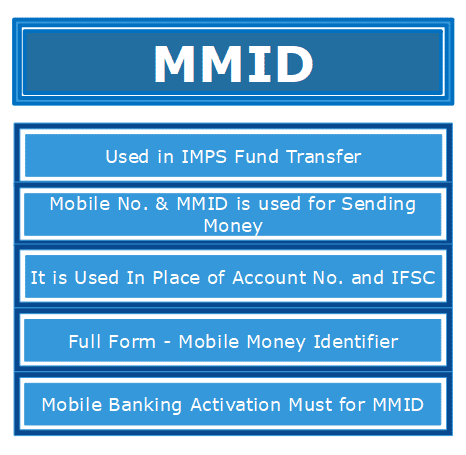 How To Get MMID
Now We know that each account can have an MMID. But banks don't tell you it automatically. It gives this number only when you ask for MMID. Generally, It is given along with the mobile banking kit. The MPIN is also part of this kit. To get the MMID and MPIN, you have to activate mobile banking.
You should know MMID to get money through mobile banking while MPIN is necessary to transfer money through the mobile. To get an MMID, you should be registered for mobile banking.
3 Ways to Get MMID
Normally there are four ways of mobile banking registration.
You can visit the bank branch and fill out the form of mobile banking. You would get the MMID and MPIN at your mobile or communication address.
You can also go to the bank ATM and opt for mobile banking. After the confirmation, you get the SMS containing MMID and MPIN.
You can also use the mobile app of the bank to generate the new MMID.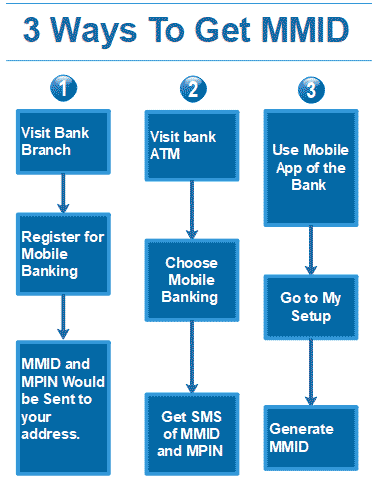 These are the common ways of getting MMID. However, I am presenting the specific method of getting it from SBI and ICICI Bank.
How To get MMID from SBI
The SBI customers get MMID with the welcome kit.
Customers can also get it by visiting branch and filling form.
SBI customers can generate it through the SBI anywhere app. Go to  IMPS- Generate MMID.
Customers not registered for Mobile Banking Service can register their mobile number at SBI ATM to get MMID for the primary account linked to the ATM card:
Swipe your Debit Card > Select Mobile Registration> enter ATM PIN > Select SMS /Secure Code / IMPS > enter your mobile number > Confirm.
Customers not having ATM card / Customers having more than one account, can visit their Branch and apply for MMID, by filling up a form.
7 digit MMID number will be sent to you over SMS on the mobile number used for registration.
How To Get MMID from ICICI Bank
The ICICI Bank has these three ways to get MMID.
iMobile Application
•Go to iMobile on your mobile phone >> Go to smart keys and services >> account services >> show MMID >> Your 7-digit MMID will be displayed.
USSD
•Dial *525# >> ICICI Bank Mobile Banking menu will appear. Enter 7 for More Services >> Enter 4 for Generate MMID >> Enter the last 4 digits of the account number for which MMID needs to be generated >> Your 7-digit MMID will be displayed.
SMS
sms MMID [space] [last 4 digits of your account number] to 9222208888 >> You will receive an SMS carrying your 7-digit MMID for the bank account.
How To Transfer Fund Using MMID
The combination of mobile number and MMID can be used in place of the account number and IFSC code of the payee. If you know the MMID and mobile number of the payee you don't need anything else to transfer the money. The MMID is used when we go through the IMPS platform of fund transfer. The other three platforms are UPI, NEFT and RTGS.
Also Read- Fund Transfer limits of IMPS
The IMPS mode of fund transfer works on the net banking, mobile applications and USSD service of GSM phones. It means you can input MMID when you transfer money through the mobile app, USSD, and net banking. You would get the option of MMID. Note,  you should go through the IMPS to use the MMID.
The UPI system is also based on IMPS. However, it uses the virtual payment address in place of MMID and mobile number. It is considered as the most advanced method of payment. Besides this, Now you can also pay to a person only by entering his/her Aadhaar number. It is called as the Aadhaar Enabled payment system.
Also Read: Aadhaar Payment App, The swipe machine killer
So, You have seen that banking is changing swiftly and we should adopt the new system to enjoy comfort.