If you want to pay with phonepe, google pay and Paytm etc then UPI PIN is required. Without UPI PIN, you cannot make payments through these apps. But the problem arises when you need a debit card to set your UPI PIN. No problem, today we will solve this issue. Today we will show you how to set UPI PIN without an ATM card.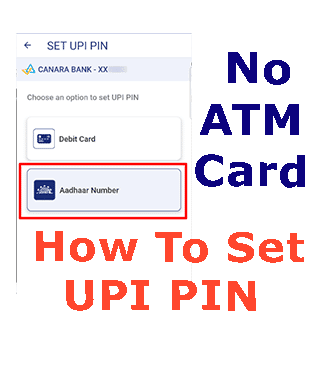 1. Keep your Aadhaar number ready
At present NPCI has implemented two methods to set UPI PIN. The first method is the through a debit card and the second method is the through an Aadhaar number. So if you do not have a debit card or ATM card and still you want to set UPI PIN then you must have an Aadhaar number. Because in such a situation the UPI PIN will be set only by using the Aadhaar number.
2. Check Prerequisites for setting UPI PIN
It is necessary to fulfil certain conditions for setting the UPI PIN with an Aadhaar number.
Keep in mind that your mobile number should be linked with your Aadhaar number And you must be using the same mobile number.
Your mobile should have the facility to send SMS. This means there should be a balance in your mobile number. Note, nowadays there are many such recharge plans which do not have the facility of sending SMS. Therefore, if you have recharged with such a plan, your registration will get stuck. Because the SMS will not be sent from your mobile number. If the SMS is not sent the verification will not happen. If there is no further verification, then registration will not be possible.
3. Install NPCI's BHIM app
If you want to set UPI PIN through your Aadhaar, then you have to register by installing the BHIM app. Right now, this facility has not started in any other app like phonepe, google pay, and Paytm. That's why you have to download the BHIM app.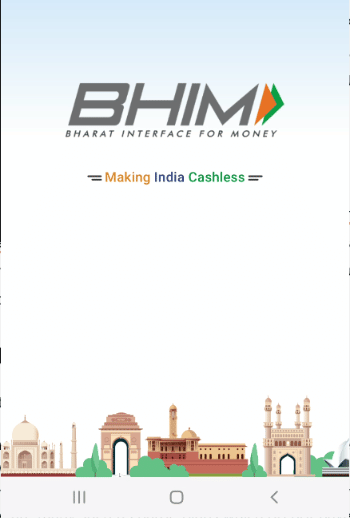 This is the government's own UPI app and many services come first in this. So you have to install the BHIM app. Check that this app has been developed by the NPCI. NPCI manages the entire UPI system. So after downloading the BHIM app, install it.
4. Add a bank account in the BHIM app,
After Installing the BHIM app, You have to register. You will have to add your bank account at the time of registration itself.
To add a bank account, you must first choose your bank's name.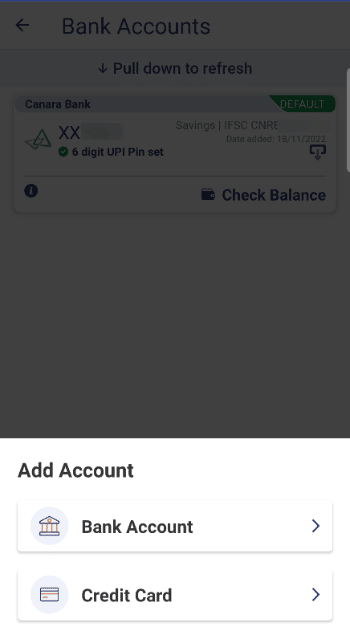 When your bank account appears, verify it by looking at the last two digits of the account number.
Add it after checking the bank account.
Now to pay money from this account you have to set UPI PIN.
5. Go to the page for setting the UPI PIN
To set the UPI PIN, you need to go to the bank account page. To go to this page in the BHIM app, you have to tap on the top of the dashboard where the bank account number is visible.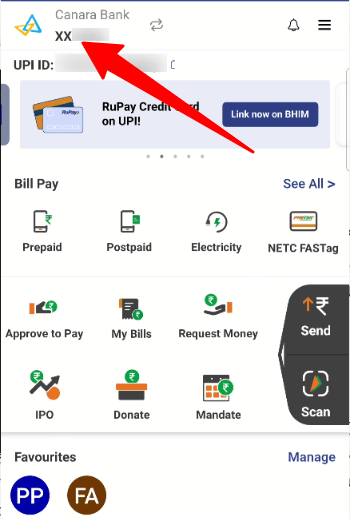 After this, you will come to the bank account page. There you will see all your linked bank accounts. Now we have to tap on the bank account whose UPI PIN is to be set.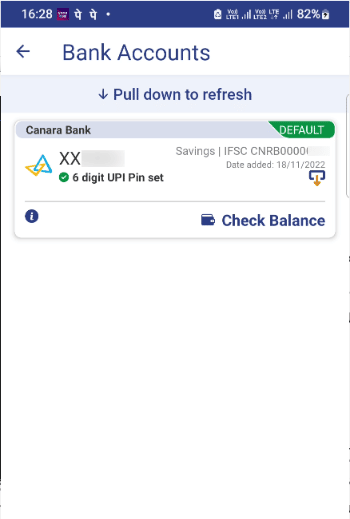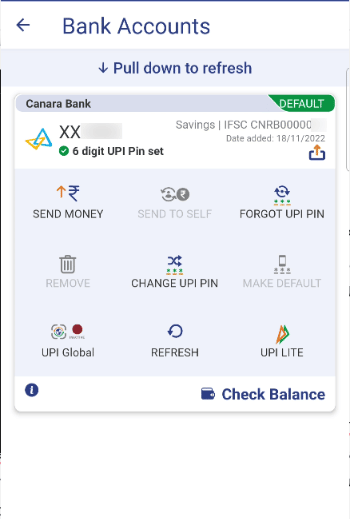 Now many options will come in front of us. One of these options will be to Set UPI PIN. People who have already set UPI PIN will not see this option. They have to tap on the Forgot UPI PIN option.
Must Read – How to Set UPI Number in Phonepe, Google Pay
6. Select the option to set UPI PIN from Aadhaar
Now you will have two options to set UPI PIN. The first option is of debit card and the second option is of Aadhaar number.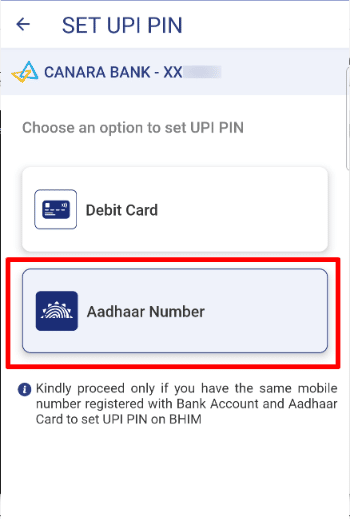 But if you are not seeing these two options, then there can be two reasons for this.
The first reason is that you have not updated the BHIM app and are using the old version only. If so, please update it.
Another reason could be that your bank has not yet started the service of generating UPI PIN from Aadhaar. Till now only 17 banks are providing this facility. However, fast other banks are also starting this service.
7. Check whether your bank provides service or not
You can check whether your bank is providing the facility to generate UPI PIN from Aadhaar by visiting the NPCI website. Presently 17 banks are offering this facility.
The central bank of India
Cosmos Cooperative Bank
IndusInd Bank
Kerala Gramin Bank
Karnataka Gramin Bank
Canara Bank
Karur Vysya Bank
Rajasthan Cooperative Bank
UCO Bank
Punjab Sind Bank
Suryoday Small Finance Bank Ltd.
EQUITAS
AU Small Finance Bank
Tamil Nadu Merchantile
Dhanalakshmi
Punjab National Bank
Catholic Syrian Bank
8. Give Your Aadhaar number
It is written here that proceed only when the same mobile number is registered in your bank and your Aadhaar. If there are different numbers, then the UPI PIN will not be able to be set. Tap on it.
Now, permission is being taken from you that verification will be done using your Aadhaar details. Are You Ready for This? So we tap on accept.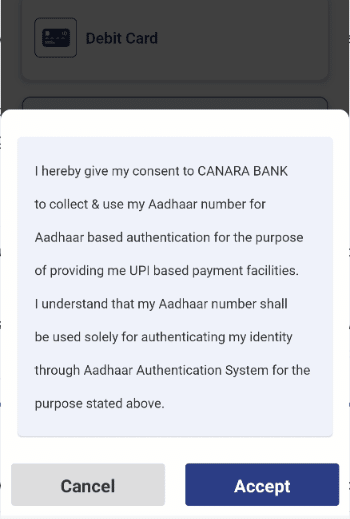 Now we are being asked to enter the first six digits of our Aadhaar number. Pay attention to this. Usually, the last six digits are asked but here first six digits have to be filled in.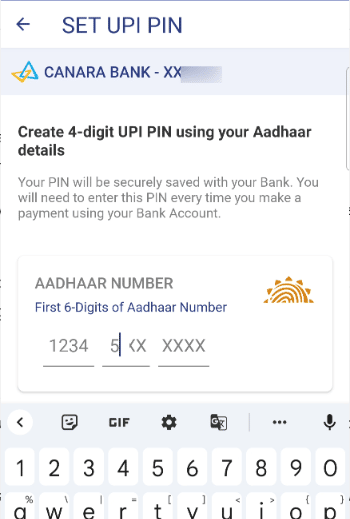 9. Fill Aadhaar OTP and bank OTP
When we enter the six digits of our Aadhaar, our bank verifies it. After that, a request for Aadhaar OTP Verification is sent to UIDAI. An OTP comes to us from UIDAI for verification. This OTP will come on the same number which will be linked to Aadhaar.
We have to fill this OTP in the next step. After submitting this, we will get another OTP. This OTP will be sent by the bank. This OTP comes on the same number which would be registered in the bank account. The BHIM app will read and fill this OTP itself. If it is not able to read itself, then you fill it.
10. Set New UPI PIN
Now in the next step, we have to enter our new UPI PIN. This means we can set the pin of our choice. Some banks ask to set a 6-digit PIN and some ask for a 4-digit PIN.
This PIN has to be entered twice. To confirm it has to be entered a second time. And as soon as you submit the PIN for the second time, your new UPI PIN will be set.
Now you can use this new UPI PIN in any UPI app. You can send money using this UPI PIN in phonepe, google pay, Paytm etc.
The UPI PIN of any one bank works in all UPI apps. There is no need to create a separate UPI PIN for each UPI app.
11. Check the new UPI PIN
Let us check in phonepe whether our new UPI PIN is working or not. So we went here and tapped on Check Balance. And now there we have selected the bank account. After this, we have to enter the UPI PIN. After entering the UPI PIN, the bank balance appears in front of us. In this way, you can check your UPI PIN.
Recommended – How To check UPI ID in Phonepe