Now FASTags is mandatory if you use the National Highway. This tag lets you pass the toll plaza without any cash payment. Instead, The money is deducted from your wallet or bank account. Thus, you would continue travelling without any halt at toll plaza. 
This new system will keep save your time and money. In this post, I will tell you what is FASTag? From where you can purchase it? How it works and a lot more?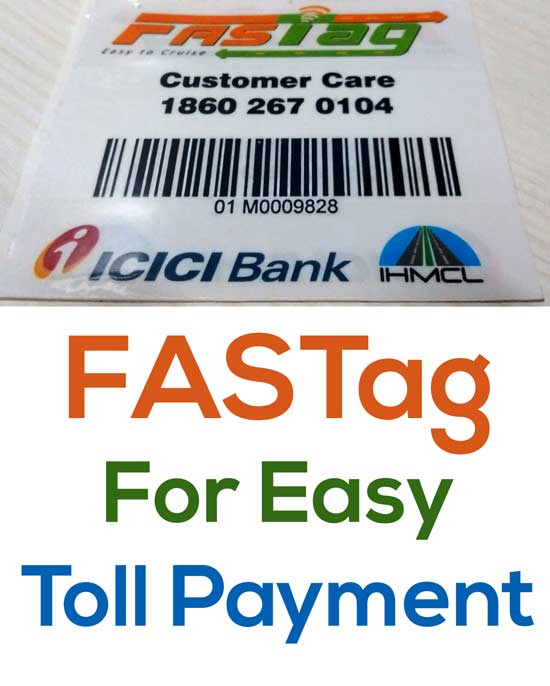 What is FASTag
Starting from 1st Dec 2019, the FASTag is mandatory for all four-wheeler vehicles, personal or commercial. It is an electronic tag which should br affixed in your windscreen. This tag is linked to your digital wallet or bank account.
FASTag is a kind of Debit Card. But it does not need a swipe for the payment. When you pass through the toll plaza, the tag reader identifies your FASTag from a distance. On the basis of that reading the NHAI system debits money from your wallet. To use FASTag through the NHAI wallet, you have to put money on that wallet.
It can also debit money from your saving account if you give such mandate.
FASTag at Free of Cost
Hurry up! 30th November is the last date of free FASTag. Yes, the National Highway Authority of India (NHAI) is offering free FASTags. But remember these are available on approximately 2000 centres made by NHAI. These centres are on the selected Petrol Pumps and Toll Plazas. So go ahead and avail the benefit of Government free scheme.
However, you would have to pay the minimum recharge amount of free FASTags.
After 30th November, the FASTag will be available on paying FASTag fees.
Currently, 22 Certified Banks are providing FASTags after paying fees.
If you do not have FASTag after 1st December, you have to pay the double toll charges on toll plazas.
Note:- Paytm is also providing FASTag at free of cost.
If You Do Not Purchase FASTag
If you do not purchase FASTag, what will happen? You might face any of the following two situations.
If you enter in a FASTag lane, Pay double of the Toll amount. Also, you have to buy the FASTag at the spot.
There would be only one hybrid lane which would charge the toll as usual through the cash or card.
How it Works
FASTag is a Radio Frequency Identification (RFID) enabled sticker. You have to paste it on your car's windscreen. This FASTag has an electronic chip. And this chip contains the full details of your vehicle.
When you cross through the toll plaza, tag reader on toll plaza read it. It verifies the details of your car and deducts from your account. Then the boom barrier opens automatically and you pass like a VIP. It makes FASTag a complete solution for a hassle free trip on national highways.
Useful Post– How to Affix Fastag in your Car
What are the Charges of FASTag
The cost of FASTag is fixed by NHAI and no one may charge more than this. The total cost of FASTag includes other charges as well. Different banks are charging different fees according to their own rules. But the basic cost of FASTag is fixed.
One Time Cost of FASTag – ₹100
Refundable Security Deposit- ₹150/ 200/ 250 ( it may differ according to banks)
Minimum Balance amount- ₹100/ 150 ( it may also differ as per banks)
As I said above, NHAI is giving the FASTag free up to 30th November. Thus you have to maintain only a minimum balance amount in your FASTag. The Government is bearing the one time cost and security money for the time being.
Further Reading –
Current Facts about FASTag
This is a part of National Electronic Toll Collection (NETC) program developed by National Payment Corporation of India (NPCI).
The NETC program is a flagship initiative of the Ministry of Road Transport and Highways.
In foreign countries like Europe and America, it is already working.
In India, FASTag is working on more than 500 toll plazas on National and State Highways. More toll plazas will be connected shortly.
Fastag is necessary for all Light Motor Vehicles (LMV) like Car, Jeep and Vans and for Heavy Motor Vehicles (HMV) like Trucks.
But it is not necessary for Two wheelers and Three wheelers.
The validity of FASTag is 5 years. After then you can renew it.
You can link it to a prepaid account from where the toll will get deducted.
However, you have to maintain a minimum balance in FASTag account. It means when you cross through the National Highway, your FASTag should be recharged earlier.
Through the FASTag you can park your vehicle on the Airport as well. Currently, it is working on Hyderabad Airport operated by GMR.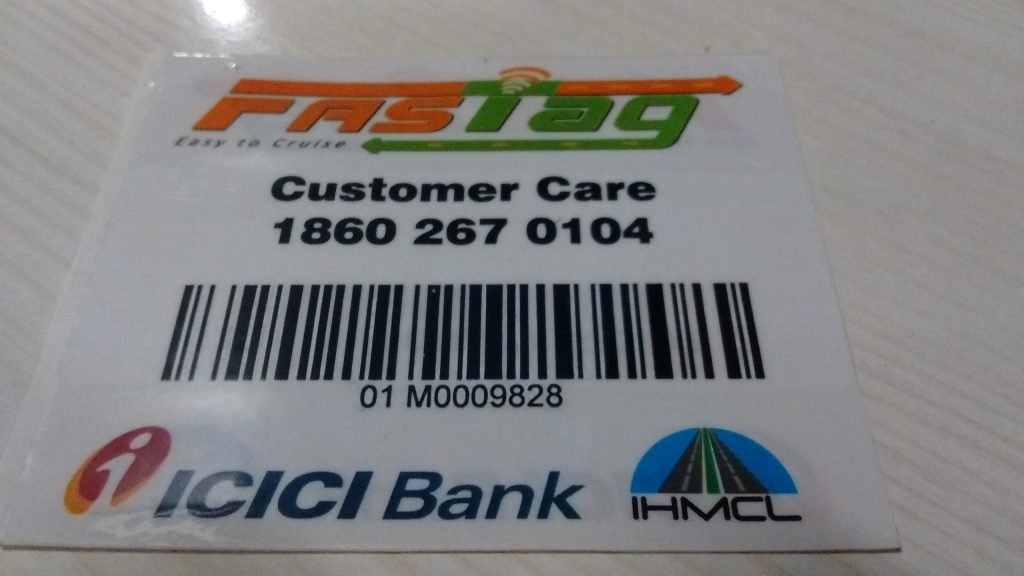 From Where You Can Purchase it
FASTags are available on more than 28,000 point of sale from NHAI and Banks.
It is also available on National Highway toll plazas. So when you pass through the toll plaza, you can purchase it from there.
If you are going to buy a new car, the dealer will provide you FASTag automatically.
From the website of Indian Highways Management Company Limited (IHMCL), www.ihmcl.com, you can search the list of nearby FASTag POS. Moreover, you can search by entering your PIN Code to access the nearby POS.
22 Certified member banks of NETC across the country are providing the FASTag. Here you can link your account with it.
Paytm, Amazon and Airtel Thanks App are offering FASTag as well.
Moreover, you can buy FASTag through your account by using the app My FASTag .
Process for the Activation of FASTag
When you purchase FASTag offline through the Banks, they will automatically activate it and recharge it for your convenience.
But if you purchase online or through POS terminal, you would have to activate and recharge it yourself. However, with the FASTag an ID and Password will be provided. You have to follow instructions to get your FASTag activated.
Moreover, You can also activate it through the My FASTag app as well. For this, you have to download the app from the Google Play Store and enter the details of your vehicle. You can link your bank account with the app. In this condition, the toll charges will deduct from your linked bank account.
However, in the app, there is a facility of NHAI prepaid wallet as well. You can add money in this wallet from your bank account. Then you have an option to permit the toll deduction from this wallet instead of bank account.
How Can You Recharge it
If you have linked FASTag with your bank account or wallets like Paytm or Amazon, there is no need to recharge it. The toll charges will get deducted from your account or wallet.
But if you are using the NHAI prepaid wallet and you have linked FASTag with this wallet, then you would have to recharge it. The options of recharge are- UPI, NEFT, Debit or Credit card or Net Banking.
Documents Required to Buy FASTag
To purchase the FASTag you have to provide some documents for the KYC purpose. They are-
Copy of RC of the vehicle
Proof of Identity and Address
One passport size photo
If you are purchasing FASTag from the bank, you have to complete KYC with your account. After completing Partial KYC, you can load a maximum of ₹20,000 in your FASTag account. Also, you can reload up to ₹20,000 in a month.
With full KYC, you can put up to ₹1 lakh in your FASTag account. There is no monthly reload capping.
If you are buying online FASTag, you have to enter the vehicle registration number and upload the photo of RC in the app or website.
KYC of FASTag for Corporate Vehicles-
PAN, Address proof, proof of shop or firm of the proprietor.
In the case of Limited Companies; PAN, Photo ID, List of directors, Certificate of Incorporation or Partnership Deed, Registration Certificate of the firm.
Benefits of FASTag
Everyone wants to know what is the need for it. Why should we use FASTag when there is a cash payment option available? I tell you the benefits of Fastag-
It saves your time. And you know time is money.
Saves fuel and Money. Because the process completes within a second. Thus, there would be low fuel consumption. So it is helpful to reduce pollution as well.
Cross toll points without stopping for cash transaction.
Hence, no need to carry cash for toll payment and not to worry about the change.
Online portal for customers to keep track of the usage of FASTag.
SMS alerts of toll transaction and low balance.
No unnecessary charge. So, no chance of argument between passengers and staff.
How To Check FASTag Balance instantly
Limitations of FASTag
Apart from the good things about FASTag, there are some negative aspects as well. As you know it works completely on the electronic system. You see, in India frequently the electronic system fails. Then what will be the remedy? The Government guidelines are not clear for this issue. Some more limitations of this system are-
Lack of Proper training of the staff.
Failure of the computer system.
Online system malfunction.
Shortage of toll plazas counter.
If you have not FASTag and you enter in FASTag lane, you have to buy it on the spot. This makes wastage of time of yours and others. And it results in the traffic jam as well.
Suppose there is some issue in reading card. You pay the charge in cash and proceed. After a few kilometres, also you get the message of debiting charges from your FASTag account. Then what will you do?
Offers on FASTag
Now talk about the offers available on FASTags –
NHAI is giving 2.5% monthly cashback on all National Toll Payments using FASTag for financial year 2019-20.
Paytm is offering to buy free FASTag with free delivery and some other offers.
Airtel Thanks App is offering ₹50 cashback to buy FASTag through the app.
Amazon is offering HDFC FASTag with 20% discount. However, it is costly than others yet.