Hey there, curious about how to make your money work for you? Do you want to build some long-term wealth through the HDFC Bank? Well, you're in luck because there's this fantastic thing called a PPF or Public Provident Fund that's perfect for small investors like you. You might be wondering, what's so great about it? Stick around, and I'll tell you its awesome benefits. Also, you would learn the step-by-step process of PPF Account opening in HDFC Bank. There would be real screenshots from the HDFC bank internet banking portal.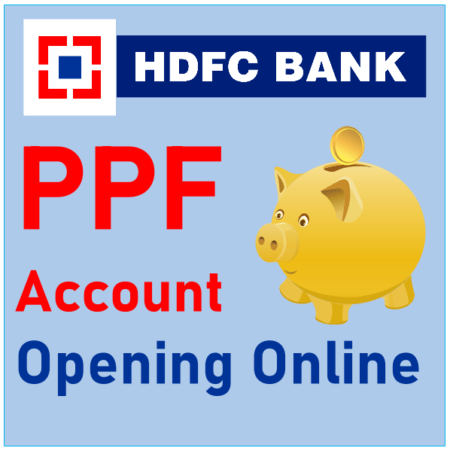 Ways to Open PPF Account in HDFC Bank
Now, let's tackle the most common question that pops up: "How the heck do I open a PPF Account?" No worries, my friend, it's a breeze.
You've got a couple of options here. If you're already hanging out with the HDFC Bank crew, you can hop online and open a PPF Account in just a few minutes. But hey, if you're all about that old-school charm, you can strut your stuff to a branch as well.
Documents Required
So, what's on the checklist for getting that shiny PPF Account?
An ID proof – you know, things like your Voter ID, PAN Card, or Aadhar Card.
Address Proof – A proof of where you live, so they know you're not just a PPF enthusiast from Mars.
Photo- A couple of passport-sized photos to capture your good side.
Deposit Slip- A pay-in-slip, which you can get at the bank branch. It is required for offline account opening.
Nomination Form – Oh, and don't forget to bring your nomination form. Someone must inherit your wealth. It is given along with the account opening form.
Eligibility for PPF Scheme
Wondering who's invited to the PPF party? Well, any Indian citizen can join in!
You can open the PPF account in your own name as well as in the name of a minor. How cool is that?
Non-Resident Indians (NRI) can't open a PPF account. Although they can continue their existing PPF account till maturity.
The process to Open PPF Account Offline
Now, if you're thinking about going offline with this adventure, I've got your back. Most banks offer the online VIP experience for opening PPF Accounts, but if you're in the mood for a little field trip, you can hit up your nearby HDFC Bank branch. Here's your backstage pass:
Grab an application form from the HDFC Bank branch nearby.
Fill in the blanks, attach the requested KYC papers and a picture that's definitely worth a thousand words.
For the grand entrance, you'll need an initial deposit of Rs. 500. And if you're feeling fancy, you can go all the way up to Rs. 70,000 initially. But remember, the max you can put in within a year is Rs. 1.5 lakh.
Once you've handed over all your goodies, you'll score a snazzy passbook. It's like your backstage pass but for your PPF Account. All your account info will be right there – name, account number, branch name, and more.
Updated Interest Rates for PPF and Small Saving Schemes in India: July 2023
Online PPF Account Opening Process of HDFC Bank
Prefer the online route? If you're an HDFC peep, opening a PPF Account online is like ordering pizza – quick, easy, and satisfying. Here's how to do it:
Prerequisite
First things first, you must have an HDFC Bank Savings Account. If not, first open this account.
Make sure you've got NetBanking/MobileBanking facility for your account.
Your Aadhaar Number should be linked to your bank account.
You must have your mobile number active which is registered with the Aadhaar.
Online Process
Now let's go through the step-by-step process of online PPF Account Opening.
Open HDFC Bank NetBanking Portal. You would find the Button to Login.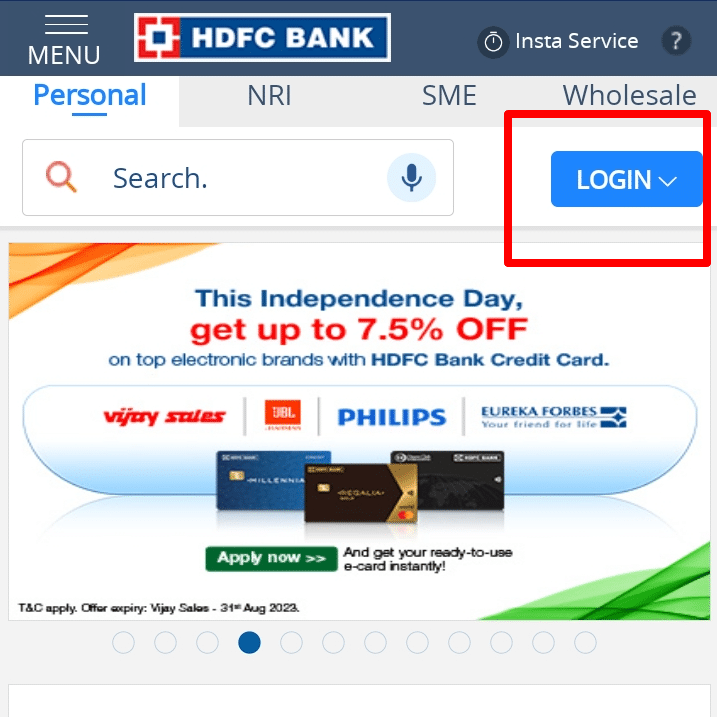 2. Enter your customer ID/user ID and password to log in.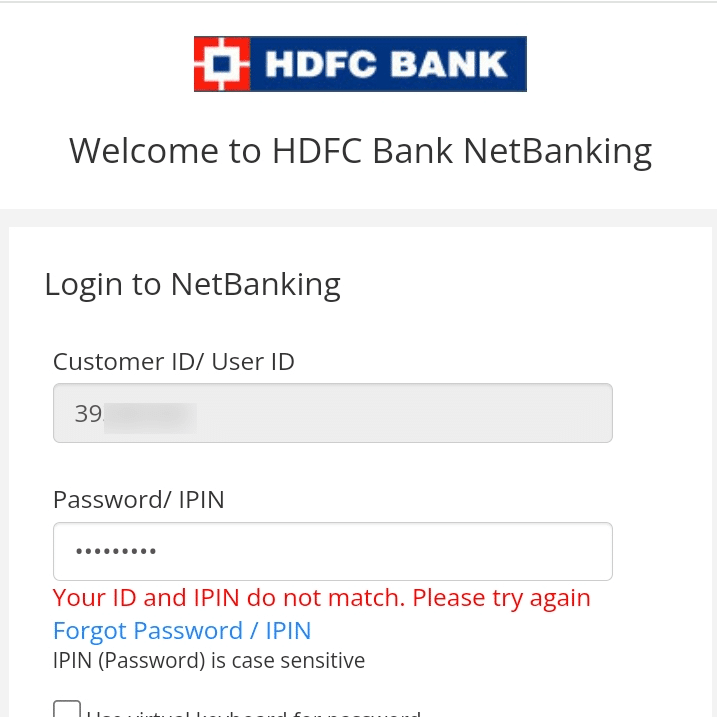 3. You would see the HDFC Bank Dashboard. Among various menus, you have to search for the 'Offers' tab. It would be the last option.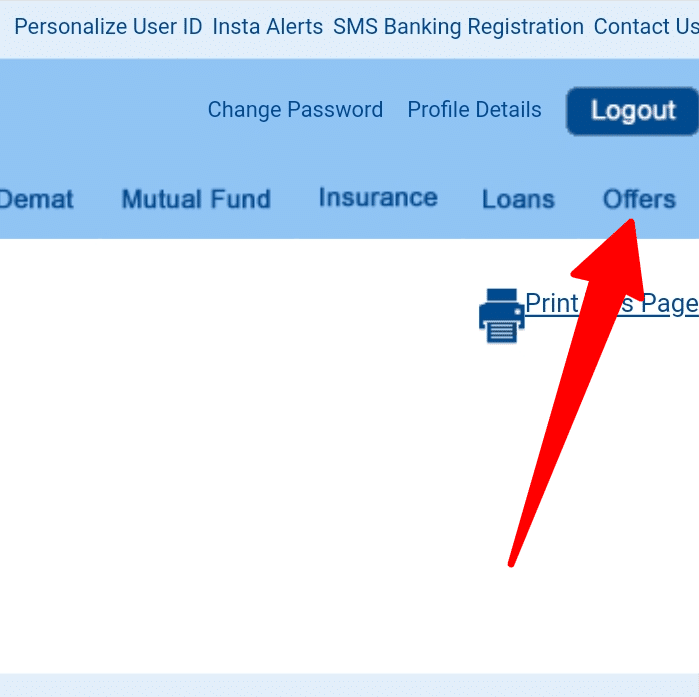 4. Now you would see many promotional banners. Among these banners, you would also find a banner of the Public Provident Fund. Tap on it.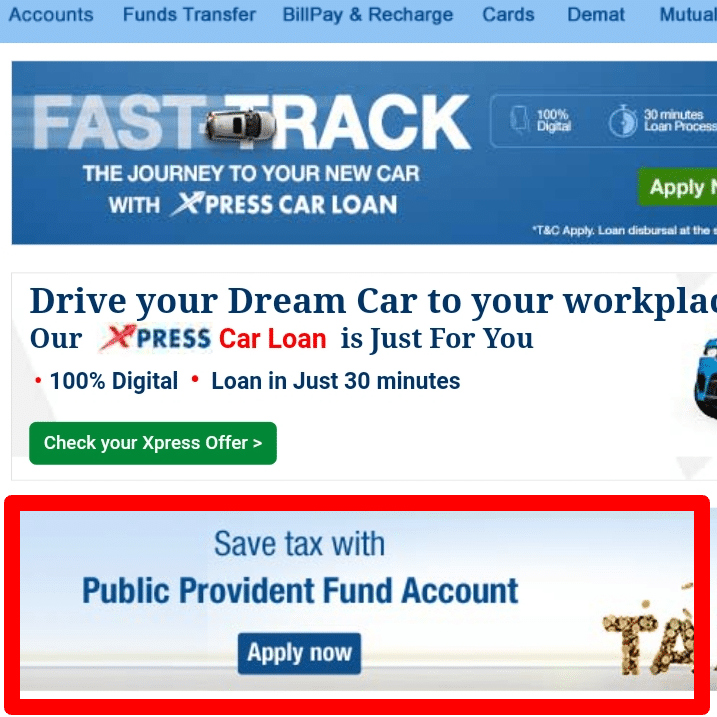 5. On the following page, you will need to complete the PPF Account Opening form. Most of the information will be pre-filled; however, you will be required to enter the initial amount. Additionally, you must indicate whether you wish to provide nominee details or not. While you have the option to add nominee details later, it is advisable to provide this information at this stage. Note, the minimum amount to invest the first time is ₹500.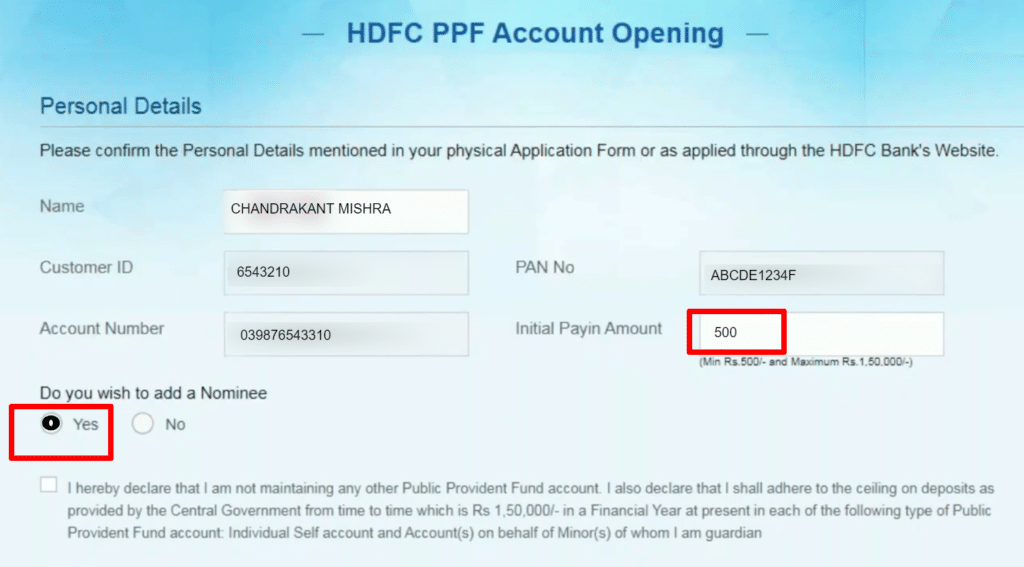 6. As you choose the add the nominee, the nominee details form would also open. Fill in all the required details. The nominee gets the balance of the account if the account holder dies. That is why, you must also fill in the nomination details.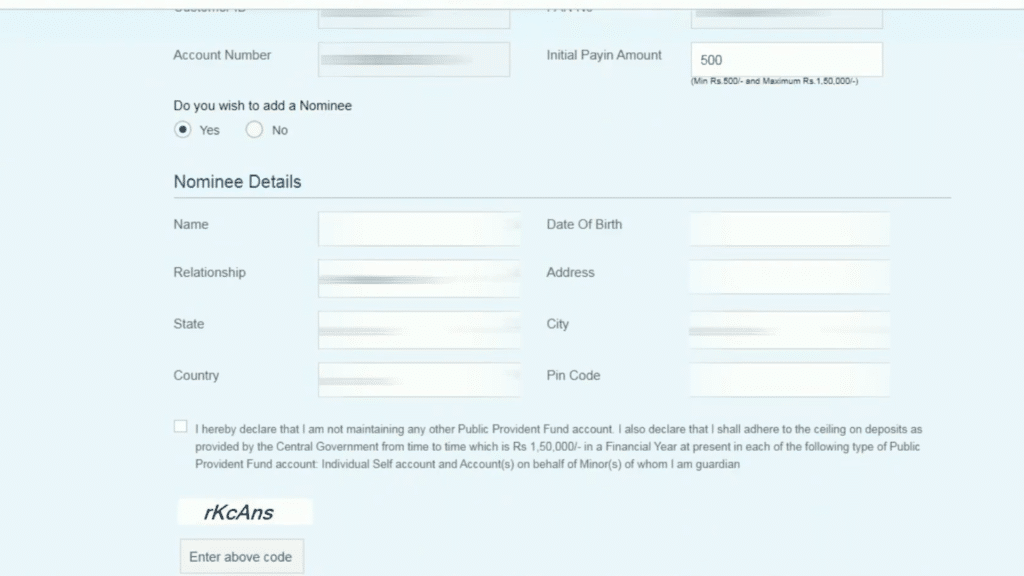 If your Aadhaar and account are already linked, your form will be submitted instantly. Now you would receive a message that your account will be ready in a working day.
If your Aadhaar is not linked, you have to complete that task first. You can also do it online. Only after the linking of Aadhaar, you would be able to open a PPF account. In fact, your Aadhaar is used for the e-KYC. In the e-KYC, you would get an OTP to your Aadhaar-linked mobile number. This is used to verify your identity.
7. Finally, you would see the confirmation of the form submission. Within a day, Your PPF Account would be opened in the HDFC Bank.

Once, your account opens, you can easily deposit money through your saving account. You would be also able to access the account details and statements through HDFC net banking and mobile banking.
Conclusion
So, there you have it! Your very own PPF Account is just a few clicks or a branch visit away. Remember, this article is all about dropping some knowledge, but it's not a substitute for personalized financial advice. When in doubt, give the experts a shout!