Google has launched 'Tez', its own UPI based payment app. Recently, Facebook's WhatsApp has shown a glimpse of UPI payments in its beta version. However, they removed it due to some unknown reasons. And now Google has jumped into the payments with its much-awaited Google Pay (Tez) app. However, due to a leak from the Indian finance ministry, the app was already in talks. The launch places Google ahead of Facebook in India at least in terms of a payment app.
Note that Sundar Pichai told that he was looking at UPI and ways to adopt it. And after nine months, he has come up with Google Pay (Tez) to allow you to make 'Tez' payments with Google. For those who don't know, Tez is a Hindi word that means fast in English.
Also Read: How Google Pay (Tez) Got 7.5 Million Downloads in a month
What is Tez App by Google
Google Pay (Tez) is actually a payment app based on UPI platform. It is similar to BHIM and other bank-specific UPI supported apps. The app is not a mobile wallet app like Paytm or Freecharge. It directly transfers funds from your bank account to another bank account. It means you will continue to earn interest on your balance until you transfer it to others.
The app is launched only in India. You can download Google Pay (Tez) app from the Google play store or iTunes. You need to have an Indian bank account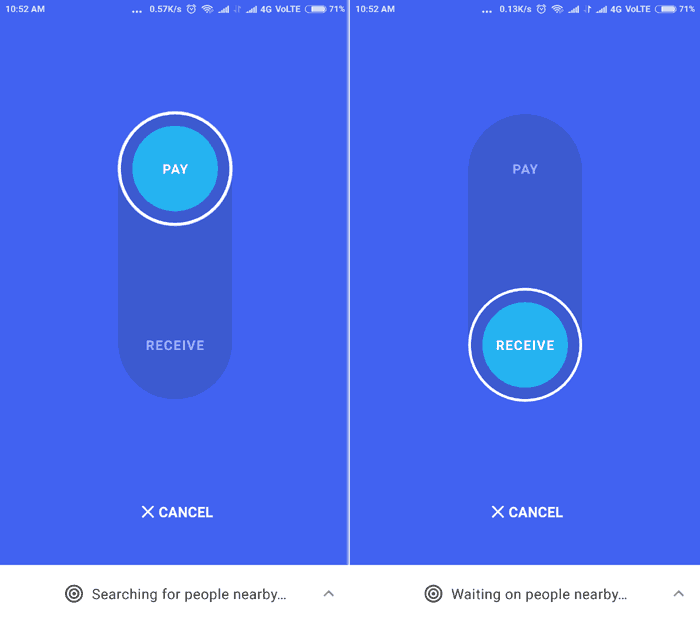 to use it. Also, you must have an Indian mobile number. The mobile number must be registered with your bank account. Because it is the mobile number that works as a bridge to reach your account. Just like any other Google app, you need a Google account to use this app too.
Basic Features of Google Pay (Tez)
Google Pay (Tez) is a late entry in the UPI app's segment. Many UPI apps are already in the market including BHIM, PhonePe, Samsung Pay Mini and other UPI based apps. But due to Google's trust value over users, the app is supposed to surpass most of these apps soon. Since Google Pay (Tez) is a UPI app, it has all the basic features of UPI.
Make Payments
You can transfer funds to any UPI ID using this app. You can also make payments using recipient's mobile number if the number is registered with UPI. The option to send money using the account number and IFSC is also there. Hence, you can also send money to the person who is using the UPI.
Receive Payments
Moreover, you can also receive payments using the app. When you add a bank account after registering with the app, it automatically creates your UPI ID. It takes your Google account's username to create it. However, you can change it later. As soon as you add a bank account, you can start receiving payments straight away. Just like sending money, you can also receive money via your mobile number.
Pay Bills
You can also pay the bill through the Google Pay (Tez) app. There are more than 70 billers present on the Tez. You can view your pending bill amount and bill history as well.
QR Code support including Bharat QR
The option to scan and generate QR code is also there in the app. The app supports both the UPI QR code and the Bharat QR Code. You can also use it receive and make payment using it.
Bank account to bank account payments
Since it is based on UPI, it directly uses your bank account to make payments. Means your money will be in your account until you make a payment. Every time you make a payment, it connects with your bank account using your mobile number through UPI.
Recommended: How To Use various features of Tez
Unique Features of Tej
Google is a company that sets standards for everyone else. And with Tez app, it has introduced some unique and useful features.
Cash Mode
Cash mode feature is what I like the most in Google Pay (Tez). This is the feature that justifies the name of the Tez. Though UPI is still a fast payment solution, entering VPA or mobile number makes it slow a bit. But, with Cash Mode of Tez, you don't need to enter VPA or mobile number.
All you need to do is keep your phone and recipient's phone next to each other. And then swipe the Tez Tez Mode button up to pay. And swipe the button down on the recipient's phone to receive. This feature uses 'audio transmission' using Google's QR Technology to identify the person. After finding the user, you need to enter the amount and details and tap pay.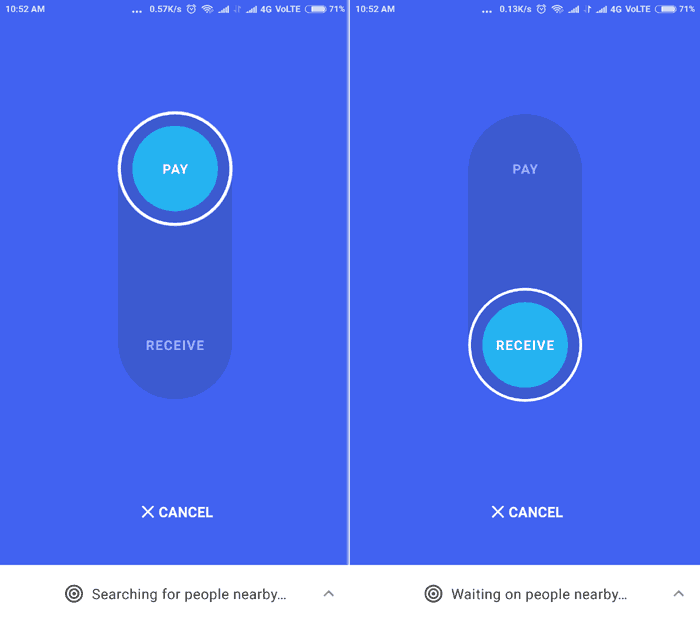 Extra Security
Along with default security features of UPI, Google Pay (Tez) app has some extra security features. It uses a new security mechanism that Google calls Tez Shield. Tez Shield works 24×7 to detect fraud, prevent hacking and verify your identity.
Along with that, you can use your phone's default screen lock method to lock the app. The app also lets you set your Google PIN to unlock the app. Google PIN works as a password to unlock the app. Each of your transactions is secured with UPI PIN. If anyone anyhow manages to open the app, that is nearly impossible, he/she cannot make transactions without UPI PIN.
Pay Online with Google Pay (Tez)
You can use Google Pay (Tez) to pay online at supported apps and websites. Currently, you can pay at RedBus, PVR Cinemas, Dominos, DishTV and Jet Airways. But the number will increase as more companies will join Tez to receive payments.
Recommended: Google Pay (Tez) Fund Transfer Limit 
Tez for Business
It has a feature called Tez for Business that allows merchants to connect with Tez and receive payments. This feature is somewhat similar to BHIM merchant account. Merchants need an individual current account to use Tez for Business. These merchants can receive payments upto 50000 per month to their account for free. After the limit, banks may charge some fees or impose some additional requirements.
Upcoming features
Google is also planning to add more features in Tez with upcoming updates. It may add the feature to make payments using credit and debit cards on Tez. The feature to pay recurring bills such as DTH may also come in next updates. Then you will also be able to set reminders for the recurring payments.
Tez Rewards
Just like BHIM referral scheme and BHIM cashback scheme for merchants, Google Pay (Tez) also has some incentives for users. It is providing these incentives in form of 'Tez Scratch Cards'. When you make your first payment to anyone, you both will get Tez Scratch Card. The payment amount must be 50 or more to be eligible for the scratch card.
These scratch cards contain an unspecified amount between 1 to 1000. You can get a maximum of 10 scratch cards in a week. However, each sender-recipient pair will get only one scratch card per week. Apart from that, you will earn no more than 9000 in a financial year. You, as a sender, can also get a 'Luck Sunday' scratch card once per week. And you can scratch it to win a bonus up to 1 lakh.
Google Pay (Tez) Vs BHIM
BHIM app is currently the most used UPI app. The payments in BHIM are fast and secure. But, when we talk about Google Pay (Tez) vs BHIM, Tez seems like taking an edge over BHIM. Though both have UPI support, incentive schemes and top-notch security features. But, the unique features of Tez makes it more user-friendly and adaptable than BHIM.
Tez's Cash Mode, Tez Shield and online payments to apps and websites are the features that BHIM lacks. In Tez, all your transactions to the same person are listed in a chat-like interface. Where BHIM only lets you check all the BHIM transaction in a list. It makes finding a transaction somewhat difficult than Tez.
But still, both are great apps in terms of payment. You can check my comparison post on Google Pay (Tez) vs BHIM app to know more.
Conclusion
Google Pay (Tez) is a great app undoubtedly. It has all the features that a payments app should have. You can make and receive payments in moments. It is secure, fast and easy to use. But one thing in the app annoys me. The app doesn't work like it was said. There are no problems in the features or security. The problem is in the app's performance. It crashes and lags here and there.
Google Pay (Tez) Customer Care Toll-free Helpline Number
When I was adding my bank account, the app crashed and my phone went switched off. I also faced an issue in receiving OTP. I received the OTP after trying three to four times. However, I am not facing any issue after adding the account. I made a few payments and generated requests and the app handled those well. I think the issue is only in authenticating the mobile number and adding the account. Overall, the app is a great addition to the lineup of UPI apps. Hopefully, more and more people will adopt digital payments with Tez. I have compared the Tez app with 3 other top UPI apps. You can read this review of Tez App to choose the best one.
Overall, the app is a great addition to the lineup of UPI apps. Hopefully, more and more people will adopt digital payments with Tez.