This is the most popular and easy way to earn quick bucks from the Google Pay (Tez) app. For This offer, we have to just promote Google Pay (Tez) among our family and friends. You must do it as It would be beneficial to them. Also, you would promote the digital transaction as it helps to curb the black money.
The Tez Referral Scheme
When you refer Google Pay (Tez) to your family or friend, you earn ₹51 for each referral. Suppose 50 of your friends and family members start using the Google tez because of the referral. This would result in the income of ₹2550.
Moreover, every new user of Google Pay (Tez) would also earn ₹51 when they do the first transaction.
Earlier Google has fixed the last date of this scheme as 31st March 2018. But later in the pressure of Whatsapp UPI Payments, it has extended the scheme till March 31, 2019. Meanwhile, BHIM app has also come up with its own cashback scheme which is similarly rewarding.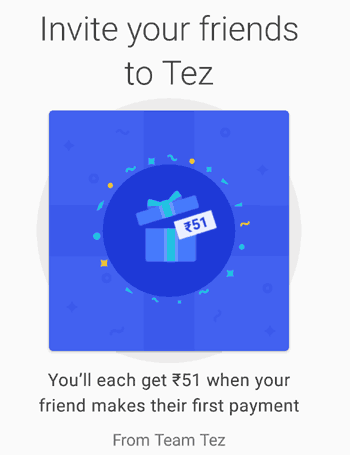 How To Earn Referral Rewards
Send your invite link (My link- https://g.co/tez/pp21z) to your friends. You can find this link from your Google Pay (Tez) app.
After the log in of Tez app, move to the bottom part of the home page. You would find the link for 'Offers'. Tap on it.
In the next page, you would find many offers. Slide page to discover all the offers. Reach to the referral scheme 'Invite Your Friends To Tez'.
Tap on 'See Offer Details'. In the next page, go to the 'DETAILS' part. You would find your referral link and referral code in this section. You can also directly share your link through the button 'invite friends'.
When your friend downloads the Google Pay (Tez) app using your invite link and makes the first transaction on it, you and your friend would get ₹51 in your bank account. Note, your friend must use the referral code to earn the Reward. My referral code is pp21z
Terms and Conditions
You can earn maximum 50 referral awards.
The use if 'invite link' and 'referral code' is necessary to get the rewards.
A new user can't get rewards the second time. The Google would verify your email ID and mobile number.
The sender and recipient should not have same email ID or mobile number.
Your bank account should be linked to UPI. If there is no account linked to UPI app, you would not receive any reward.
Also Read: Google Pay (Tez) App Review
Recommended – How To Redeem Rewards of Google Pay