The Popular UPI app, Google Pay (Tez) has got another shot in its arm. The MI has adopted the Google Pay (Tez) as its preferred UPI app. Now you can by MI products using this app. You would find the option of Google Pay (Tez) while buying a MI product from its website or app.
Tez and MI Partnership
The mobile and digital product company MI has partnered with the Tez for digital payments. "As a merchant partner for Tez for business programme, all Xiaomi customers can now seamlessly and securely pay with any bank account stored in their Tez account on their phone," Sujith Narayanan, Head of Partnerships and Business Development, Tez, said in a statement. Because of ths partnership, you can directly pay to the MI from any of your bank account.
 "Our vision is to bring innovation to everyone and our integration with Tez is another step forward in this direction. We hope to provide an even better purchasing experience that is cashless,"  Raghu Reddy, Head – Online Sales, Xiaomi India.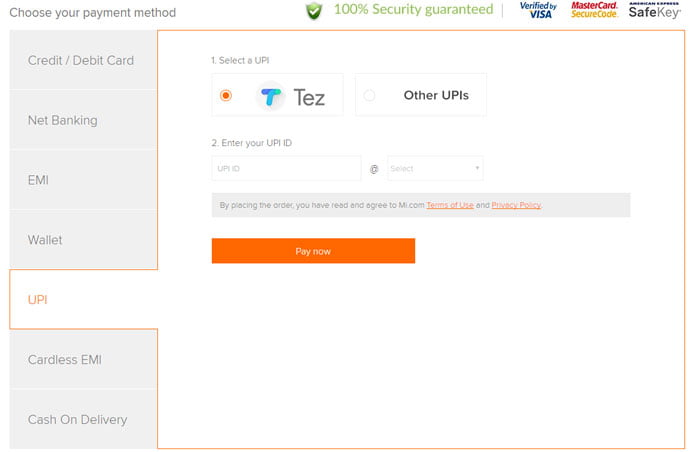 Payment Options at MI
MI sells its product through its own website and mobile app. You can purchase MI phones or any digital products form the MI.com or MI store. At both of these platform, you would find many methods of digital payments. Among these methods you would find an option of UPI. When, you choose the UPI, the Google Pay (Tez) would be there as a preferred UPI app. However, you can also pay using other UPI apps.
Benefit of UPI
You may be aware that UPI apps are the smartphone based instant payment solution. These apps give and easiest and free service of fund transfer. You can even ask for a payment from someone. This payment system does not disclose your account number or card number. The UPI payment system was launched in August 2016. Since then, It has changed the payment scenario of the India.
The Rise of Google Pay (Tez)
There are several UPI based payment apps such ash BHIM, Phoenepe, SBI Pay, Paytm and Freecharge. However, The Google Pay (Tez) growing fastest among these. It is happening because of the reward program and simple interface. This App has 'Cash mode' feature which has made the fund transfer even easier. You can send money to a person sitting next to you without knowing any detail about him.