The Google Pay (Tez) Payment app is one of the most popular payment app. Using this app you can transfer money within a minute. But  this convenience has some limitations. There is a transaction limit on the Google Pay app. The limit is for the maximum transaction in a day and number of transaction in a day, both.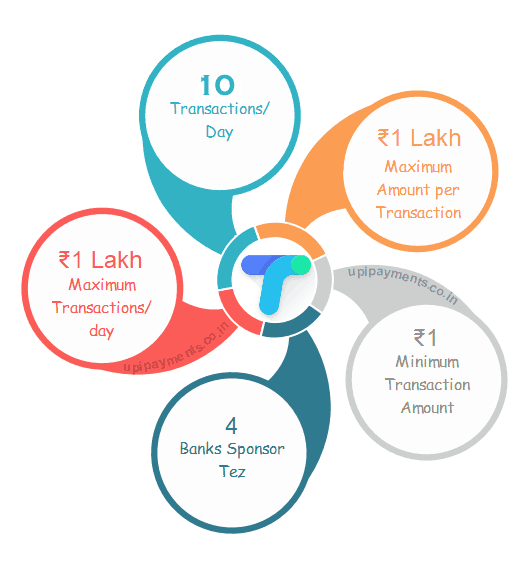 Also Read-  Tez is now 'Google Pay', What Else Changed
Google Pay India Transaction Limits
1. Maximum Transaction in a Day
In a day, you can't transact more than ₹1 lakh through the Tez app. This limit ensures the security of your bank account.
Since Google Pay (Tez) app is based on the UPI Payment platform, it has to adhere the limits of the UPI. The Tez itself did not create this limit. This limit is fixed by the UPI that is why it is similar to other UPI apps such as Phonepe and Paytm. The BHIM has a lower limit for transactions.
2. Per Transaction Limit
The Google Pay (Tez) has given maximum flexibility within the limits of UPI. Since UPI has not set any limit for a single transaction, the Tez also permit you to transfer money as per your wish. However, since there is a per day limit of ₹1 lakh, hence a single transaction also can't exceed ₹1 lakh.
3. Maximum Number of Transaction in Day
To enhance the security, the UPI has limited the number of transactions in a day. You can't use Tez more than 10 times for fund transfer. This limit works across the UPI apps.
Suppose, you have already used Phonepe 10 times in a day. In this situation, you can use Tez only 10 times for fund transfer.
How to Find UPI ID in Google Pay
4. Banks can Set their Own Limit
There is another question mark on fund transfer through the Tez. If your bank (with which you have the account) set a limit for fund transfer through the UPI apps, the Tez has to follow it. Indeed, some banks set a limit for transactions.
Google Pay Transaction Limit Comparison
The Tez gives you maximum permitted flexibility. But other apps may not give you such flexibility. There may be a limit by the app itself. Such as BHIM app itself limits the transaction amount. Following is the comparison.
Tez Vs other Apps
| | | | | | |
| --- | --- | --- | --- | --- | --- |
| | Tez | Phonepe | Paytm | BHIM | SBI Pay |
| Per Transaction Limit | 1 Lakh | 1 Lakh | 1 Lakh | 20,000 | 1 lakh |
| Per Day Limit | 1 Lakh | 1 Lakh | 1 Lakh | 40,000 | 1 Lakh |
Recommended– Google Pay (Tez) Review
Tez Vs other Transaction Modes
UPI is the most convenient method of fund transfer but it is not made for big transactions. If you want to transfer more than ₹1 lakh, you have to use the IMPS, NEFT or RTGS. The maximum transaction limit for all these methods of fund transfer is given below.
| | | |
| --- | --- | --- |
| Transaction Mode | Maximum Amount  | Minimum Amount |
| UPI | 1 Lakh | ₹1 |
| IMPS | 2 Lakh | ₹1 |
| NEFT | No Limit | ₹1 |
| RTGS | No Limit | ₹2 lakh |
In this post, I have told you about the transaction limits of the Tez. You can also learn about the cash mode of Tez and Bill payment facility. These are special features of this app.