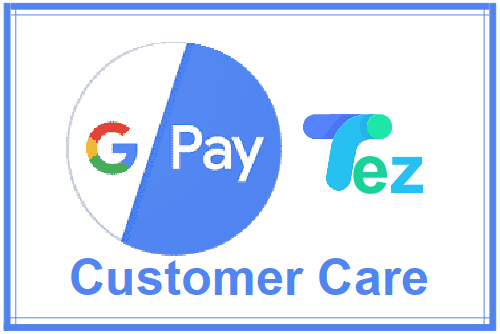 Even after the 2 years of the launch People are complaining about the Google Pay. Still, many Google Pay Customers complain about the 'Money not Credited to the beneficiary Account'. There are hundreds of such complaints in the comments section of this article. Thus, Most of the troubled customer search for the Toll-free helpline or Customer care numbers. You may be also searching for those numbers.
But, Let me tell you upfront that today there is no Helpline number. The Google has stopped this service almost one year back. Now you can only register your complaint only through the Google Pay Tez App itself.
So, Please don't Try to find out the number, there are many fake numbers which can cheat you. Don't worry, your problems would be resolved through other ways.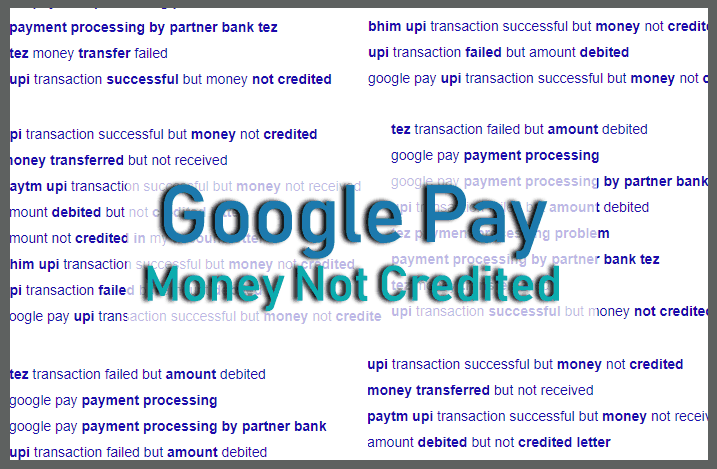 In fact, as of now, there are only three ways to contact the customer support. All these ways go through the Google Pay app itself.
Nevertheless, I have discussed all the methods of Google Pay Support. But before that, Please pay attention to my tips. These tips can give an immediate solution to your problem. 
Suggested – Special Google Pay App for Business
Tips for Google Pay Problems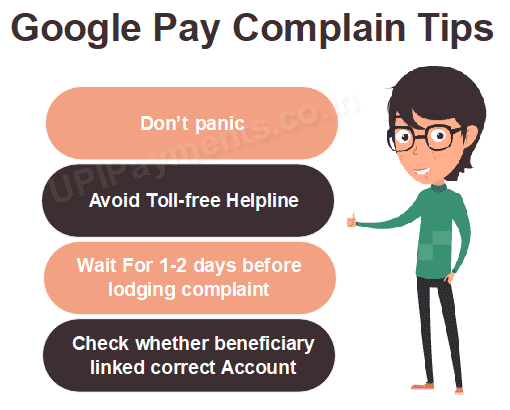 1. Settlement May Take Time
The 99% of Google Pay complains are for the Non-credit of money. So, it is the most common problem. But in 4 out of 5 cases, this problem gets resolved itself and beneficiary gets money after 1-2 days. So, you should wait for a few days. You must wait if there is a bank holiday in between. Most of the problem itself settles after the holiday
2. Don't Panic
The Google Pay Customer care would act on your complaints only after 3 days of the transaction. So, Don't panic. Wait for 3 days before registering a complaint.
3. Payment Processing May take Longer Time
By the way, Google Pay itself says that sometimes the payment processing can take up to one week. Thus if you see the payment status as 'processing' , wait till it turns into 'success' or 'failed'.
4. Avoid Toll-Free Number
I would like to tell you upfront that now there is no Google Pay Toll-free number. So, searching a number may land you in trouble.
5. Verify Beneficiary Account
Check with the beneficiary whether he has linked his UPI app with the correct bank account. Sometimes people may be checking the statement of the wrong bank account.
Read- All About the Google Pay
2. Issues of Google Pay (Reasons for contacting Customer care)
There can be many issues which force you to contact Google Pay Customer Support. There are a lot of things for which you might need some help from Google Pay (Tez) customer care.
Even sometimes you need to make a complaint about an issue you are facing. Be it the app activation or making the payments. You can reach out to Google pay customer care and seek some help.
I have listed some of the common problems of Google Pay.
Also Read- Tez App Comparison
Recommended – Google Pay Numbers at Just Dial Mislead
Problems of Google Pay:
Account debited from your bank account but not credited to the recipient's account. This is the problem of 99% Google Pay user.
The problem in sending or receiving money using Google Pay (Tez) payment app.
Unable to create UPI account.
Can't create or reset UPI PIN using Google Pay (Tez) app.
Your bank account is not listed on Tez.
Your payment got stuck.
Google Pay app is not working properly.
If you are facing any of the above issues then don't worry. I am going to tell you how can you contact Google Pay (Tez) customer care service to resolve the problem.
How To Register your Complain Online to The RBI
Self Troubleshoot
You can take the help of Google Customer Support. But I will also tell you some possible solutions so that you can solve the problem yourself. In fact, there are some problems that don't require contacting Google Pay (Tez) customer care. Instead, you can solve them yourself by following some easy steps. To Self Troubleshoot the problem, you should jump to the 'Self troubleshoot Section'.
As I have said there are many ways to register your grievance. You can either chat with them, mail them, request a callback or post a query in the Gooogle Tez forum.
Recommended: BHIM Vs Google Pay (Tez): A Battle Between Two Best UPI Apps
2. Toll-Free Number of Google Pay
Most of the people want to know the Toll-free number of customer care helpline of Google Pay. It is natural as banks and telecom companies resolve problems through this route.
However, Google Pay has done away with the Toll-free Helpline. It used to have the following numbers of customer care.
Google Pay (Tez) Toll-Free Helpline Number (For Registered Numbers): 1800 419 0157
Google Pay (Tez) Toll-Free Helpline Number (For Un-Registered Numbers): 1800 258 2554
But now you would not be able to lodge your complaints through these numbers. On calling the first tollfree number I had to listen to a recorded message.
In Fact, There are no other customer care numbers of Google Pay. Never, call to any other number as there are many fraud numbers floating on the internet.
The Google Pay Customer Support page categorically informs that there is no tollfree number. I have taken the following screenshot on 6 August 2019.

There are many fraud numbers floating on the internet, if you dial that number, the fraudster can cheat you. The fraud number is being circulated through the Twitter Hashtags as well. Look Following Screenshot.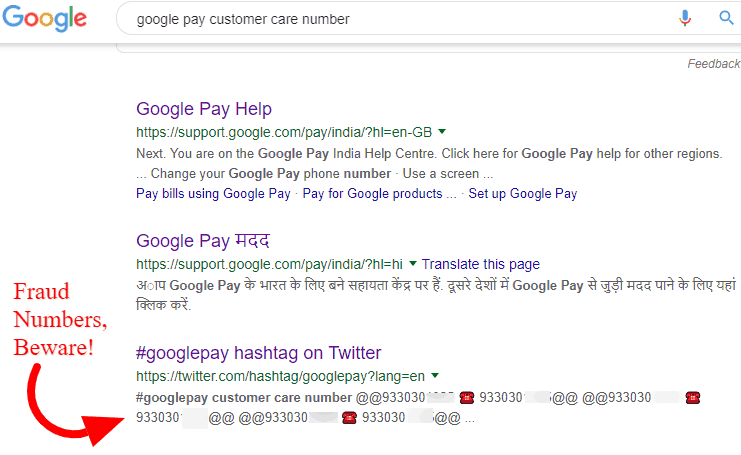 The fraudsters use those number to cheat you. Unfortunately, there have been many such instances. Please Be careful, never approve any payment request. Think 10 times before entering your UPI PIN. Alert your family and friends as well.
Read More –
Beware! Customer Care Number Fraudsters are On Prowl
3. Request a Call Back
So, now you can't call Google Pay customer care support, but you can request a callback. This method is somewhat similar to making a call to customer care from your end. You can talk to the customer care person and get the solution to your problem on the phone. The only difference is that in this method, you receive the call from customer care instead of yourself making a call.
You can request a callback anytime from the Google Pay (Tez) app itself by following the below steps.
Tap on 3 Dots

Scroll Down For Help and Feedback

Go to the Bottom

Choose the Option
1- Open the Google Pay (Tez) app and go to settings. For that, you have to tap on three dots on the top right corner.
2. In the Settings Page, Scroll down and find 'Help & Feedback' option. Tap on it.
3. You can read the help articles here or just tap on the Contact button given at the bottom of the page.
4. Now scroll down to 'Contact us' section and tap on the round blue button saying 'Phone'.
5. Here, enter your name, country and mobile number if they're not there already. Also, describe your issue in a few words. However, it is purely optional.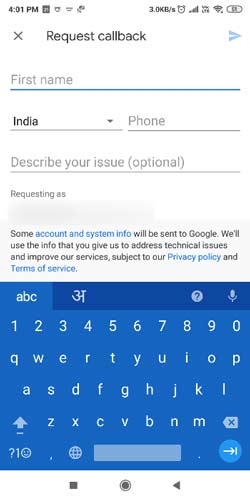 Now, click on the submit button at the top right corner. You will soon receive a call from Google Pay (Tez) customer care. Receive that call and register your grievance to the customer service representative.
Recommended: Google Pay (Tez) Bill Payment Steps
4. Chat With Google Representative
You can also chat with a Tez customer care specialist to resolve your issue. This method becomes handy when you don't want to talk to the customer care on the phone. You can initiate a chat 24×7 in Google Pay (Tez) payment app. Below are the steps. Initial steps are similar to the callback.
1- Open the Tez app, go to settings and then find and tap on the 'Help & Feedback' option.
2- Here, scroll down and tap on the 'Contact' option at the bottom of the page.
3- Now, you will find the 'Chat' option at the contact us section. Tap on it to go to the 'Chat' page.
Choose Chat Option

Write your Problem
4. Describe your issue in a few words if you want. And then click on the submit button.
Now, you reach the chat page and you can see your number in the chat queue. Wait for a few seconds and a specialist will connect with you via chat.
Note: You might not see the chat option in the contact us menu. Don't worry, it is just because of specialists are busy solving other user's queries. All you need to do is wait for sometimes. And you will be able to see the chat option there.
Write Email
You can also write an Email to google Pay Support. However, this facility is also available through the app. There is no email address and you can't write a mail from any other mailbox. But, Google would reply you back to your email. further, you can also reply. There are two ways to write mail.
1- Go to the Help and Feedback Page. Just below the Chat and Call button, you would see a link for the Feedback. Tap on that link. This would open a Form to write your problem.
2- Go to the All transactions. In the home page, scroll down to find the link for transactions. From the list of transactions, Choose the desired one. Tap on the 3 dots on the top right corner. Tap on the ' Send Feedback'. It would open the Form to write a mail.
Choose Feedback option

Send mail along with the images
---
The form would already have your email address. Write the subject and problem. You can also attach the screenshot of your problem.
Also Read: Paytm Customer Care Number and Support
6. RBI Ombudsman
Besides many ways of customer support, you may not be satisfied. In such case, you can complain to the Ombudsman. Recently the RBI has posted 21 ombudsmen for the digital transaction. You must go to them for any problem but only if the Tez did not resolve your issue.
7. Self Troubleshoot
There are several problems that you can fix yourself. Most of these problems occur due to some technical issues with your handset or network.
1. Fix problems verifying your phone number
Too many users face this problem when they try to verify their phone number in Google Pay (Tez). Sometimes the handset doesn't send the SMS to the UPI app servers. And sometimes the OTP doesn't arrive. You can fix this issue most of the time by following the steps below.
Check if your phone has enough account balance to send the one time SMS to UPI servers. If not, then recharge your phone and try again. UPI charges the normal SMS rate for this SMS i.e. Rs. 1.50 normally.
Check if your internet is working or not by visiting some websites. You can also try sending texts using WhatsApp or any other messenger that uses the internet to send messages. If your internet is not working then go to someplace that has better network coverage. Also, make sure that the airplane mode is turned off on your phone.
If the OTP doesn't arrive, then try resending it once again. If the problem persists, then close the Google Pay (Tez) app and launch it again. You can also restart your phone to resolve this issue. It resolves the issue most of the time.
Contact Google Pay (Tez) customer care using chat or call if the problem even persists.
Recommended- Security Check of The Tez App
2. Fix problems in sending and receiving money
If you are trying to send or receiving payment using cash mode on Google Pay (Tez). Then ensure that the place is not noisy. If it noisy, then move to a quieter place. Also, make sure that the sender is in pay mode and receiver is in receive mode. Remove any cases or covers from your phone.
Check the payer's account balance for the availability of enough money. If you are making the payment by entering the details manually, then check for any error in details. Check typing mistakes on UPI ID, bank account or IFSC. Moreover, check that you haven't crossed the transaction limits for a day.
If all these things are fine then contact the Google Pay (Tez) customer care using any of the above methods.
You may also like: Google Pay (Tez) At MI.com and MI Store
3. Fix problems in receiving rewards
If you made a transaction and hadn't received the scratch card, then don't worry. First of all, check if your transaction is eligible for the scratch card or not. Note that payments made to other UPI apps users are not eligible to get scratch card rewards. You should go to the offers page and read the terms to know the eligibility.
If you are eligible and didn't get the scratch card then contact the Google Pay (Tez) customer care. You can use Google Pay (Tez) Toll-Free helpline number and chat to contact the customer cars.
Recommended –How To Redeem Rewards of Google Pay