One of the most popular UPI App of India 'Tez' is now 'Google Pay'. The Google Has rebranded this app to make it global. With this rebranding, The Google is unifying its Payment business globally. The Google Pay is already there in the global market.
You would agree that Tez has been very successful and you may be also using this app. Now Google wants to ride globally on the success of this app. Now the Google Pay has some more features. Such as, now you would be able to directly get bank loan directly from this app.
What is New
The Google Pay would also facilitate the pre-approved loan for its user. It is partnering with some private banks for this feature
In its new Avatar, the Google Pay would go to the merchants of India be it online or offline. Already it has partnered with the few. Now it aims to cater to 2000 online merchants. It has already partnered with the Redbus, Freshmenu and Goibibo and many more. The app is also working to deeper integration with the Bookmyshow.
Along with this, you would be also able to pay at 15000 offline retail stores. There would be a payment facility through this app at leading retail chains.
There would be a merchant mode in the Google Pay App. This interface would make the payments easier for the merchants. Also, Google is working to put these merchants into the Google map and google search. Merchants can also talk to their customers.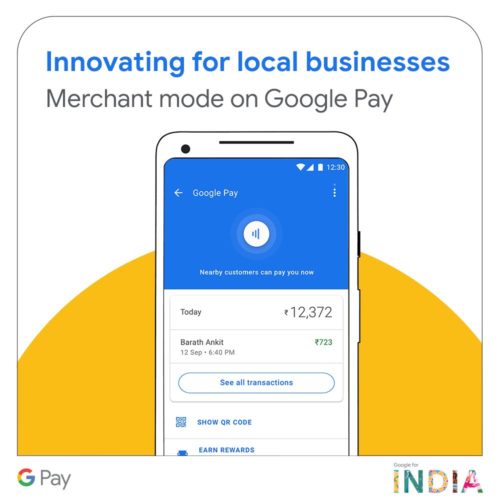 Achievements of Google Pay (Tez)
In the last one year the Google Pay i. e. Tez has achieved some milestones. Let take a brief look at that.
2.2 Crore people and businesses use it every month.
People from over 300,000 suburbs, towns, and villages are using it.
Users have made over 75 crore transactions in the last one year.
There have been transactions of 2 lakh crore rupees in a year.
Along with the growth of Tez, India's monthly UPI transactions have grown 14 times. UPI Payment system was launched 2 years back but it picked speed only after the Rewards scheme of the Tez.
It's certainly been a year to remember. #GooglePay #GoogleForIndia pic.twitter.com/GDhfnSqiFR

— Google Pay India (@GooglePayIndia) August 28, 2018
Features of Google Pay
This app is very popular in India because of its simplicity and user-friendliness. I have listed the main features of this app.
Totally Free
Very Simple
Fast Transaction
Fund Transfer Takes Place Within Bank Accounts
Easy to Use
Liberal cashback and Rewards
Efficient Bill Payment Facility
Tez Mode
Chat Feature
Customer Support
Loans
Various Uses
Like other UPI Apps, Google Pay performs the basic tasks of fund transfer. Along with that, it has few more capabilities. These are the uses of this app.
Send Money to friends and family.
Ask or request money from someone
Split the bills among friends
Check Account balance.
Set or Reset UPI PIN of a Bank Account.
Connect all or any of the bank account.
View and Pay Bills
QR Code Payment
Chat while paying
Recommended: How To Use Features of Google Tez
Also Read- Charges of The Tez (Google Pay)
Loan From Google Pay
The New Google Pay gives you the facility to take a loan from the bank. Because of this facility, you are not required to visit a bank or do the paperwork. In fact, the loan would be pre-approved to you. You have to only choose the amount and duration for the repayment. The loan amount would be directly credited to your linked account. To give this loan, the Google has partnered with HDFC Bank, ICICI Bank, Federal Bank and Kotak Mahindra Bank. Note, the loan would be available to the customers of these banks only.
To Know more about the Google Pay you can read my earlier post. The functions are the same only name has changed. I have compared the Tez app with other leading UPI apps. You can also learn about the bill payment steps through the Google Pay. There is a post about the customer support of the Tez as well.