Now Google Pay has dedicated App for the merchants – Google Pay For Business. This Apps is designed to take payments from the customers. It also give you the important data about your business. The Merchants also earn cashback by using this app.
In this article, I will tell you how you can use this app for your benefit, what are the requirements and how you can connect with the customers more efficiently.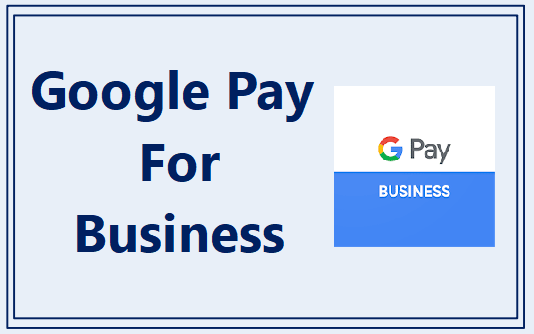 Benefits of Google Pay Business
So, if you are a merchant and running a business, you have to register yourself in this app. Google Pay for Business app has a bundle of benefits. Moreover, it gives the benefit both to the merchant and customer as well. Let us see what are the benefits of this app.
Benefits for Merchant
You can very easily accept cashless payment. Often It does not require your assistance. The customer scans your QR code and makes the payment. You have to only check the payment.
Google Pay for Business App is simple, easy and secure.
It helps customers to find out your business on their Google Pay App home screen. It is a software platform named SPOT introduced by Google.
The app helps to reduce your business cost. Because you reach directly to the customer through the app.
You can yourself make offers on your custom business channel in the app and You can share it with the customers.
You can see sales figures at a glance and can track sales daily, weekly and monthly and much more without any extra charge.
The Google is offering the promotional rebate on transaction charges. However, in the future, it is subject to change.
Google Pay for Businesses app, give you the special offers and rewards directly into your account.
The transactions through the app is very safe. Because Google Pay uses a security platform on the app named 'Google Pay Sheild'. It protects both the merchant and customer against any fraud and hackers 24X7. Also, you can verify any person.
The help center of the app is also very effective. It is available through the call or a chat every day.
You can use the app with your individual Current Account to receive the payment. The payment directly goes to the account without any charges. However, there is a limit.
Benefits for Customers
The customer can pay without bothering for the change or wallet. the cashless payments have many conveniences.
The customer does not pay any extra charge for cashless payments.
The payment directly goes from customer's bank account to merchant's bank account.
The customer can pay through more than 80 BHIM UPI Apps using QR Codes. The customer app of the Google Pay is not necessary.
About the Google Pay For Business App
As I have told that apart from the Google Pay App for users, Google has also launched a separate Google App for Businesses. It allows entrepreneurs and organisations to get the services of the app. This app allows merchants to receive payments from customers.
The app works on the UPI platform promoted by the NPCI (National Payments Corporation of India). You can install it from the Google Play Store or App Store. It requires the Android version 5.0 and up.
It has a help centre in 11 languages- Hindi, English, Marathi, Gujarati, Telugu, Tamil, Kannada, Malayalam, Bengali, Punjabi and Assamese. So, you can connect with in your preferred language.
Besides it, this app has the Self help link and Customer care phone number. Moreover, through the website, you get to know more.
Self help – https://support.google.com/pay-offline-merchants
Phone- 1800-200-1842
Website- https://pay.google.com/intl/en_in/about/business/
Suggested – Phonepe App For Business
How To Lodge Complaints of Google Pay

Eligibility and Requirements
To use Google Pay for Business App and to accept payments, you have to fulfill some requirements and eligibility. Let us see what are those-
You must be an Indian and your business should be situated in India.
Before sign up for the Google Pay for Business tool, you should have a mobile or computer and a Gmail Account.
When you sign up, you have to give some other personal and business information. Do not worry, it is just for creating your account and verification. So, these are-
Your Business name, address, phone number and primary contact name.
MCC i.e. Merchant Category Code
Virtual Payment Address (VPA). It is same as your Universal Payment Identification Code (UPI ID).
A Personal or Business Bank Account
Note:-
If you do not have a VPA. You can create one through any of the UPI app including the Google Pay.
The Google Pay for Business App does not require any documents from you during registration. So feel free during sign up and start accepting payment from customers.
Steps to Use Google Pay For Business
Now I will tell you step by step, how you can you use Google Pay for Business App.
The whole process goes through the following steps
Installation
Registration
Wait For the approval
Start Taking Payments
Go through the Full KYC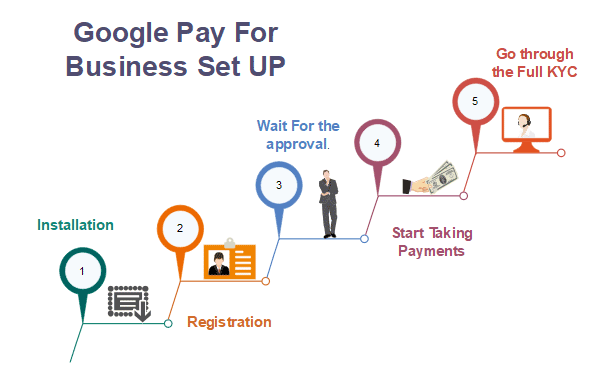 1. Installation
As usual, you have to install this app either from the Google play store or ios App store. Note, you must search for the 'Google Pay app for Business'.
Download the app and install it.
Give permissions and read the terms and conditions.
2. Registration
Add your business by giving it's registered name and shop name. Both the names can be same.
2. You have to also tell the type of business. This can be any of these four. If you run your business as an individual, select the first option.
Sole proprietorship
Partnership
HUF
Private Limited Company.
3. Select the Merchant category code. There is a drop down list of many types of businesses. You have to select one for your business.
4. Now enter your name
5. In the next page, you have give your business address along with the business mobile number. The Google would verify your number.
6. The Registration process also requires the PAN. You must give this number. You have to also upload the image of your PAN.
7. You can also enter your GSTIN, if you have one. This field is optional.
8. Now, you must enter your bank account number along with the IFSC. Note, all the payments would come to this account.
3 – Wait for the Approval
Google Pay Reviews your details and approve it. Normally, your application gets approved within minutes. However, It may take upto 48 hours. Meanwhile Google Pay can ask some more information if required.
You can check the status of your application by signing in to your Google Pay for Business Account.
4. Start Using Google Pay for Business
After the approval of your application, you can start using the Google Pay for business. Now you would have your own QR code. You can print this QR code for accepting the payments. You can also share it through the Whatsapp or gmail. You would also see your UPI ID which can also be used for accepting the payments.
5. Complete Full KYC
In the above process we did not go through the full KYC Process, Therefore there would be a limit on the transactions. So, if you want to unlock the limit you have to verify yourself through a video call.
To do this full KYC verification, tap on the Verification button. The Google pay representative would make a video call to you. In this call you have to show your original PAN card.
Note, you must be at the location of your business while making the video call.
Useful Post:
Fees and Charges
The use of Google Pay for Business App is not free. We can divide Fees and Charges into two sections. First, Charges by Google and the second, Charges by Bank. Have a look-
Google can levy a transaction charge to use its app from the merchants. However, as of now there is no such charge. The Google is offering a promotional rebate on transaction charges. But it is subject to change in future.
The government has waived Merchant Discount Rate on UPI and Rupay. Thus merchants are not required to pay any fees to banks irrespective of total transaction amount.
Rewards
You may earn cashback rewards on transactions through the Google Pay for Business App. When you earn a reward, the amount of reward directly goes into your linked bank account with the Google Pay for Business app.
If you have linked more than one account, then reward goes into your primary bank account. In addition to, when you sign up for the first time, then also you get a reward.
You can see all the rewards related information on the home page of the app. For this, you have to tap on 'See your offers' tab.
Thus, we can see that this app is giving the benefit both to the merchant and customer as well.
In this post, I have tried to cover all the aspects of Google Pay for business. I hope, This post would be helpful to you. If you find it useful please share it with your friends. You can also read about the Other Business apps.