Nowadays, almost everyone in India has the Google Pay app installed on their mobile phones. It has gained a lot of popularity because it makes UPI payments easy. This service allows for quick and hassle-free money transfers in India, and the best part is that it's completely free to use. However, sometimes you might need a helpline for some issues. And when that happens, having good customer care service becomes really important. After all, it's about our hard-earned money.
There are situations when we need to make urgent payments, but the money gets stuck. That's when reliable customer care support comes into the picture to help resolve the problem and ensure smooth transactions.
Google Pay Customer care Support
Even though Google Pay is a third-party UPI app, it is obligated to provide customer support. The Reserve Bank of India (RBI) has mandated that every UPI app must offer customer service. Since we conduct transactions through Google Pay, our first point of contact for complaints would be the app itself. They offer various methods for us to register our complaints.
Apart from Google Pay, we also have the option to raise our issues with the bank, NPCI, and RBI. However, it's important to determine who is relevant for a particular issue before reaching out. Technical issues typically need to be resolved through Google Pay, while transactional issues are usually related to the banks. Additionally, you may find answers to some of your questions by reading the help articles provided by Google Pay. They have a wide range of helpful articles available.
If you're unsure about which channel to approach, it's best to start with Google Pay customer support. They will guide you accordingly and direct you to the appropriate channel if needed.
Your Complaints
You can find the answers to the following types of issues.
The Amount Got debited but not credited to the beneficiary
Problems with Rewards and Cashbacks
Unable to generate OTP
Unable to Add a bank account
Unable to send money
Fraudulent activity
You may also face any of the following error.
"Oops, something went wrong."
"There was a problem authenticating your Google Account. Please sign in and try again."
"An error occurred when generating OTP."
"Too many OTP requests made. Try setting it up later."
"Your account couldn't be created."
"Can't verify number right now. Try again later."
Google Pay gives the following ways to resolve your grievance.
Help Articles
Chat
Phone
Form
Phone Support by the Google Pay

While there are several ways to register your complaint, making a phone call is the most popular method for contacting customer support.
However, it's crucial to be extremely careful when dialling the Google Pay Phone Helpline. There are many fake numbers circulating on the internet, and if you call one of these numbers, you may become a victim of fraud. So, it's important to exercise caution and stay alert.
Google does have a Helpline number, but please note that it is not available 24/7. Instead, it operates from 8 AM to 12 AM. The customer support Helpline number for Google Pay is 1-800-419-0157. The phone support is available in 4 languages (Hindi, English, Tamil and Telugu)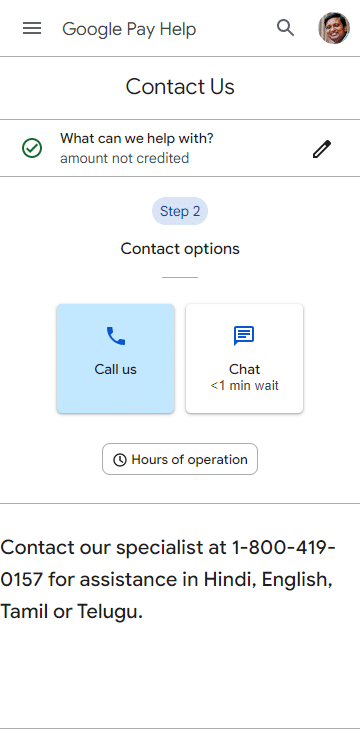 It's important to note that genuine customer care numbers often begin with 1800, which serves as an identifier of an authentic helpline number. I obtained this number directly from the Google Pay Support Page, and you can also verify it there.
Registering complaints through the Helpline may take approximately 10-20 minutes, so make sure you have enough time when calling for support.
Additionally, if you have any transaction-related issues, it is essential to have the Transaction ID or UTR (Unique Transaction Reference) number. This number is necessary to track a transaction. You can obtain this number from the transaction history page of Google Pay.
Chat Support
Google Pay also offers chat support, which is an efficient way to resolve your issues. It involves less waiting time compared to phone support, and you can multitask while dealing with chat support.
To access the chat support, follow these simple steps:
Open the Google Pay app.
Go to the Profile page.
Tap on "Get Help" located at the bottom of the page.
On the next page, you will find helpful articles. Tap on the button that says "Having Issues."
Choose the type of issue you are facing.
If it's a payment issue, you will see a list of recent transactions. Select the relevant transaction.
You will see a button to contact support. Tap on it.
Now you will be on the Help page. Tap on the "Contact Us" button.
Write a brief description of your issue, and you will be presented with different options to choose from. Select the appropriate option and tap "Next."
At this point, you have two options to contact customer support. You can choose the chat option.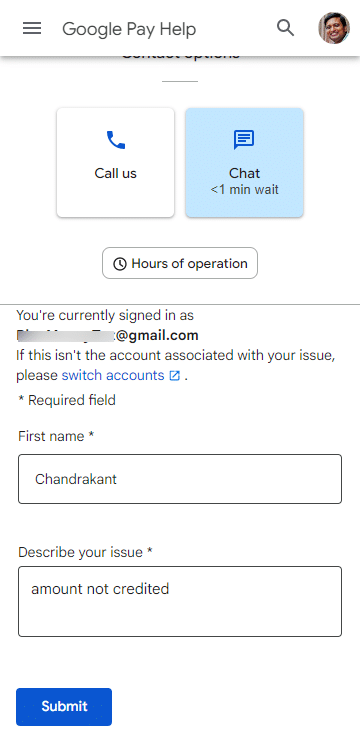 If you find the above steps too lengthy, you can directly go to the chat page by visiting this link:
Help Articles to Deal With Your Problems
If you face issues with technical errors or payments while using Google Pay, or if you have questions about the limits, you can find solutions without contacting customer support. Google Pay has a self-help page that provides answers to common problems. It covers various topics and offers easy-to-understand solutions. Here are a few examples:
Troubleshooting technical errors: The self-help page gives you step-by-step instructions to fix common technical issues. It helps you with problems like app crashes, login errors, or failed transactions.
Understanding payment limits: If you're unsure about the limits for using Google Pay, the self-help page explains them in detail. It tells you about the maximum amount you can transact in a day, how often you can make transactions, and other important limits.
Frequently asked questions (FAQs): The self-help page also has a list of frequently asked questions. These cover a wide range of topics. You can find answers to common queries about setting up the app, making payments, adding bank accounts, and more.
By visiting the self-help page, you can often find quick and easy solutions to many issues. It's a helpful resource that allows you to resolve problems on your own, without having to contact customer support. I have listed some issues and their solutions as told on Google Pay Help Page.
To confirm if you can send out messages, try the following steps.
Send a test SMS to a friend or family.
Check if you have the required SMS balance.
To check your balance, follow the steps given by your operator.
To check your balance with different operators:
Jio – 333#
BSNL – *123*1#
Airtel – *121*7#
MTNL – *123#
Tata – *111#
VI – *199*1*8#
Problem 2: can't make a payment
For this problem, you should go through the following steps
Step 1: You should check whether the internet is working or not as you can't make Transactions without the internet.
If not: Try again when you're connected to the internet.
If yes: Move to the next step.
Step 2: Check if you have a valid bank account in Google Pay.
If not: Link your bank account to Google Pay.

If you can't find your bank account, the phone number you use for Google Pay isn't linked to your bank account.

If you have a valid bank account: Move to the next step.
Step 3: You must make sure the app is updated.
Go to the Google Play store.
Check for updates to the Google Pay app.
Update the app.
​If your Google Pay app is updated: Move to the next step.
Step 4: Check if you added more than one UPI ID.
If you add another UPI ID, your transaction may fail because the UPI handle you use may experience server issues.
If you need help creating a new UPI ID: Follow the steps of Find or Change your UPI ID.
If you created an additional UPI ID: Move to the next step.
Step 5: Check for the status of the recipient's Google Pay app. Confirm if the recipient has linked their bank account to their Google Pay app.
If no or you're not sure: If you know their bank account and IFSC code, you can send them money.
If the recipient has a Google Pay app on their phone with accurate bank credentials: Move to the next step.
Step 6: Check for bank-related issues.
Confirm that the issue isn't related to your bank like you reached your bank's maximum transaction limit for the day.
If not sure: Contact your bank.
Problem 3: Error when you add or restore a bank account on Google Pay
Joint bank accounts are not supported on the Unified Payment Interface (UPI) system.
If you have a joint bank account linked to the phone number registered with Google Pay, you will not be able to add it to your account.
You can only add single-owned savings or current bank accounts.
Before attempting to add your bank account, make sure that the phone number registered with Google Pay is not associated with any other joint account at the same bank. If it is, you will need to update the bank account you're trying to add with a different phone number.
If you have multiple single-owned accounts with the same bank, you may encounter difficulties in adding your bank account. In such cases, please contact your bank to resolve this issue.
I have listed the 3 common problems and their solution. However, you can find many more such issues and their solutions on the Troubleshoot Page.
Tips for Efficiently Resolving Issues
While it's true that genuine issues can arise with the Google Pay app, you can prevent most of them by following these tips:
Always use the latest version of the app.
Make sure your mobile number is registered with your bank account.
Ensure that you have an active SMS plan for your registered mobile number. Note that some recharge plans may not include SMS facilities.
Use the default messaging app on your phone for SMS.
Maintain an active internet connection. If your transaction gets stuck, try deactivating and reactivating your mobile data.
If you don't see the merchant's name while making a payment, wait for it to appear.
If you don't receive a successful payment message, check your payment history.
If the amount is debited from your account but not credited to the beneficiary account, check your bank statement.
If the beneficiary declines to receive the payment, ask them to check their bank statement as sometimes SMS notifications may not be immediate.
Cashback from Google Pay is directly credited to your bank account, so make sure to check your bank statement for those transactions.
Escalating Your Complaints with Google Pay Customer Support
If the Google Pay Helpline does not resolve your issue within 15 days, you have the option to escalate your complaint. You can take the following steps:
1. Grievance at Level Two
Register your complaint in the Grievance Support System if the Helpline does not resolve your issue within the specified timeframe. You will need to fill in your complaint details and attach any relevant documents. After submitting your grievance, the concerned officer will contact you to address the matter.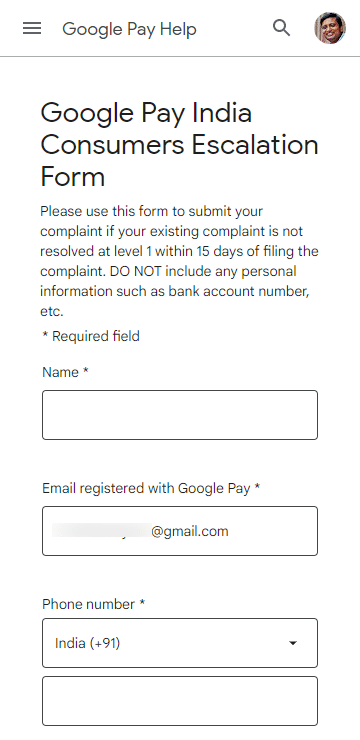 2. Contacting the Nodal Officer
If you are not satisfied with the resolution provided at Level 2 within 15 days of raising the complaint, you can reach out to the Google Pay Nodal Officer. Write an email to [email protected] and include your Level 2 reference number.
Google Pay Nodal Officer Contact Details:
Name: Rahul Dhiman
Address: 5th Floor, DLF Centre, Block 124, Narindra Place, Sansad Marg, New Delhi Central, New Delhi – 110001, India
3. NPCI Redressal:
To report your issue to the National Payments Corporation of India (NPCI), submit a dispute redressal mechanism complaint.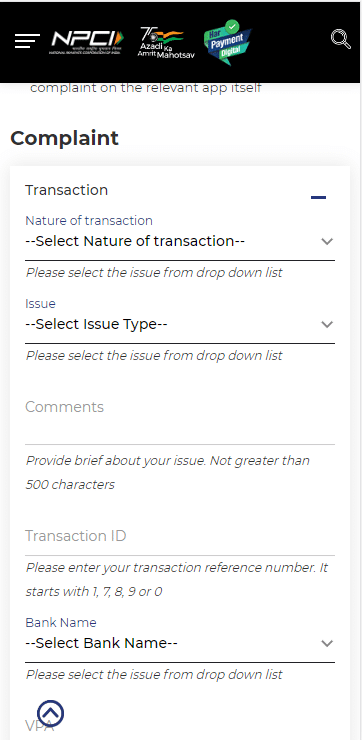 4. RBI Redressal
According to the Integrated Ombudsman Scheme 2021, users have the right to approach the Reserve Bank of India (RBI) Ombudsman.
Frequently Asked Questions (FAQs)
1. What is Google Pay?
It is a digital payment platform that allows users to make secure and convenient transactions using their mobile phones. It uses the Unified Payments Interface (UPI) system to facilitate seamless money transfers and payments.
2. How do I download Google Pay?
You can download the Google Pay app from the Play Store or the Apple App Store. Simply search for "Google Pay" and click on the download/install button.
3. How do I set up Google Pay?
Once you have downloaded the app, open it and follow the on-screen instructions to set up your account. You will need to link your bank account and verify your mobile number to start using the app.
4. Can I use Google Pay for online and offline payments?
Yes, you can use it for both online and offline payments. You can make payments at physical stores by scanning QR codes and you can also use it to make payments on various websites and apps that support UPI payments.
5. Is Google Pay safe to use?
Google Pay incorporates multiple layers of security to protect your transactions. It requires a UPI PIN to authorize payments and uses encryption to safeguard your data. Additionally, it does not store your actual bank account details on your device or its servers.
6. Are there any transaction limits on Google Pay?
Yes, there are transaction limits on Google Pay. As per the regulations set by the National Payments Corporation of India (NPCI), you can send or receive up to Rs. 1 lakh per day.
When You install Google Pay, you can pay only up to ₹5,000 for the first 24 hours.
7. Can I use Google Pay for international transactions?
Currently, Google Pay in India is primarily designed for domestic transactions within the country. International transactions are not supported through the app. NRI of some countries can use UPI for sending and receiving money from India. These countries are Singapore, Australia, Canada, Hong Kong, Oman, Qatar, USA, Saudi Arabia, United Arab Emirates, and the United Kingdom.
These were the Google Pay Customer Support methods which can be used to solve your issues. However, you can also use other platforms for your issues.
Digisathi Helpline
DigiSaathi, a 24×7 helpline, is a joint initiative between NPCI and Payment System Operators and Participants. Launched on March 8, 2022, it provides 24/7 assistance to users with digital payment product and services queries.
Automated responses on information related to digital payment products and services are available in Hindi, English and other Indian languages through these options: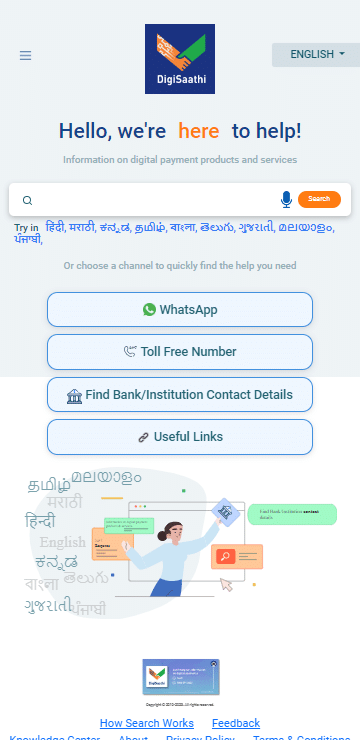 DigiSaathi assists users with their digital payment queries through the website and chatbot. Users can also make toll-free calls to ask for product information and other payment options.
Conclusion
So, if you encounter any issues with Google Pay, there's no need to panic. There is a proper mechanism in place to address all types of problems. You have multiple options for assistance, such as calling the helpline, chatting with a Google Pay executive, or referring to the help articles for solutions. Additionally, you can escalate your grievance to higher authorities like the NPCI and RBI if needed.
However, it's important to exercise caution when seeking customer support. Beware of fake helpline numbers posted by fraudsters who may try to scam unsuspecting individuals.