In my earlier articles, I told you much about FASTag. But FASTag will work only when you have a balance in FASTag account. In this post, I will tell you how you can recharge your FASTag through BHIM UPI apps including Google Pay, Paytm, Phonepe, SBI Pay etc.
Recommended – All About the FASTag
Toll Payment through Bank Account
As you know, from 15 December 2019 onwards FASTag is mandatory to pass through National Highway Toll Plaza. When you cross through the toll plaza, FASTag reader read the FASTag pasted on your vehicle's windscreen.
If you have linked your bank account with FASTag, the toll charges deduct from your bank account. And you continue your journey without wastage of time at toll plaza. By this way, you need not recharge FASTag separately.
Useful Post – How to Buy FASTag Online
Toll Payment through FASTag Wallet
But if you do not want to use your bank account for direct toll payment, you can also recharge your FASTag. In this case, your FASTag balance would be deducted as you cross the toll plaza. But you have to keep your FASTag recharged for the smooth travel.
I think it is the easiest way to pay toll charges. However, all the methods are safe. As these are under the NPCI (National Payment Corporation of India) system.
Note:- If there is not sufficient balance in FASTag account and you have not linked any bank account as well. Your FASTag will be blacklisted when you cross toll plaza. Hence you should maintain a minimum balance in FASTag account at least.
Suggested – 10 Important Rules of Fastag
Steps to Recharge FASTag Through BHIM UPI Apps
Like mobile recharge, You can recharge your FASTag through UPI, NEFT, Debit or Credit Card or Net Banking and enjoy the cashless facility. Moreover, you can recharge FASTag with any BHIM UPI enabled application such as Google Pay, BHIM, Paytm, Phonepe, SBI Pay etc.

Here I am telling you the recharge process of FASTag through BHIM UPI App.
Suggested – How To Deal With FASTag Fraud?
Step 1- Open your UPI App
As an android user, download any BHIM UPI app from Google Play Store. Or as an iPhone user download from the Apple App Store. If you have already BHIM UPI app, open it and enter the passcode to login. You reach to the home page of the app.
Step 2 – Enter Your FASTag UPI ID
On the home page of the app, tap on the first tab. It is 'Send' option. You would have similar option in the Google Pay, Phonepe and Paytm.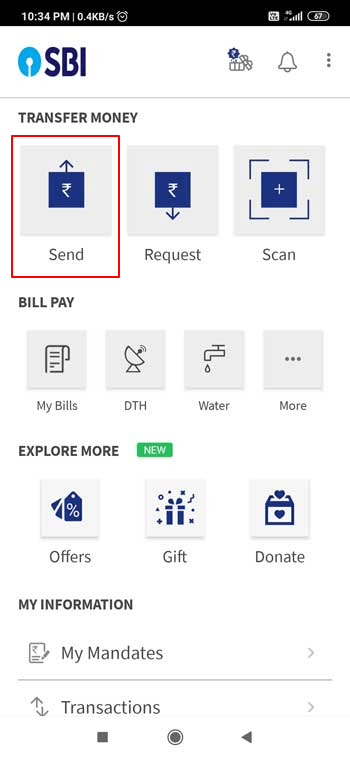 Now on Send Money page, enter the FASTag UPI ID i.e. FASTag UPI Virtual Payment Address (VPA). That is netc.<vehiclenumber>@<bankupihandle>. Here the bank UPI handle is your bank's UPI ID from where you have purchased the FASTag. For example, I have purchased FASTag through Paytm. So I will write-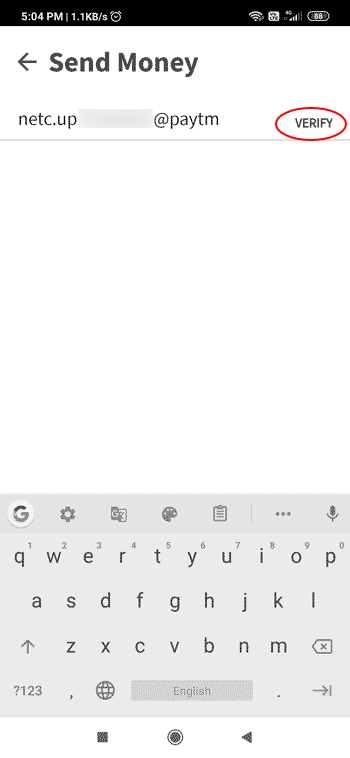 Now tap on verify. I have given the UPI Bank handles of some of the leading banks.
Note:- NETC (National Electronic Toll Collection) is a flagship programme of Ministry of Road Transport and Highway. NPCI has developed it for the purpose of FASTag.
Step 3 – Verify and Enter Amount
After successful verification, tap on Send to Self. Now enter the amount which you want to add in FASTag account. You can see the last four digits of the Primary Debit Account.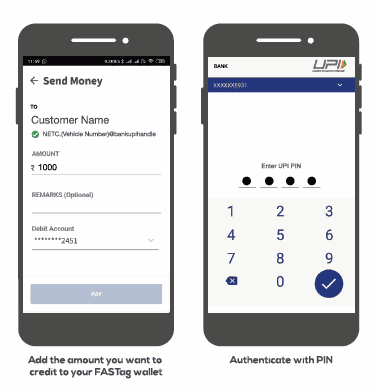 The payment will be deducted from this account. If you have saved other accounts also, you can select that. Then the payment will be deducted from that account.
Step 4 – Submit UPI PIN
Now click on proceed. And enter the UPI PIN Passcode. Entering the passcode, your FASTag wallet is recharged.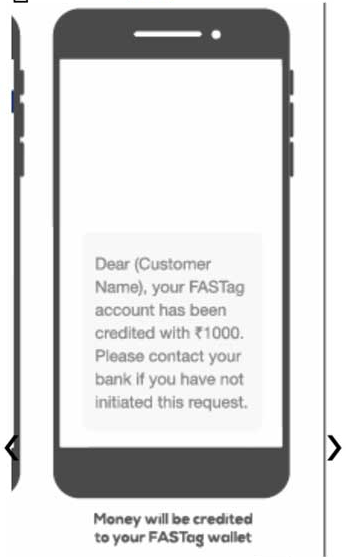 After a successful transaction, you get a confirmation message as well.
Thus in this way you can recharge your FASTag hassle free any time.
Useful Post– How to Affix Fastag in your Car
Recommended – Why UPI is Better Payment System
UPI ID For the FASTag Recharge
These UPI handles are used in the UPI ID of every upi app users. The NPCI itself has created and UPI ID for each FASTag Wallet. The UPI ID for FASTag wallet is based on your Vehicle number. So the UPI ID of a FASTag would be as Follows.
netc. <your vehicle number>Bank UPI Handle
So if your Vehicle number is UP 01 AA xyxy and you have purchased the FASTag through the SBI then your FASTag UPI ID would be netc.UP01AAxyxy@sbi
How to Buy and Recharge SBI Fastag
UPI Handles of some Banks.
SBI – @sbi
PNB – @PNB
Bank of Baroda – @barodampay
ICICI Bank – @icici @imobile
HDFC Bank – @hdfcbank
Paytm Payments Bank – @paytm
Yes bank – @yesbank
For more UPI handles you can visit NPCI Page.