It has become very easy to check and pay your electricity bill through the Google Pay App. You may know that Google Pay Tez is one of the most popular UPI App used by crores of people. Besides electricity bill, you can also pay for the mobile recharge, DTH, gas, Water Bill and many more bills. Let us check out the process of electricity bill payment.
How Google Pay Checks and Pays Your Electricity Bill?
The bill payment facility of the Google Pay is based upon the Bharat Bill Payment System.
Many other payment apps such as Paytm, Phonepe and SBI Pay also uses the BBPS platform for the bill payments.
Because of this platform, you can know about your light bill payment amount.
You can pay the billed amount using the UPI payment system. The steps are very easy.
The whole process takes less than a minute. The NPCI manages this platform.
To use this bill payment system you must have the consumer number for fetching the bill and payment. Note it down from your physical bill.
Once you pay the electricity bill, the consumer number gets stored in Google Pay and does not require further submission.
The updation of your payment may take up to 48 hours so don't panic if you still see the due amount after the payment.
Recommended-3 Ways To Pay LIC Premium Online
Electricity Distributors Available on Platform ( Also About TSSPDCL Bill Payment)
Almost all of the electricity distributors are available on Google Pay Bill Payment platform. Already there are about 3 dozen distributors. The remaining few are also integrating their system with the Bharat Bill Payment System.
The one prominent name which is missing from the Google Pay Bill payment facility is the Telangana State Southern Power Distribution Company Limited (TSSPDCL). This electric distribution company serves to the Hyderabad. However, the customers of TSSPDCL can use the Paytm or Freecharge for the online bill payment.
| | |
| --- | --- |
| S. No. | Electricity Distributor |
| 1 | BEST Mumbai |
| 2 | Bharatpur Electricity Services Ltd. (BESL) |
| 3 | Bikaner Electricity Supply Limited |
| 4 | BSES Rajdhani Power Limited |
| 5 | BSES Yamuna Power Limited |
| 6 | Calcutta Electric Supply Corporation (CESC) |
| 7 | Dakshin Gujarat Vij Company Limited (DGVCL) |
| 8 | Daman and Diu |
| 9 | DNH Power Distribution Company Limited |
| 10 | Eastern Power Distribution Co Ltd (APEPDCL) |
| 11 | India Power Corporation |
| 12 | Jaipur Vidyut Vitran Nigam (JVVNL) |
| 13 | Jamshedpur Utilities |
| 14 | Kota Electricity Distribution Limited |
| 15 | M.P. Paschim Kshetra Vidyut Vitaran |
| 16 | Madhya Gujarat Vij Company Limited (MGVCL) |
| 17 | Maharashtra State Electricity Distbn Co Ltd |
| 18 | Meghalaya Power Dist Corp Ltd |
| 19 | Muzaffarpur Vidyut Vitran Limited |
| 20 | NESCO, Odisha |
| 21 | Noida Power |
| 22 | North Bihar Power Distribution Company Ltd. |
| 23 | Paschim Gujarat Vij Company Limited (PGVCL) |
| 24 | Reliance Energy – Mumbai |
| 25 | SNDL Nagpur |
| 26 | South Bihar Power Distribution Company Ltd. |
| 27 | SOUTHCO, Odisha |
| 28 | Southern Power Distribution Co Ltd (APSPDCL) |
| 29 | Tata Power – Delhi |
| 30 | Tata Power Mumbai |
| 31 | Tata Power-Ajmer |
| 32 | Torrent Power |
| 33 | Tripura Electricity Corp Ltd |
| 34 | Uttar Gujarat Vij Company Limited (UGVCL) |
| 35 | Uttar Pradesh Power Corporation- Urban (UPPCL) |
| 36 | Uttarakhand Power Corporation Limited |
Steps of Electricity Bill Payment Through Google Pay
1- Open Your Google Pay app using the password.
2- Tap on the 'New' Button. Now Choose the 'Bill Payment' among other services. Choose the electricity bill.
3- Select your electricity distributor. It would be UPPCL for Uttar Pradesh, BEST For Mumbai etc.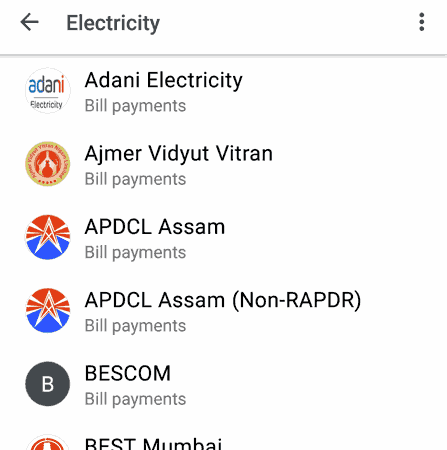 4- Enter your consumer number. You can find this number from the physical electricity bill.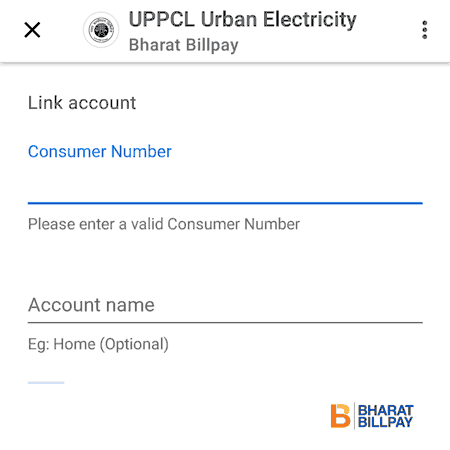 5- On the basis of your consumer number the, Google Pay Bill Payment System would fetch the outstanding amount.
6- Tap on the 'Pay' button to make payment of the outstanding amount.
7- The payment mechanism would be UPI only. Take note of the shown bank account.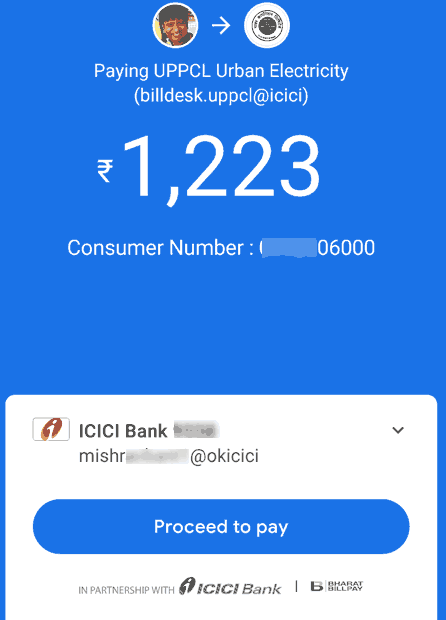 8- Now enter the UPI PIN of that bank account.
9- As you enter the correct UPI PIN the payment takes place.
10- This completes the whole process of the online payment electricity bill.
What is NACH Payment? How it Benefits to Customers?
How To Check Account Balance Through Google Pay
Points To Note
Once you pay the electricity bill, The Google Pay would fetch the billed amount every month automatically. So you can, any time, check out the outstanding electricity bill by just going through the above steps. If you wish, you can use other UPI apps for the payment as well.
If you pay the electricity bill through any other payment method, it would not reflect here in the Google Pay app. It would show as an outstanding amount.