Do you want to Double your Money? I think almost everyone wants. Here I will tell you how you can double your money in 5 years. And what is the formula of doubling the money.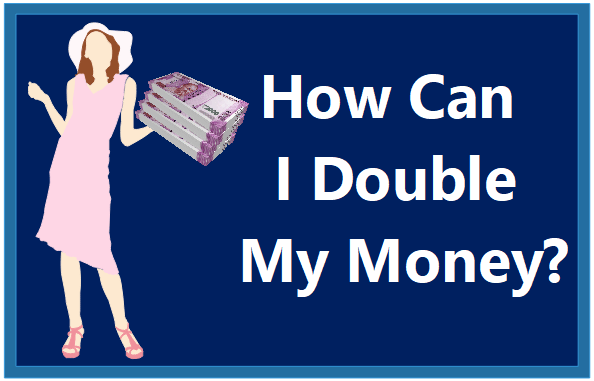 The Thumb Rule for Doubling the Money
If you want to double your money, you have to invest it. After the investment the Return/ Interest rate decides the duration of Doubling. If you want to double your money fast, choose a high return investment.
But, Almost every type of investment does not tell you the time to double the money. However, there is a thumb-rule to find out duration for money doubling. It requires the expected rate of return.
This rule is called as the Thumb Rule of 72. In this rule you have to divide 72 by the expected rate of return to calculate the investment period.
The formula is,
Duration To Double the Money = 72 / Expected Rate of Return
So if the interest rate of your FD investment is 8%, the duration for doubling would be 72/8 – 9 years.
Thus, you can see the investment matrix depends upon the reciprocal system. With a high rate of return, you can double your money in lesser years. On the other hand, if your interest rate is low, you have to invest for a long period.
Actual Calculation
The Rule of 72 is a shortcut. For all the practical purpose, it gives right result. But if you want the exact duration in decimal places. you have to use the mathematical formula. It is given below.
Doubling Time = log (2) / log (1+r)
Since, you may not have the log sheet, you can apply this formula in Google spreadsheet or in the excel. It would give the exact result. I have applied the same formula in spreadsheet using the interest rate of 8%.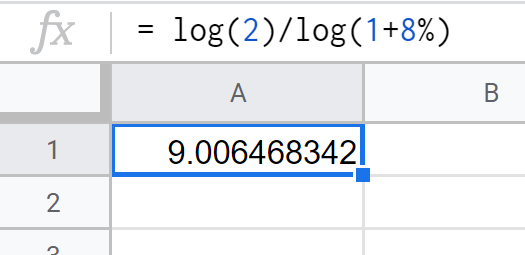 You can see the result is 9.00646 Years. This duration is slightly higher than the rule of 72. However, the difference is even not one day. Hence, it is always better to use the Rule of 72.
What is Mobile Wallet? How it Works?
The Required Interest Rate for Doubling money in 5 years
Now, we come to our basic discussion. You just want to double your money in 5 years. It means you have not much time to wait. As I said above, in this condition, you have to invest in a high return investment instrument.
In the above formula, for our convenience, we can interchange the factors 'Rate of Return' and 'Time Period of Doubling'.
So, according to Thumb Rule of 72, your expected annual return will be, 72/5 years = 14.4%.
Required Rate of Return To Double Money in 5 Years – 14.4%
The Investments Which can Double Money in 5 Years
Therefore, if you want to double your money in only 5 years, you have to search the investment instruments which can give annual return at least @14.4%. Everyone knows that the Government Schemes and Banks can not give you such return. So, what is the option?
Hence, Equity Investment is the only option to get a high return. Equity Mutual funds and Equity Shares can give you an annual return between 12% to 15%. So, if you invest in these options, your money can double in 5 years.
However, the Financial Experts says that you have to continue your investment beyond this time limit to gain more return. Because Equity Investment may help you to maximise your wealth over a long period.
But it is also true that Equity Investment is risky because of the involvement of market based investment. So, if you can handle the pressure of high risk, this option is best for you.
How UPI System Send Money Very Easily
Kisan Vikas Patra For Doubling your Money
Apart from the above investment instrument, You can also opt for Kisan Vikas Patra. This scheme is very safe and doubles your money in a fixed period. This fixed period would be much higher than the 5 years.
Kisaan Vikas Patra (KVP) is a government saving scheme for Indian Citizens. You can invest in this scheme through the Post offices and Banks.
Current interest rate of Kisaan Vikas Patra 7.6% compounded annually. According to the Thumb Rule of 72, it doubles your money in 113 months i.e. 9 years and 5 months.