Lucky Grahak Yojana is over. Now you can participate in BHIM app Cashback scheme. It gives you guaranteed reward. 
To promote the cashless digital payment government is giving you the rewards. The prize money goes upto Rs 1 Crore. Daily 15,000 people would get prize. The prize winner would be decided on the basis of lucky draw. As far as I know this is the first time that government is going for lucky draw to promote its initiative. However, It is a welcome step.
The lucky Grahak Yojana is a big scheme and give you the cash prize. Thousands of people is going to get rewards through this scheme. Government is spending Rs 340 Cr for this digital payment lucky draw.
इस योजना के बारे में हिंदी (Hindi) में पढ़ें
Rewards for Digital Payment
There are various types of prize under this lucky Grahak Yojana. There would be daily prizes, weekly prizes and Mega prize.
Daily Prize To Lucky Consumer
Daily 15,000 people would get the prize
Every person would get Rs 1000.
The Prize would be given for 100 days
Weekly Prize
  Weekly prizes worth Rs 1 lakh, Rs 10,000 and Rs. 5000 for Consumers. Some details are awaited in this regard. 
Mega Prize
The Mega draw would happen on 14th April, on the day of Ambedkar Jayanti.
3 Mega Prizes would be given
The first prize would be of Rs 1 Crore
Second prize is Rs 50 lacs
and Third prize is Rs 25 lacs
Lucky Winners of Each Category
The lucky winner of this scheme is selected from each category of the transactions. everyday, There are a fixed number of winners in each category.
| | |
| --- | --- |
| Mode of Transactions | Daily Winners |
| RuPay Card | 11,900 |
| UPI | 1,500 |
| AEPS | 1,500 |
| USSD *99# | 100 |
Rupay Transactin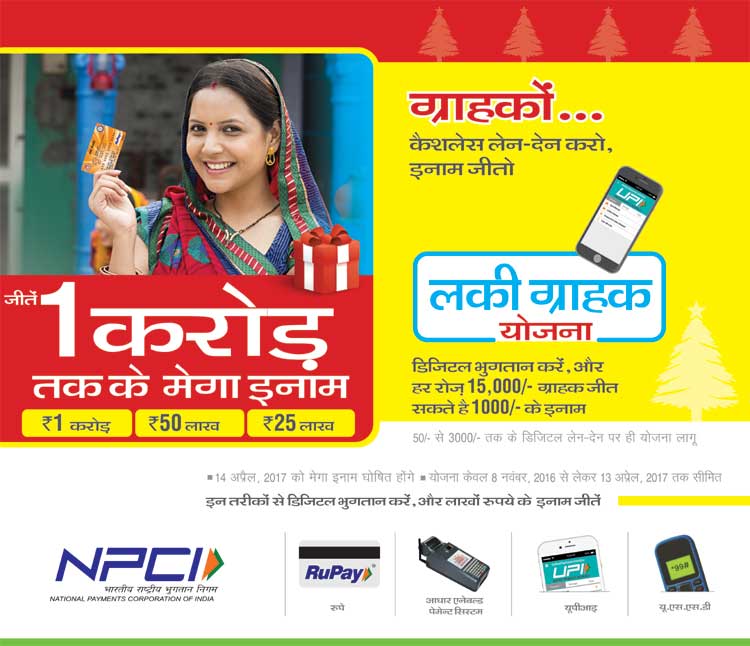 Eligibility For Lucky Grahak Yojana
These prizes would be given to those consumer who pay using the cashless mode/digital payment. Note, the prize is for the consumer. It means you have to pay for a service or product.
The payment should done from any of of the following mode.
The payment through the digital wallets e. g. Paytm, Mobikwik, Freecharge, pockets, Buddy would not be eligible for this scheme, unless consumer uses the UPI mode of fund transfer. There are many digital wallets which has integrated the UPI with itself. So, if you use Phonepe and pay through the UPI mode, you would be eligible for the lucky draw.
The payment through the Mastercard or visa Debit/credit card is not eligible for the Lucky Grahak Yojana
Lucky Grahak Yojana eligibility of transaction
Mode
Details
Eligibility
Digital Wallets
Paytm, Freecharge, Phonepe, Mobiquik
No
UPI Apps
SBI Pay, iMobile, pockets, chiller, PNB UPI,
Yes
UPI in Wallets
Phonepay, Freecharge
Yes
USSD
Available to all mobile banking customers
Yes
AEPS
Transaction Through Micro ATM
Yes
Rupay Card
Jan dhan account holders have this card
Yes
Master, Visa, Maestro
All credit cards have this type of cards
No
Net Banking
No
Time Limits of Transaction
The lucky Grahak Yojana is applicable from the back date. The digital payments done from 8th November 2016 to 13 April 2017 were also eligible for Lucky draw.
The lucky draw started from 25 December 2016. The scheme would go on for 100 days.
Amount Limit for Lucky Draw
This scheme is designed to promote digital payments among the lower middle and poor class. Hence, there is upper limit for the transactions. The digital and card payments of more than Rs 3000 would not be eligible for lucky draw. There is a minimum limit of Rs 50. Every transaction between this limit would be eligible for lucky draw. The more you use the digital payments, more would be chance to get a prize. To be eligible for this scheme, you should limit your transaction to Rs 3000. If your bill is exceeding, you can split it.
Who Can Take Part
Every bank account holder can take part in this Lucky Grahak Yojana. Only you have to do a digital payment through any of the given mode.
If you have internet and smartphone, you should use UPI. As it is an easiest method of payment.
Shop or pay to  merchant using your Rupay debit card. There are 30 Crore Rupay Debit cards in India.
The feature phone users can dial *99# for USSD banking. It is useful to those who don't have access to smartphone and internet.
Learn More: USSD Banking in Hindi
People living in distant areas can use AEPS. It works on Micro ATM or Micro POS.
How The Scheme Works
This scheme is only for those transactions which goes through the NPCI platform. NPCI is a non profit organisations which manages the payment settlement in India. The NPCI is managing all the transaction though  RuPay card, UPI, USSD, IMPS and USSD.
However, for the lucky grahak yojana, the payment through the Rupay card, UPI, USSD and AEPS is considered. The NPCI settles all these transaction.
The NPCI collects the all the transaction IDs of a given period. The IDs are generated automatically as soon as the transaction is completed. In the first lucky draw of 25 December, The NPCI has taken 8 crore transaction during 9 november to 24 december.
These transactions are further categorised on the basis of mode i. e. Rupay, UPI, USSD and AEPS.
A lucky draw is conducted for each category. The NPCI uses especially developed software for this lucky draw. The computer selects the lucky winners of each category.
The lucky transaction IDs are communicated to the respective bank through which the transactions were initiated. The banks identify the account holder of that transaction. It happens within 24 hours.
The bank gives back the bank account numbers of lucky winner to the NPCI.
The NPCI credits the Rs 1000, in each of the account using the Niti Aayog funds.
Thus after the announcement, the winners get Rs 1000 within 48 hours in their account.
NPCI ensures a technical and security audit of the draw to ensure that the technical integrity of the process is maintained.
How To Know The Result of Lucky Grahak Yojana
The draw of lucky grahak Yojana is conducted everyday. It happens in Digi dhan Melas. Everyday there is a Digidhan mela in a city of India.
The government has designed a website to tell you the winner of this scheme. You can check whether You won or not by giving your mobile number. You would get an OTP to verify the number. This ensures that one can only check his/her result. No one can know the names of lucky winners.
Also, if you Rs 1000 credit in your account, don't be surprised. You may be the winner, check out the result of Lucky Grahak Yojana.
How To Participate In Lucky Grahak Yojana Through UPI
How to be Eligible for 'Lucky Grahak Yojna' as well as 'Digi Dhan Vyapari Yojna' Using UPI App.
1.Create Your VPA- Virtual Payment Address on any UPI Enabled Bank App.
2.Link with your Bank Account and Set transaction Pin.
3.Ask Your Shop nearby where you 'Pay by Cash' to create VPA of their Bank AC too.
4.Ask Shop Owner to generate Bharat QR Code of their VPA using link(QR Code Generator) below by entering name & VPA.
https://www.upiqr.in/
5.Generate and Print QR Code As well As VPA to display at Payment Desk of shop.
6.Now every time you buy, Pay on his VPA address OR 'Scan & Pay' using your UPI App (Which facilitate scan feature).
7.Now Consumer & Merchant transaction is Eligible for 'Lucky Grahak Yojna' as well as 'Digi Dhan Vyapari Yojna' for payments between Rs. 50 – 3000 using UPI.
8. Any other payment through the UPI is also eligible for this scheme.
To know more about the USSD payment or Aadhaar Enabled Payment system. You can read in detail by following the hyperlink.