With DigiLocker, you no longer need to carry all your documents. You can show your driving license, vehicle papers, PAN, Aadhaar etc. on your mobile.
This facility of paperless documents has become easier now. As all these documents will also be available on WhatsApp.
Thus you will not even need to install the DigiLocker app separately on your mobile. Today I will tell you how to access your documents through WhatsApp.
Whatsapp Number For Digilocker
To access DigiLocker through WhatsApp, first, you have to save a mobile number. This number is 90 13 15 15 15.
This number is of MyGov Helpdesk. Using this number, you can also download your Covid vaccination certificate. So now this number will work for both Cowin and Digilocker.
You should save this number in the name of the MyGov Helpdesk.
Chat with MyGov Helpdesk
Now open WhatsApp and search for the contact Mygov Helpdesk. Now let's tap on MyGov. With this, the chatbox opens. Now we have to type 'Hi' and send it.
Now You would see a message from the helpdesk. It tells that the MyGov service is of the Government of India. And through this, we can take the services of vaccination and DigiLocker.
Choose Digilocker Services
So now we have to choose whether we want to use Cowin's services or Digilocker's services. We tap on the button with Digilocker Services.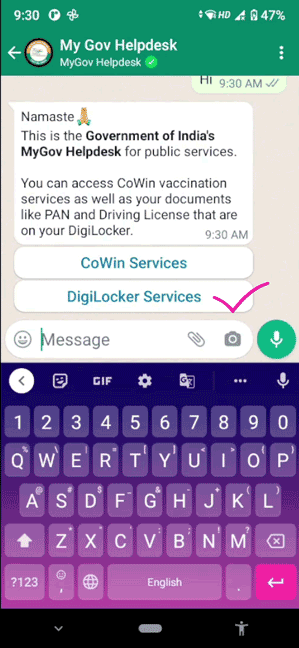 Now we have to tell in the next step whether we have already registered in Digilocker Services, which means whether we already have a Digilocker account or not. If you have registered then tap on Yes. If not registered, then tap on No. We tapped on No as we had not registered earlier.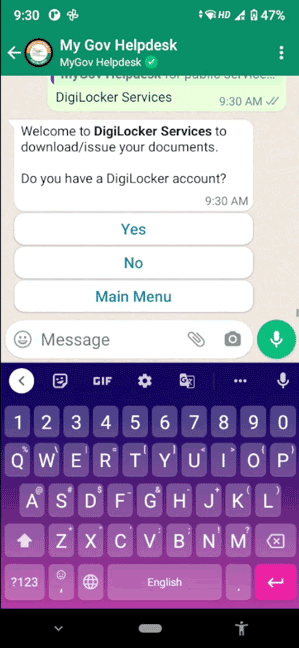 Registration for Digilocker Service
For registration, we have to provide our Aadhar number. Actually, DigiLocker's account is created on the basis of this number. So we entered our twelve-digit Aadhaar number.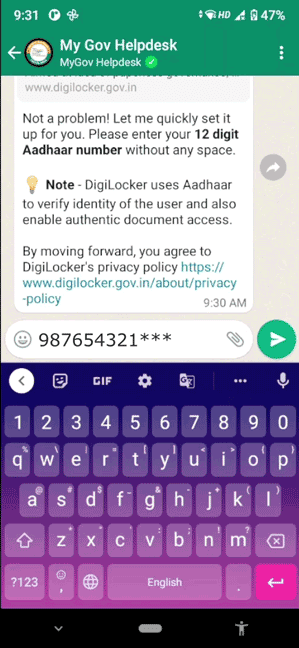 Now an OTP will come on our mobile number. Keep in mind that this OTP will come on the same number which would be registered with the Aadhaar.
If there is a delay in receiving the OTP, then you can tap on the Resend OTP button. So this OTP message has arrived on my mobile. And now we would enter it in the chatbox and send it.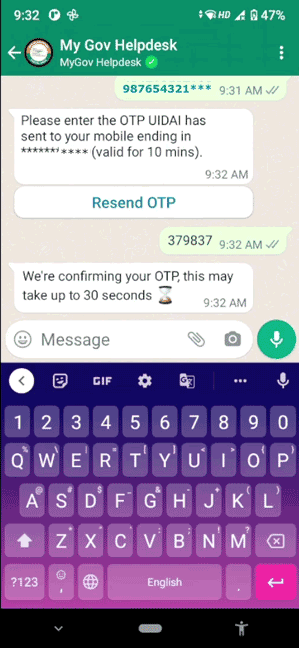 Our OTP will be verified in a while. With this, our Digilocker account will be created. But in this account, we will not have the details of any of our documents.
How To Set UPI PIN using Aadhaar Number
Documents in Digilocker
So far we have entered only an Aadhar number, thus only Aadhar details will be available. For this, we can tap on the Aadhar button below.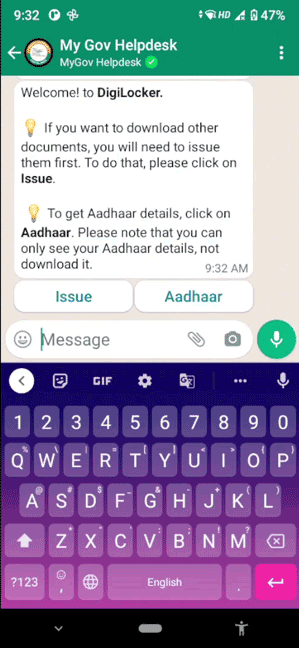 To keep all other documents in the DigiLocker account, we have to tell their details once. Only after that, those documents will appear in this account. Further, we'll be able to show it, if needed.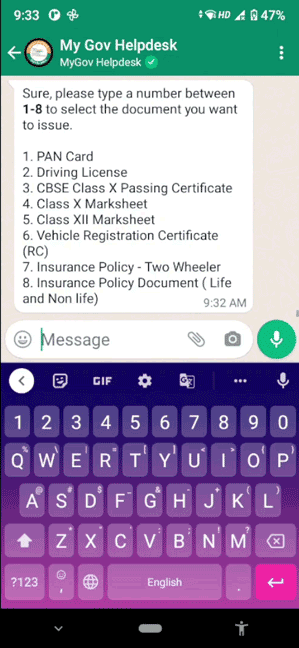 If your driving license, vehicle registration certificate and insurance details are saved in DigiLocker, then you do not need to carry all these with your vehicle. You can show all these details to the traffic police on your mobile. This is legally valid.
Similarly, if you are filling out an online form and you have to upload a copy of your PAN or Aadhar card, instead you can directly connect to DigiLocker and submit your documents. You do not need to upload their scanned copies.
Saving Documents
So here we will show you how to save a document in Digilocker. You can save your other documents in the same
way.
Now, we tap on the issue. Now we get a list of documents that we can keep in our DigiLocker account. There are a total of eight types of document options.
Apart from this, Aadhaar is there because its number is used only in registration.
Saving PAN
So we have to keep our PAN in the Digilocker. Its number is one, so we enter 1. If we had to save the driving license in this account, we would have entered 2.
Now in the next step, we have to enter our PAN number. It consists of ten characters in total. Six letters and four digits.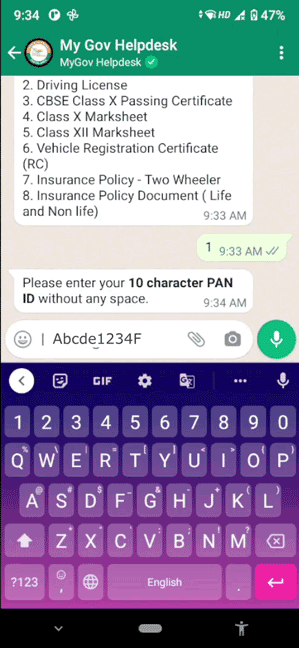 So we enter the PAN and tap on the send. While writing this, you do not need to take care of capital or small letters. Now we have to enter our names.
The name has to be written exactly as it is written on the PAN card. Therefore it is better that you check your PAN card once.
I wrote my name and sent it. just after this step, the copy of our PAN card will come in this chat. we can download it.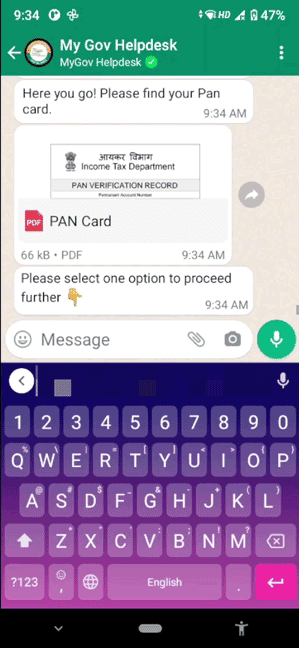 Why Documents look Different
The PAN card that will be seen here is different from the physical card. It doesn't have our photo in it. But still, it will work. This is clearly written on this.
Other documents may also be slightly different from the physical document. But they will all work because it contains
all the necessary information.
The copy of the insurance will be almost the same as its print.
Digilocker Through the App
This method of WhatsApp is good for those people who use WhatsApp a lot. But even if you install the Digilocker app on your smartphone instead, there will be no problem.
Instead, we find that too easy. There will be a few more options. There you can choose your language.
When we install the Digilocker app, the language option comes at the very beginning. After selecting the language, we will see some information.
Now we come to the dashboard. Here we see the button to start. Let's tap on this button.
If you have registered in DigiLocker, then tap on the Sign In button, else you will have to register. If you have already registered through WhatsApp then it will work here.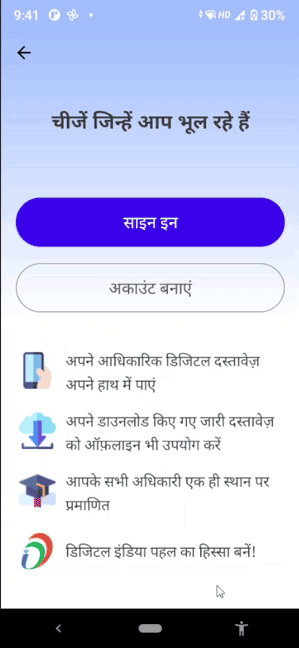 For registration here, you have to enter your name, date of birth, gender, mobile number and email id. Apart from this, a 6 digit password will also have to be set.
From now on, whenever you open the Digilocker app, this password will be used. So now we sign in. For this, we have to enter our mobile number and six-digit password.
After signing in we reach our account. Here we will see the documents which were issued earlier. We can see the PAN as it was saved through the WhatsApp method.
Apart from the PAN, we can also save other documents through the Digilokcer app. Here you will have the option to
save many more types of documents. But WhatsApp only had the option of 8 types of documents. In this respect, it is better.
But this method may take a little longer because there are more steps.
Also Read – Whatsapp UPI Payment is Live