Most of us these days use a Debit card for financial transactions. Our Debit card has reduced the requirement of hard cash. In this sequence, banks are also issuing different cards on the basis of your need.
So, there are different types of debit cards in the Indian market. And every card has special characteristics. So to use your card more effectively, you should know the features of your debit card.
In this article, I will tell you all about your Debit or ATM card and a lot more.
Types of Debit card
Mostly, in the Indian market, there are 6 types of debit card. And these cards depend upon the payment platform linked with the card. It means, the interface of the card which makes it unique from others. For example, 'Verified by Visa'.
Different banks issue these cards with special features. I try to tell you about the type of cards in short.
1. Visa Debit Card
These are the most accepted cards in India and International market. The banks issue it after a tie-up with International Visa Payment System Network. It is secured on Verified by Visa payment platform.
Also, there are different types of Visa debit cards like Platinum, Gold, Classic, Signature etc. And each card has a unique feature.
2. Mastercard Debit Cards
It is also a popular and most accepted card for electronic payment all over the world. Company's SecureCode payment platform secure the Mastercard to access the account. Mastercard is also available in different types.
3. Maestro Debit Card
Maestro is similar to Mastercard. Also, it works on the global stage. Thus you can use it for both domestic and international transaction.
4. Rupay Debit Card
Rupay card is purely a domestic card. You can use it within India some ither countries. But for the domestic use, it is the best alternative for Visa and Master cards. On account of recent facilities on Rupay card, now you may use it for all types of transactions.
5. Visa Electron Debit Card
This card is quite similar to Visa Debit cards. But the holder of this card does not have an overdraft facility. Moreover, Electron debit cards ensure that you do not spend more than the limit. This card is also eligible for domestic and international uses.
6. Contact Less Debit Cards
These cards are new invention in the world of cards. Now no need to give your card to the card reader holder to swipe or insert for the payment. Just wave your card at the POS machine. The machine will read it and complete the payment.
Moreover, if you have an image of your card on your mobile, then you can make payment by waving the mobile at the reader. Even then no need to carry the card with you. This feature stops the chances for the cloning of the cards.
Further Reading – What is Contact-less Usage of Cards
Suggested– Offline and Online shopping through ATM Card
Uses of Debit / ATM card
Debit or ATM Cards has reduced the usage of cheques and cash. You can put it in your pocket without worrying about cash handling. The first and foremost use of debit/ ATM cards is to withdraw money from the ATMs. But it makes our lives so easy with the other features of it. Thus look at the uses of Debit or ATM cards-
Suggested – Banks Closed, ATM empty – How to Get Cash?
Along with the withdrawal of the money, you may deposit cash in your account as well as in others'.
You may check the account balance and may get mini statement through ATMs.
Debit and ATM cards can also be used for shopping at the outlets in person and online through websites.
Not only for the domestic but you may transact through the international markets offline or online.
You can pay or transfer money in others' accounts.
Further, you may pay the utility bills. Even you may pay taxes through the card as well.
Recommended- How can you Set the Limit of your Debit card [Rule 2020]
Can Someone Else use ATM card
Yes, someone else can use your ATM card. If you want to permit your friend or relative or family member to use your card, it is possible by the two ways.
First, is to add the person officially into your account. Then he/ she will be the authorized person to use your account as well as ATM card. However, you can demand the ATM Card from the bank in the joint name of account holders.
And the second is to handover the card and ATM PIN to the person to operate on your behalf.
However, the first method is safe, legal and authentic. But the second is risky and depends upon the understanding between both. There are many cases where husband and wife or a physically disabled person with his family member use a single card to transact. So, it is only a matter of good faith between the users. However, In the debit card it is written that card is non-transferable.
How To Change PIN
You can change the Personal Identification Number (PIN) of your Debit or ATM card. For this, you have different ways-
1. Through the branch
Visit your Home branch and make a request to change your existing PIN of the card. The executive will help you in the appropriate manner and you will get the PIN changed.
2. At the nearest ATM
You may change the PIN by visiting the nearest ATM with your debit card. Even you can change through the other banks ATM where you have not an account. Look at the steps-
Step1, Visit the ATM and insert the card in the slot.
Step2, Select the language from the menu. Enter your debit or ATM card PIN number on the screen.
Step 3, Select the PIN Change option and enter your new ATM PIN.
Step 4, Re-enter your new PIN if asked. Tap on verify. Now your PIN has changed.
Also Read- ATM PIN vs UPI PIN vs MPIN
3. By sending an SMS
You can change PIN through an SMS from your registered mobile number with the account. Here I am giving an example of SBI Debit card. If you have an account in another bank, it may be almost the same process. But the number where you have to send SMS will differ. Have a look-
Step 1, Create a message by writing PIN<space>CCCC<space>AAAA. Where CCCC is last 4 digits of Debit card number and AAAA is last 4 digits of your account number.
Step 2, Send this message to 567676.
Step 3, You will receive an OTP on your mobile. Use this OTP in any SBI ATM to create a new PIN.
4. Through the Internet Banking
You may change ATM PIN through Internet Banking as well. But for this, you have an Internet Banking ID and password on the bank's website. In my one article, I have told the procedure of generating SBI ATM PIN by Internet banking. That is the same process of changing the ATM PIN by net banking. You may find there.
If you have an account in any other bank, you would have to follow approximately the same procedure. Some steps may differ according to the individual process of the banks.
About Limit of Debit card (SBI)
State Bank of India issues different types of Debit cards. These cards differ from each other on the basis of rewards points, privileges and limits. Each card holder gets separate facilities depends upon the type of card. I am telling you some important SBI cards and their daily maximum limits.
1. State Bank Classic Debit Card
Cash Withdrawal Limit at ATMs – Rs. 20,000
POS and E-Commerce Transaction Limit – Rs. 50,000
2. SBI Global International Debit Card
Withdrawal Limit at ATMs – Rs. 50,000
And POS and e-commerce Transaction Limit – Rs. 2 Lakh
3. SBI Gold International Debit Card
Daily Cash Withdrawal Limit at ATMs – Rs. 50,000
4. SBI Platinum International Debit Card
Limit at ATMs for Cash Withdrawal – Rs. 1 lakh
POS and e-commerce Transaction limit – Rs. 2 lakh
5. State Bank INTOUCH Tap and Go Debit Card
This is a contact less card of SBI. So, the card holder can transact only by waving the card near the POS terminal. The limits of this card are-
ATMs Limit for Cash Withdrawal- Rs. 40,000
And for the POS and Online Transaction – Rs. 75,000
6. SBI Mumbai Metro Combo Card
This card is a combo card of different facilities. Like, Debit cum ATM facility, shopping and travel through the Mumbai Metro. The limits of this card are similar to the earlier card category, i.e. for ATMs ₹40,000 and for POS ₹75,000.
UseFul Post – How To Block SBI Debit Card
Debit card vs ATM card
Earlier at the time of issuance of cards, we get only the ATM card. This card had 4 digits PIN to verify the ATM card at the ATM. Thus you could use only the ATM transaction with the help of this card. Like, withdrawal, balance check, PIN change etc.
But after the time period banks used to issue a card with dual features namely, Debit cum ATM Card. And stop the issuance of pure ATM card. So, now if you request a card, you get a Debit card along with the inbuilt facility of ATM card.
Thus Debit card works with four digits PIN at the Point of Sale of merchants and also in ATMs. Through Debit card you can shop offline and online and may do different transactions on ATM. Like withdrawal, deposit, balance enquiry and so on same as ATM Card.
What is Rupay Debit card and Benefits
As I told you above Rupay Debit cards are also in use for the transactions. Rupay card is launched by National Payment Corporation of India (NPCI). So it is purely an indigenous debit card. But its popularity is going up day by day.
Though you can use it within India only but it works at all ATMs across the country. Thus you can use it not only on ATMs but also for shopping on retails and online. Almost every bank, private or public, issues Rupay cards now.
It is secure more than the International debit cards. As, because of the domestic card, the customer data and transaction details never go outside India.
If you don't need a debit card for International usage, it is the best option.
You can use it without any fear of fraud, as the SMS alerts you receive on your registered mobile number.
The issuance cost and annual cost of Rupay debit card are very low. So it enhances its popularity.
Moreover, it has a low transaction cost. Also, it has easy availability.
Many payment apps like Paytm are also allowing the Rupay debit cards to pay to the merchants.
You may pay utility bills through your Rupay card as well.
Suggested – What is Paytm Rupay Payment
How to Get Rupay Debit card
As I told, Rupay card is a gift to the Indian citizens by the NPCI. It is also issued to those account holders who have an account under the Pradhan Mantri Jan Dhan Yojana Scheme.
Thus if you want a Rupay Debit Card for your account, you may apply for it in three ways-
1. Through the Home Branch
Go to your bank home branch and make a written application for Rupay card. Attach some necessary KYC documents like ID proof, Address proof, photograph etc. After some days you will get your Rupay debit card.
2. PMJDY Account Holders
You can open an account under the scheme of Pradhan Mantri Jan Dhan Yojana. Then automatically you will get a new Rupay Debit card.
3. Online Application for Rupay card
Besides the above two methods, now you can apply online for a Rupay Debit card. For this, you have to visit the website of Rupay card under the NPCI. This is www.rupay.co.in>apply now.
No matter where you have a bank account. If your bank gives a facility of Rupay card, then you can apply through this website.
On the home page of the website, you have to fill a small application.
Enter your name, mobile number, email ID.
Select your bank from drop down list. Then area pin code.
Tap on submit and your application is submitted.
Within a few days, you will get the card.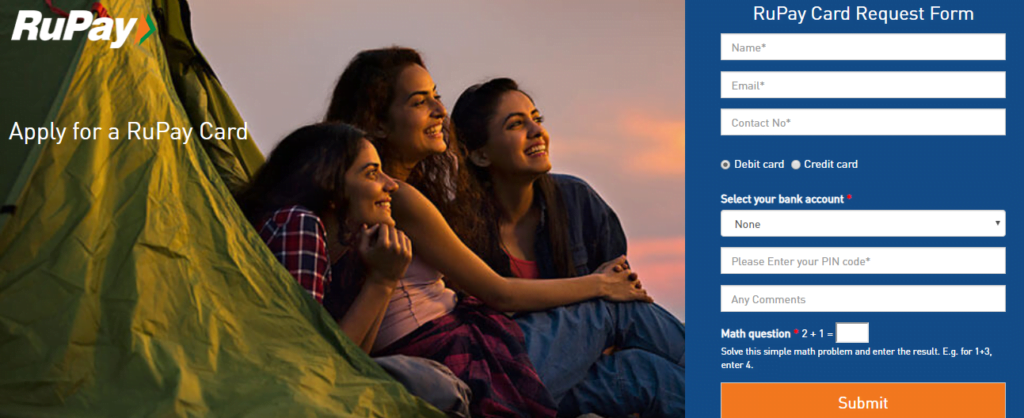 Can we Use Debit card Without PIN
Debit card PINs are compulsory to keep safe the transaction from any fraud. You use the PIN at ATMs and most of the POS terminals. As PIN authenticates the user of the card. So, if a person has your card and PIN, he may get access in your account. That's why card PIN is an essential condition.
Thus you can not withdraw, balance enquiry or shop through the card without the PIN. In other words, without it you can not transact through the debit card.
However, there are also some conditions when you can use your Debit card without the PIN.
In some POS terminals where you may use the debit card as a credit card. Then no need to enter the PIN. But here you have to sign for the transaction.
Also, the relaxation form the PIN is applicable only if the amount is small.
Earlier in online transactions when the OTP system was not in existence, then also we transacted with the pin. But now in an online transaction, the OTP (One Time Password) system works. Thus after entering all fields with the card details, you get a numeric code in your mobile. You enter this code, and the transaction completes.
Suggested – Debit card Vs Credit Card