I know, your friend or customer has sent you money through Google Pay but you have not received yet. However, you have confirmed from him and he has sent you Transaction ID and other details of the payment. But you did not get any message. So, it is a troublesome matter.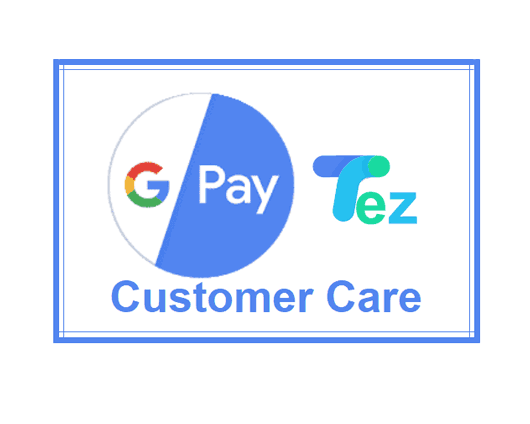 But do not panic, have patience. In this article, I will tell you how you can handle this situation as a receiver or sender. And how you can lodge a proper complaint if the problem persists.
What to Do If Money Does Not Credit?
The sender makes payment through Google Pay and money gets debited from his account. But the receiver does not get the payment. This situation is called 'money gets deducted but not credited in the receiver's bank account'. Obviously it creates a headache. Both the parties, sender or receiver may be in tension, where is the money gone?
In this situation as a sender or receiver, firstly you have to wait for some time. As Google Pay says that you should wait for at least 3 business days. Because some times banks take extra time to transfer money. Meanwhile, you should take some steps-
Check whether your Google Pay app is linked with that bank account in which you are expecting the payment as a receiver.
May be you have linked another bank account and you forget it. Because in Google Pay, you can add multiple bank accounts. Even you can delete one or more as well.
Check your bank statement. It may be you have not received the message but the amount is credited.
As a sender, you should also check your bank statement. May be there is a date issue because of the bank holiday. Sometimes there may be a future date. If it is so, wait till that date.
Steps to Escalate the Complaint
Oh! you have taken all the aforesaid steps and 3 days have gone. But still, you did not get the payment. Now its time to take more steps. You should escalate your Complaint to Google Pay customer care. Remember, your app is the primary level of the complaint procedure. Follow some steps to make a complaint-
Step 1, Open Google Pay App. Scroll down. Tap on All Transactions.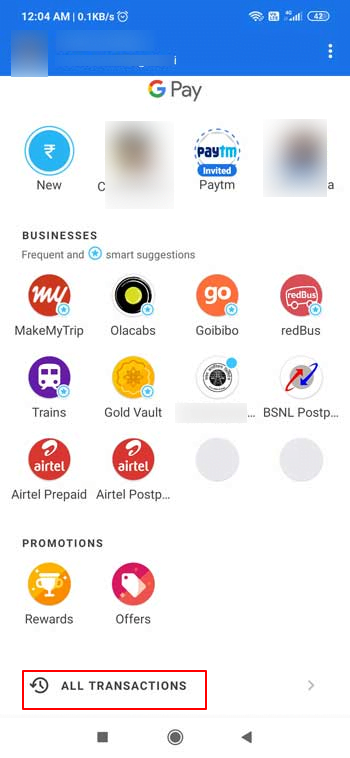 Step 2, Select the one for which you want to lodge a complaint.
Step 3, Tap on three vertical dots. These dots are on the right side of the page.
Step 4, Now raise a dispute by writing in an appropriate place.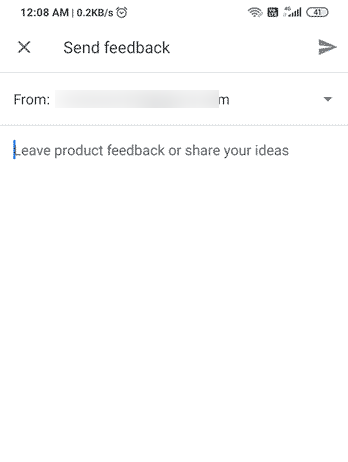 Step 5, Tap continue. Your complaint is lodged.
Note:-
Most of the disputed transactions may be resolved within two weeks.
Only sender can raise a complaint about the transaction.
However, you may contact Customer Care by three ways before lodging a complaint.
Through the toll free Google Pay Contact Number, i.e. 1-800-419-0157.
You can chat with customer care as well. For this open Google Pay app. Tap on settings. Tap on Help & Feedback. Now tap on the Contact button at the bottom of the Help & Feedback interface. Tap on the Chat option. Describe your issue and send the message.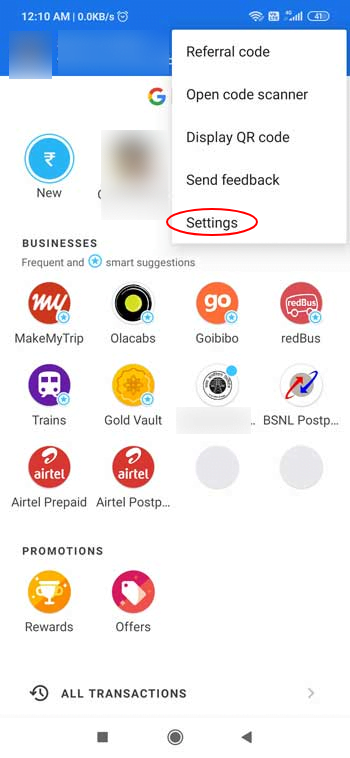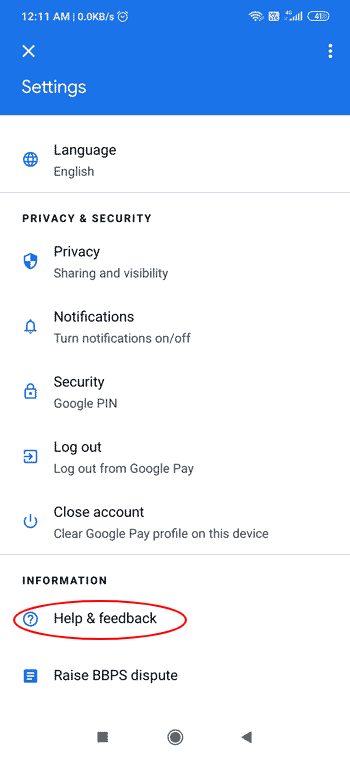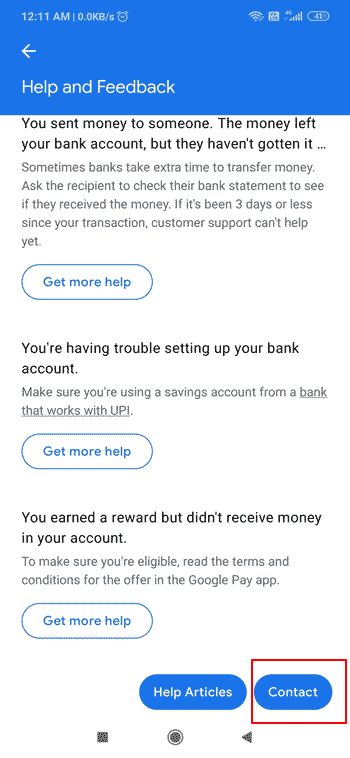 Or you can request a call back from customer care. For this tap on Phone (right side of chat option). Describe your issue which is optional. Tap on send. Within a few seconds, you will get a call. Now you can describe your problem.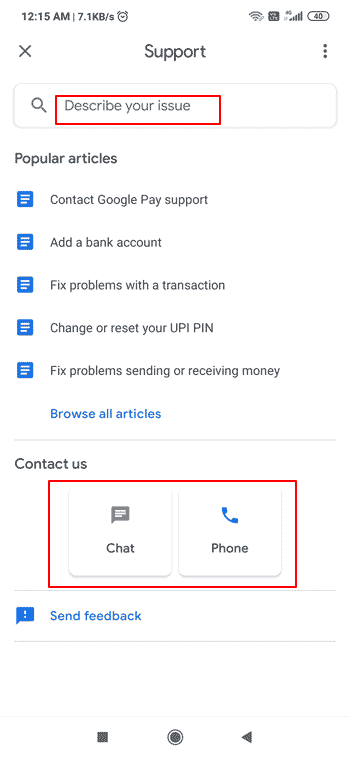 For online help, go to the Help & Feedback page. Tap on Help Articles. Now, this is Google Pay Help Centre interface. Tap on left side corner i.e. Get Help. Now select an issue. Choose the help topic, which is relevant to you.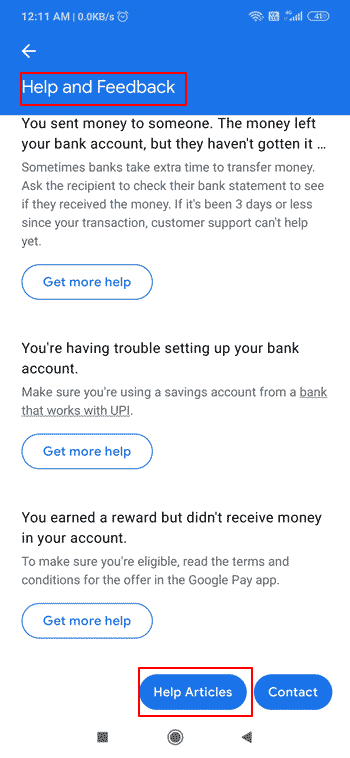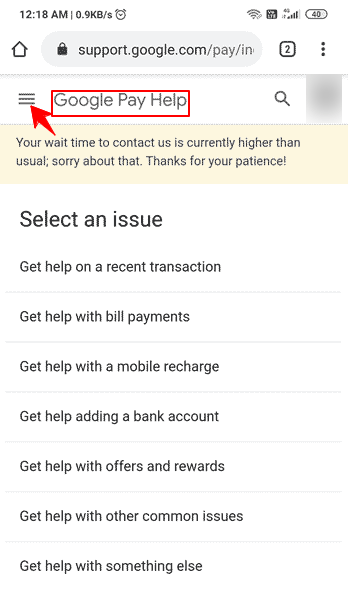 You can Also Go to the Bank
If you find that Google Pay is unable to resolve your issue and the payment is still stuck. You may contact your bank. Because ultimately the banks process the payment. Your payment app is the mediator only.
Go to the bank and submit a hard copy of a written complaint letter. Along with the complaint letter, attach some required documents related to your issue. After getting your complaint letter, your bank will inform you of the resolving time limit.
How To Check Account Balance Through Google Pay
Go to RBI
Suppose your bank does not give you a satisfactory resolution. Then you may go to the Reserve Bank of India (RBI). But remember, you should wait for at least 30 days after complaining to your bank. But after this waiting period, you may lodge a complaint to the RBI.
A complaint may be filed offline or online to RBI. For the convenience of the customers, RBI has started an online system of the complaint. It is Complaint Management System (CMS). Its website is- https://cms.rbi.org.in. You can read the full procedure of online complaint in my earlier article- 'How to file online complaints against your bank with RBI'.
Through this system, you can complain not only against your bank but against all financial service providers. An Ombudsman officer will handle your issue and you will get a satisfactory answer. But you must have the complete information and documents of your grievance.
Precautions
I have told you the procedure of making a complaint to different levels. However, you should be ready for this situations before making payment. You may face an issue like this. Then keep calm. Do not babel. Because in a hurry you may face another problem. Have a look-
Never search for a customer care number on Google. Because there may be fake contact numbers. If you call these numbers, you may lose some more money.
Always go through the app in your mobile for customer care number. There you may get the appropriate answer to your query.
24X7 help centre of the app itself is very efficient. You may go through this. Then you will get your complaint ticket. With the help of this ticket, you may track the progress of your complaint.
Never reply to the suspicious emails and calls.
Never share your personal details in any suspicious website or to a phone call.
RBI says, never ever share with anyone your card details including PIN, OTP, CVV, UPI PIN and other confidential details.
Hence, if you point out the above precautions, you may keep safe yourself against any fraud.