Your UPI payment app Google Pay provides you with the fund transfer platform. Along with that you can also check the bank balance through the Google Pay. Using this method, you can know the bank balance within 30 seconds.
Moreover, it also gives you different services like request money from friends, utility bill payments along with recharges and fund transfer in your own bank account etc. as well.
In this post, I would tell you the step by step method to check the bank account balance through the Google Pay App.
1. Open the Gooogle Pay App
Firstly, you have to open your UPI App Google Pay with the 4 digit Google PIN or Screen Lock. Then scroll down to click on Check Account balance option on the home page.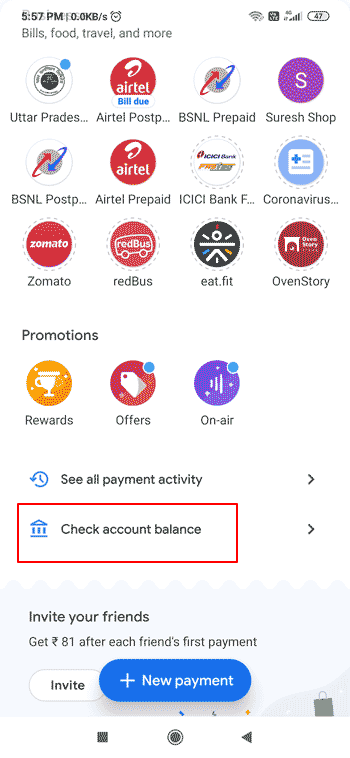 Remember, Google Pay app has not a payment wallet service like Paytm or PhonePe. So, you may get only the balance of bank account in this app.
However, through the Paytm or PhonePe, you can get the balance of both wallet and bank account.
Recommended: How to register and use UPI Payment system
2. Select the Bank Account
If you have saved only one account in the Google Pay app, you reach directly on the UPI PIN page after selecting the check balance option. Thus the app will select your single account automatically.
But if you have more than one account linked with Google Pay app, you can see all your listed bank accounts in one place.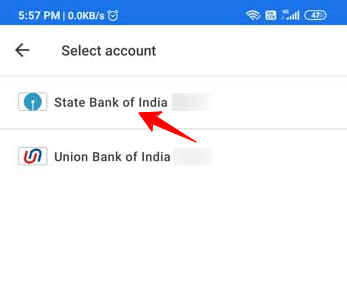 Then select the one for which you want to check the balance.
How To Check Account Balance Through Missed Call
3. Enter the UPI PIN
Now you are on the UPI PIN page. You can see the last four digits of your selected bank account along with the Bank name. Here enter your 6 OR 4 digit UPI PIN. Remember, one account may have 6 digit UPI PIN. Whereas the other account may have 4 digit UPI PIN.
Thus you would have to create the separate UPI PINs for each bank account which you are linking.
After entering the UPI PIN, press the tick button. You may say it as OK button.
Must Read: How to get UPI PIN without Debit Card
4. View Account Balance
Just clicking on the tick button, the app shows you the latest account balance along with the last 4 digits of your bank account.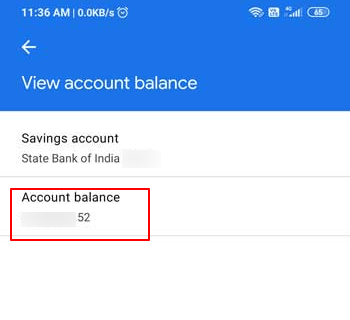 Thus in this way, you may get the account balance without an enquiry from the bank branch or through the ATM. It also helps you to maintain the Average Minimum Balance (AMB) in your account. As you know it is necessary to maintain the AMB in all types of bank accounts as per guidelines of RBI.
Moreover, if you find low balance in your account, you may transfer the money from your another account. And it is possible through the Google Pay app itself at your convenience.